Irmscher spices up the VW ID. Buzz with new aero, wheels and suspension
Max McDee, 08 June 2023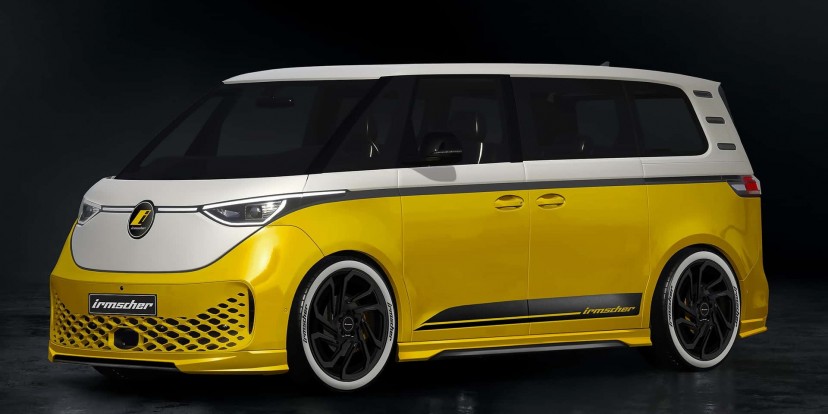 Irmscher built its reputation on tuning Opel vehicles, for decades this German tuner helped folks from every walk of life to turn their everyday Corsas and Astras into Ferrari-eating monsters. Although truth be told, they more often ate driveshafts, tires, and gearboxes with a side of blown engine here and there for the main course, than they actually had a chance of squaring up to an Italian supercar. Nonetheless - Irmscher's creations are legendary.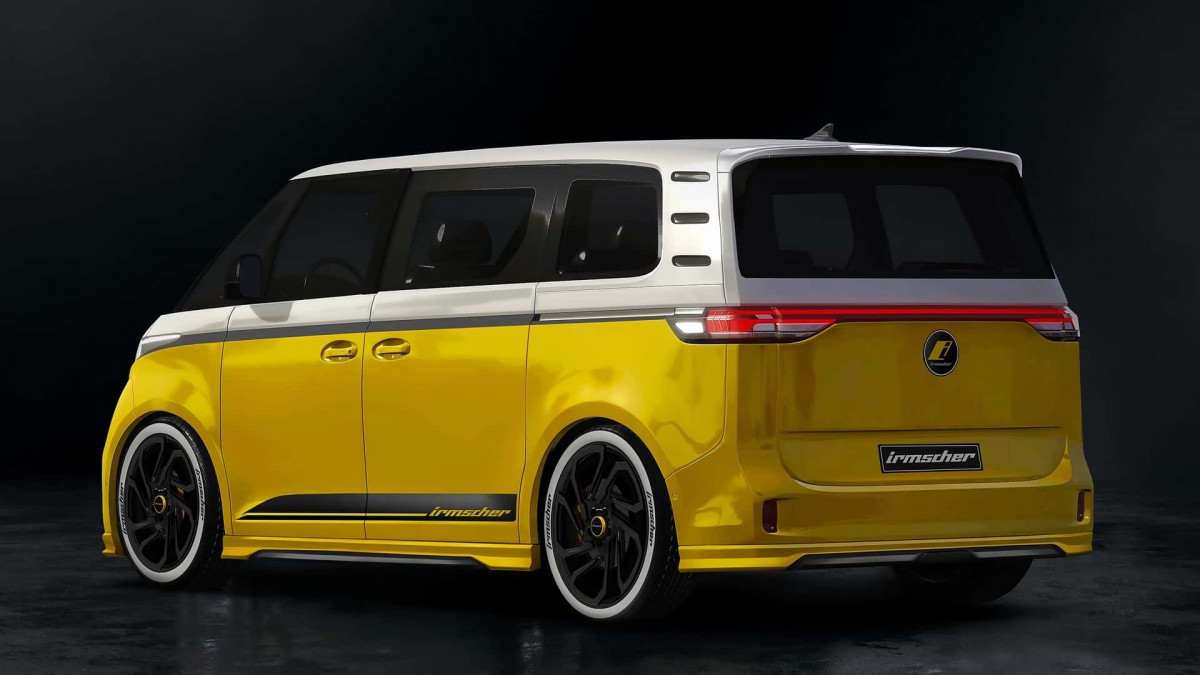 For the last few years, Irmsher has been expanding its range into other brands, but none of its efforts were groundbreaking. Add to it the advent of electric vehicles, where the traditional tuners struggle to make a big dent, and Irmscher - together with many other tuners - are slowly changing into design houses churning out body kits, with giant turbos gathering dust on the shelves somewhere in the warehouse.
With tuning electric motors firmly out of the question, Irmscher decided to get hold of the latest VW ID. Buzz and put its expertise to the test. Starting with a new paintwork, the two vehicles we see here feature signature yellow and gray finishes. But the dual-tone paint is just the start. Irmscher created a complete aero kit for the ID. Buzz with front and rear lip spoilers and side skirts. It is surprising how much of a difference they make - ID. Buzz looks like it spent 6 months locked up in the gym.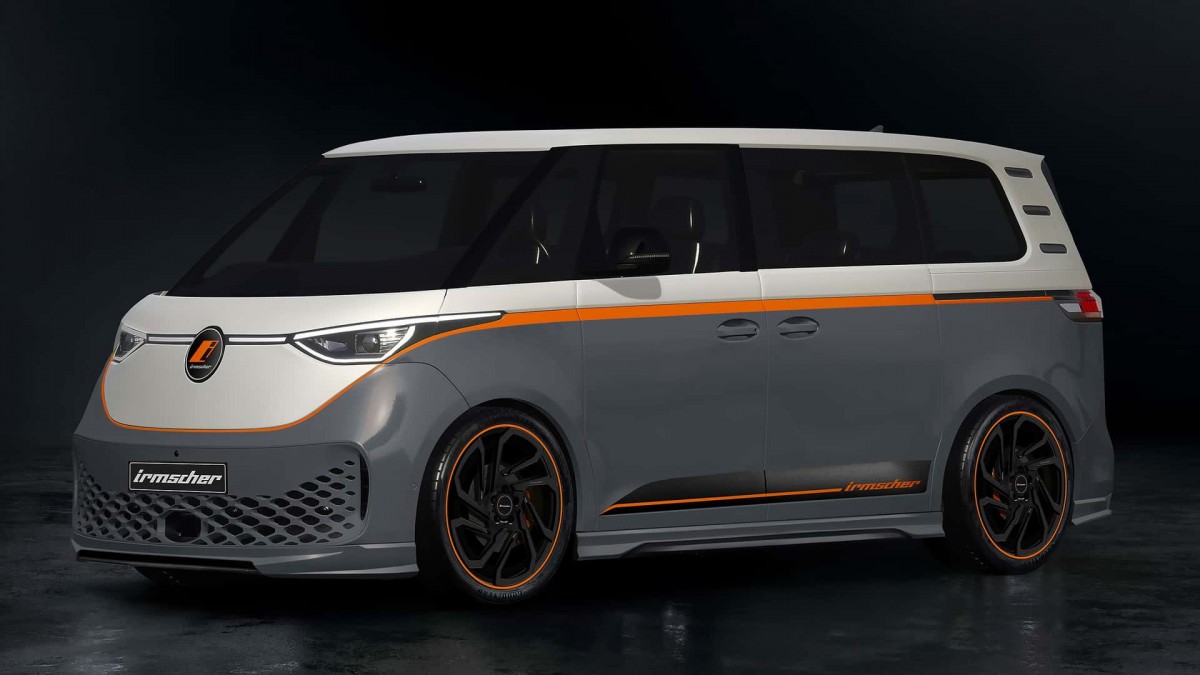 Of course, the electric van gets treated to Irmshers suspension - lowering springs are in place dropping the height by 1.18 inches. The new 20" rims are called "New Star" and they fill the wheel arches with nowhere to stuff your finger in - perfection. The yellow version of the Buzz gets white-wall tires with the Irmscher logo on them, for a final touch.
The gray version adds contrasting orange accents on the body, and on the wheels, while the yellow Buzz has contrasting accents and graphics in black. The rear roof spoiler is slightly bigger than the original VW item, and has two pronounced winglets making the rear end look sporty and yet classy - clever trick by Irmsher.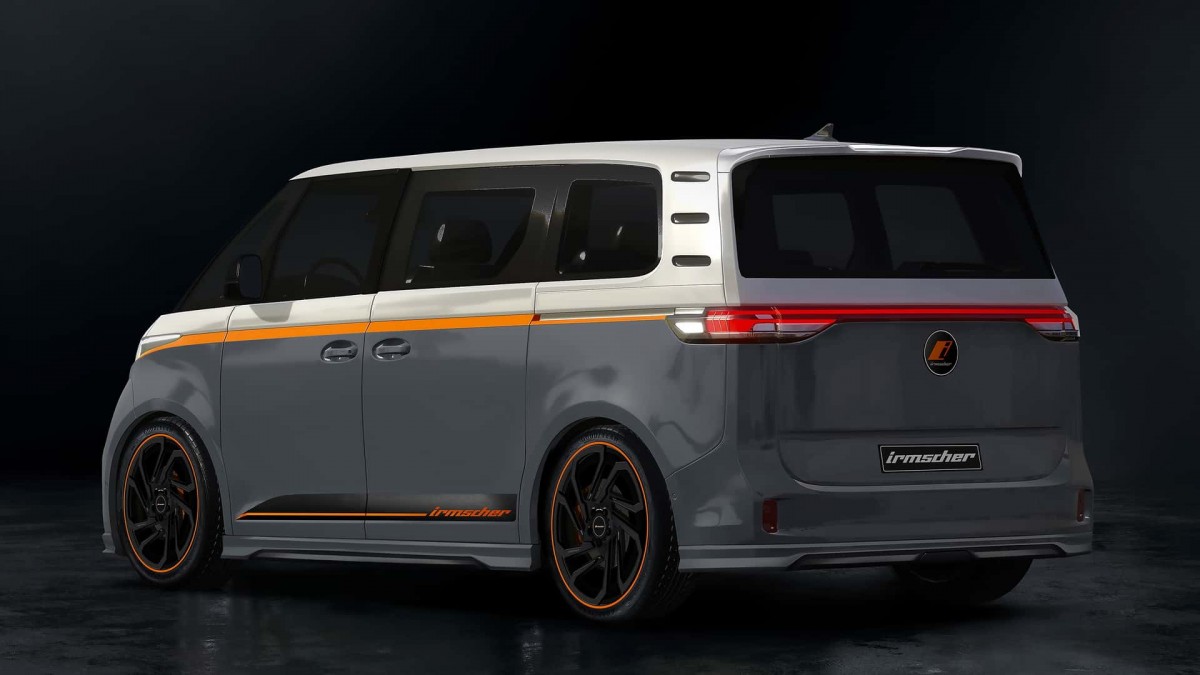 In case you were wondering, the complete body kit sells for $1,770 plus shipping, the wheels haven't been priced up yet but we could expect to pay at least $1,900 for the full set. The lowering springs are not in the catalog yet but Irmsher usually sells full sets for around $429. The aero kit has been a best-seller, and at this very moment it's sold out, the company promises that more units are on the way. So - if you're lucky enough to own the ID. Buzz, and if you want to spice it up a tad - you could do much worse than with the Irmscher kit.
Related
Nothing yet. Be the first to comment.
Reviews
Popular models