Nio unveils own LiDAR chips and battery packs
Max McDee, 21 September 2023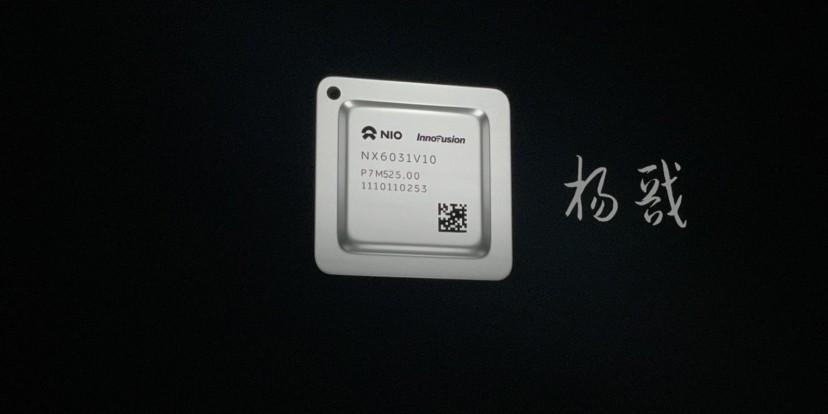 Nio is having a very busy month - first, it was the unveiling of the brand new Nio EC6, an event in its own right. The EC6 already looks like a runaway success with orders pouring through and deliveries already being pushed back by 3 to 4 weeks. Not deterred, Nio finally pulled the curtain back on the Nio Phone but during the event, there were a couple of nuggets - Nio's own LiDAR sensor and in-house developed large cylindrical battery cells.
At the NIO IN2023 Innovation Day event in Shanghai, William Li, the visionary founder of Nio, proudly announced the naming of their self-developed NX6031 LiDAR control chip as "Yang Jian". While the name evokes its unique role within vehicles, the real story is the chip's performance. Although it may not be topping the charts in technical specifications, it represents a balance between reduced power consumption (by 50%) and cost efficiency.
Nio's first in-house developed chip is already in mass production, a LiDAR SoC. pic.twitter.com/ZVfmymFBax

— CnEVPost (@CnEVPost) September 21, 2023
Unfortunately, Nio's CEO kept the presentation brief and there weren't too many details about the new chip. Jump back to 2022, NIO, not a company to back down from a challenge, showed its mettle in the face of skepticism from tech giant Nvidia. At the heart of the matter was the timely introduction of Nvidia's Drive Orin solution. Despite Nvidia's reservations, Nio, through collaboration, managed to beat expectations and swiftly incorporated Nvidia's tech into its ET7 sedan. The result? A supercomputer, dubbed "Adam," capable of delivering a staggering 1,016 TOPS (trillion operations per second), an essential feature for advanced driver assistance and autonomous driving.
Taking a closer look at Nio's history, Chief Engineer Danilo Teobaldi, a stalwart of the company since its nascent days, shared insights into the company's approach. When hunting for the perfect LiDAR for the ET7, Nio not only collaborated with Innovusion but also invested in the Silicon Valley company. This resulted in the deployment of the technology much quicker than Innovusion had anticipated.
This modus operandi isn't a one-off for Nio. Teobaldi highlighted that when suppliers proved too slow or too pricey, Nio's response was simple: go in-house. This led to the development of battery packs, electric motors, digital cockpits, and their talkative driver assistance, Nomi, which presently enjoys over 580,000 daily chats in multiple languages. The executive vice president of Nio's product committee, Mark Zhou, chimed in, revealing that a whopping 75% of the company's software is written in-house. The reason? Nio is firmly rooted in its future.
Nio's in-house developed battery pack, photo taken 4 months ago, said William Li. pic.twitter.com/znisTvypoo

— CnEVPost (@CnEVPost) September 21, 2023
However, every trailblazing company faces hurdles. Recently, Nio hit a speed bump, prompting a delay in the mass production of its in-house developed batteries. While it might raise eyebrows, the company assures that the project is proceeding as per the new schedule. Another surprising twist in the tale? Nio's ongoing dialogues about a potential joint venture with SVOLT Energy Technology Co., Ltd. for the development of large cylindrical EV batteries. Although Nio has firmly established itself as an EV powerhouse in China, a hiccup in its battery development has made this collaboration more appealing.
In fact, the word on the street (thanks to a report from 36kr) is that an official announcement is imminent. Both companies are considering investing in a pilot production line in Maanshan, Anhui province. While their R&D might be merged to some extent, the manufacturing processes are expected to remain distinct.
SVOLT Energy is a battery division of another giant in the Chinese automobile space, Great Wall Motor. Known for pushing boundaries in battery chemistry and design internationally, SVOLT's collaboration with Nio promises exciting developments in the electric vehicle industry.
Related
Nothing yet. Be the first to comment.
Reviews
Unknown column 'RWD' in 'where clause'
SELECT models.*, drives.DriveID, drives.Anchor, drives.Thumb, makers.MakerName FROM models LEFT JOIN ( SELECT ModelID, MAX(DriveOrder) AS MaxDO FROM drives GROUP BY ModelID ) AS dlinks ON models.ModelID = dlinks.ModelID LEFT JOIN drives ON dlinks.ModelID = drives.ModelID AND dlinks.MaxDO = drives.DriveOrder LEFT JOIN makers ON models.MakerID = makers.MakerID WHERE models.ModelID IN (56,2023,RWD,BYD,213,2021,Air,348,2022,SR) ORDER BY FIELD(models.ModelID, 56,2023,RWD,BYD,213,2021,Air,348,2022,SR) LIMIT 6; -- 1062, 35.175.107.142
Warning
: mysqli_num_rows() expects parameter 1 to be mysqli_result, bool given in
/home/gsmarena/arenaev/m/_rankingswithpics.php3
on line
37