2024 Kia EV9 debuts in the US - priced from $54,900
Max McDee, 28 September 2023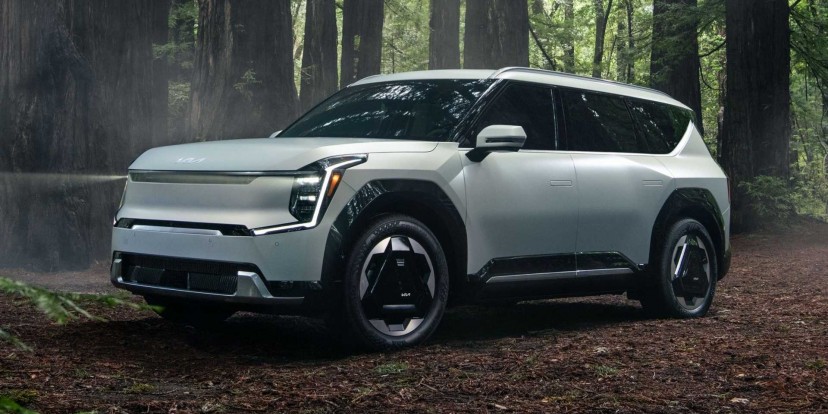 The unveiling of the 2024 Kia EV9, a three-row electric SUV, promises to bring a fresh wave of excitement to electric vehicle enthusiasts. Slated to hit US dealerships in the fourth quarter, the starting MSRP stands at a competitive $54,900, excluding the yet-to-be-announced mandatory destination charge. With the anticipated shipping fee hovering around $1,320, based the Kia EV6 charges, the EV9's total starting cost is likely to be just over $56,000.
The base model of this Korean marvel, dubbed the EV9 Light RWD, showcases a single-motor rear-wheel-drive powertrain. It flexes its muscles with 215 hp and 258 lb-ft of torque. Energy is harnessed from a 76.1-kilowatt-hour battery pack, which Kia estimates will offer a range of 223 miles, fitted on standard 19-inch alloy wheels. However, official EPA range estimates remain under wraps.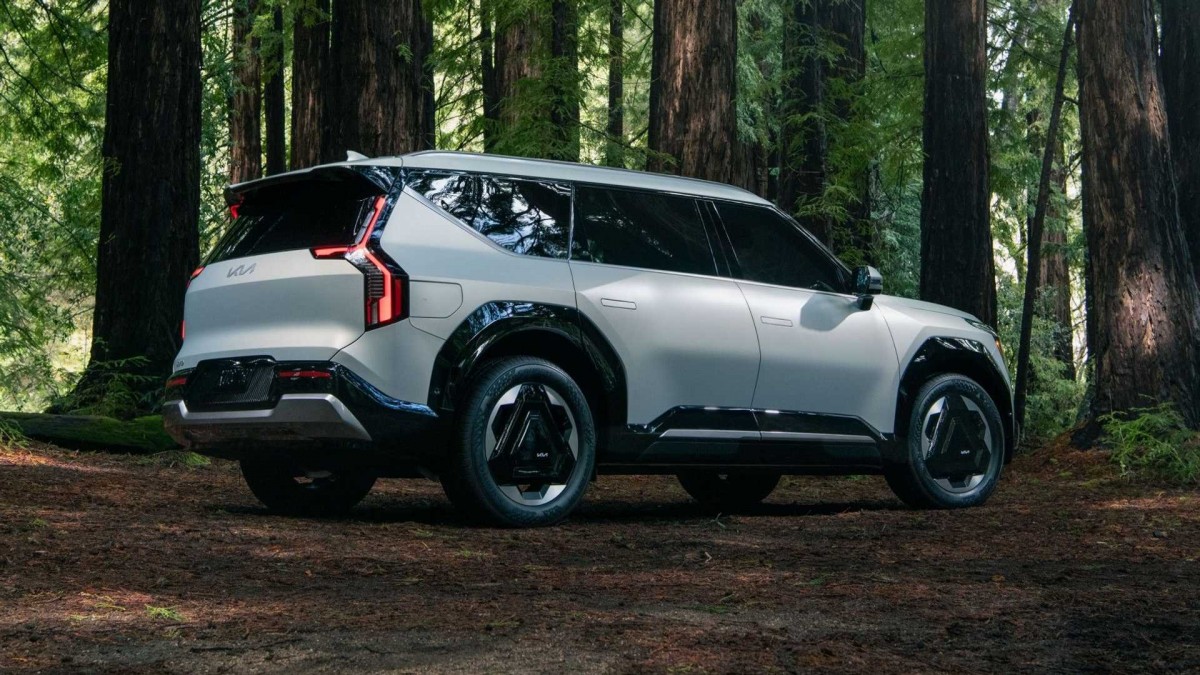 Built on Hyundai Motor Group's E-GMP modular EV platform, featuring a standard 800V electrical architecture, the fast-charging capability is a given. A 10 to 80 percent charge is claimed to be achievable in under 25 minutes, a nod to those wary of long charging times. And for the eco-conscious with a penchant for luxury, the EV9 doesn't skimp on the amenities. The interior is adorned with full SynTex leather-trimmed seating, an 8-way power adjustable driver's seat equipped with heating and ventilation, and a panoramic display featuring dual 12.3-inch screens and a 5.0-inch HVAC screen integrated into a single panel.
"A well-equipped three-row SUV EV doesn't have to be prohibitively expensive," proclaimed Steven Center, EVP & COO, Kia America, highlighting the brand's commitment to balancing standard features, fast charging, and cutting-edge technology.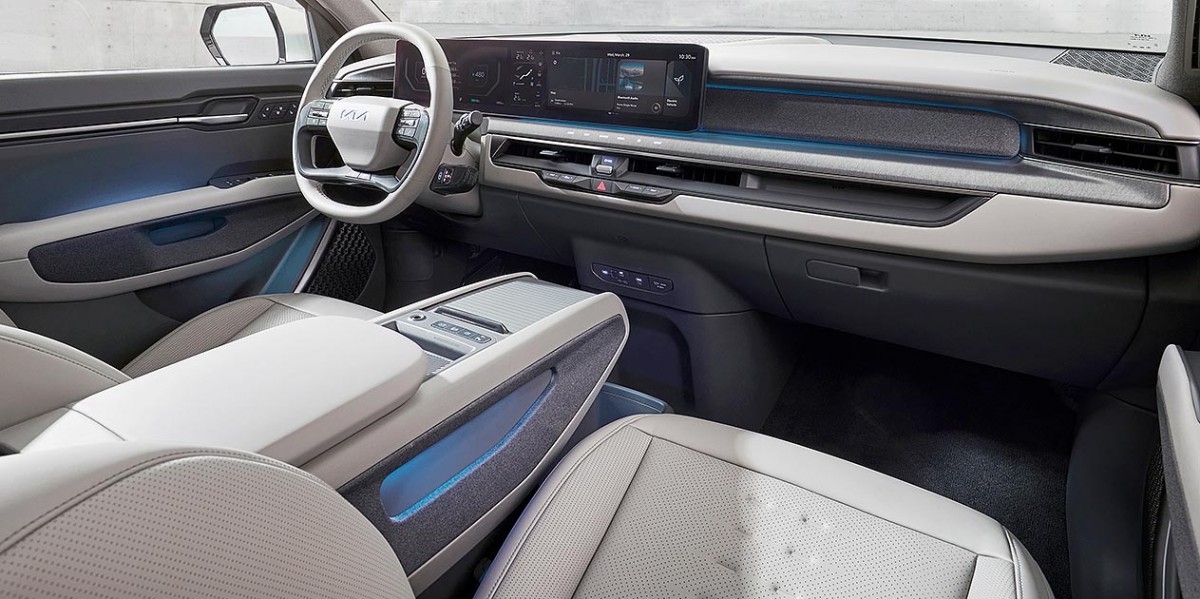 Interestingly, the initial batch of EV9s is set to roll out from South Korea, with assembly expected to shift to Kia's factory in West Point, Georgia, in 2024. This move marks the EV9 as the brand's first electric vehicle assembled in North America with an immediate benefit of the federal EV tax credit. The EV9 will qualify for at least 50% of the $7,500 grant per vehicle, the rest will depend on the origins of its battery.
In terms of dimensions, the EV9 stands as Kia's flagship electric SUV, measuring 197.2 inches in length with a wheelbase of 122.0 inches, positioning it as a direct rival to gas-powered counterparts like the Telluride. What sets the EV9 apart is its unmatched price point for an electric SUV of this size, leaving competitors like the Rivian R1S, priced at $78,000, trailing behind, despite the latter's standard dual-motor AWD powertrain.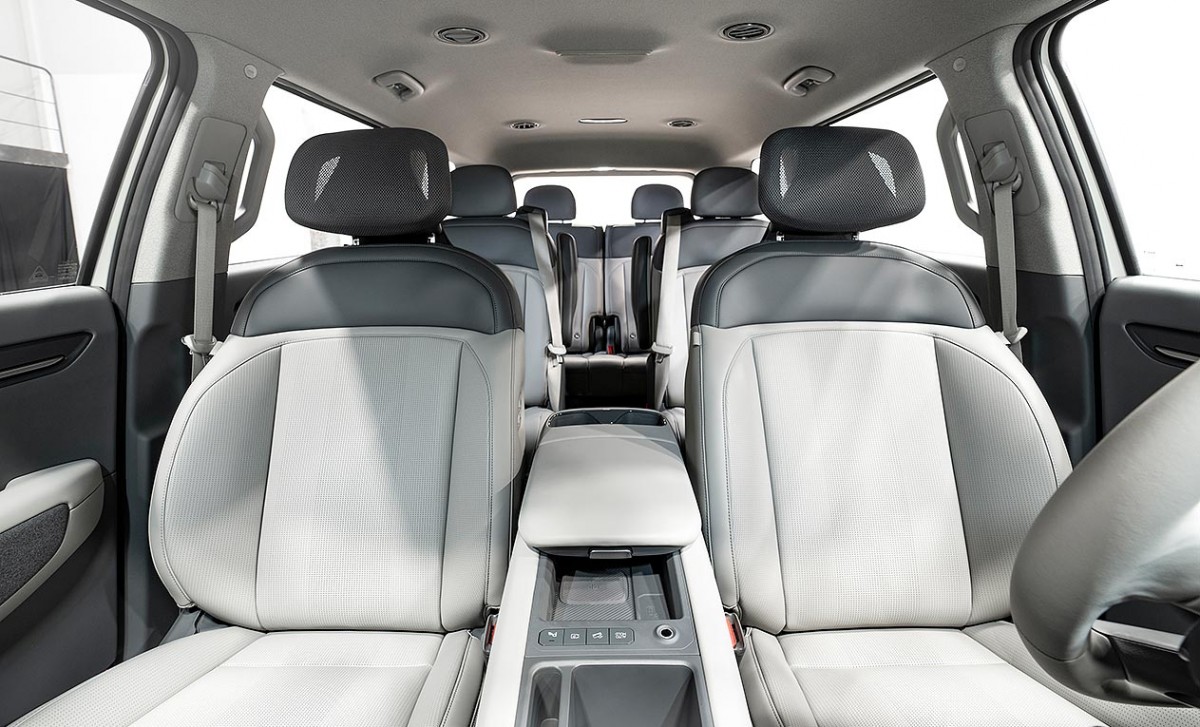 Equipped with a comprehensive list of 20 standard Advanced Driver Assistance Systems (ADAS), including an enhanced Forward Collision-Avoidance Assist (FCA-2), the EV9 ensures safety isn't sacrificed for style. The system is adept at detecting vehicles, pedestrians, and cyclists, both in its path and at intersections, a feature that will certainly resonate with safety-conscious drivers.
As the EV9 prepares to make its grand entrance into the US market, the automotive industry watches with bated breath. Will this well-priced, feature-packed electric SUV be the wake-up call the industry needs?
Related
Wow, the EV9 looks like it's going to give Tesla a run for its money. Can't wait to see it hit the US dealerships, finally, an electric SUV that doesn't break the bank!📋
Reviews
Unknown column 'RWD' in 'where clause'
SELECT models.*, drives.DriveID, drives.Anchor, drives.Thumb, makers.MakerName FROM models LEFT JOIN ( SELECT ModelID, MAX(DriveOrder) AS MaxDO FROM drives GROUP BY ModelID ) AS dlinks ON models.ModelID = dlinks.ModelID LEFT JOIN drives ON dlinks.ModelID = drives.ModelID AND dlinks.MaxDO = drives.DriveOrder LEFT JOIN makers ON models.MakerID = makers.MakerID WHERE models.ModelID IN (56,2023,RWD,BYD,213,2021,Air,348,2022,SR) ORDER BY FIELD(models.ModelID, 56,2023,RWD,BYD,213,2021,Air,348,2022,SR) LIMIT 6; -- 1062, 35.175.107.142
Warning
: mysqli_num_rows() expects parameter 1 to be mysqli_result, bool given in
/home/gsmarena/arenaev/m/_rankingswithpics.php3
on line
37