Audi RS e-tron GT Project 513/2 is US exclusive with only 75 units
Max McDee, 16 March 2023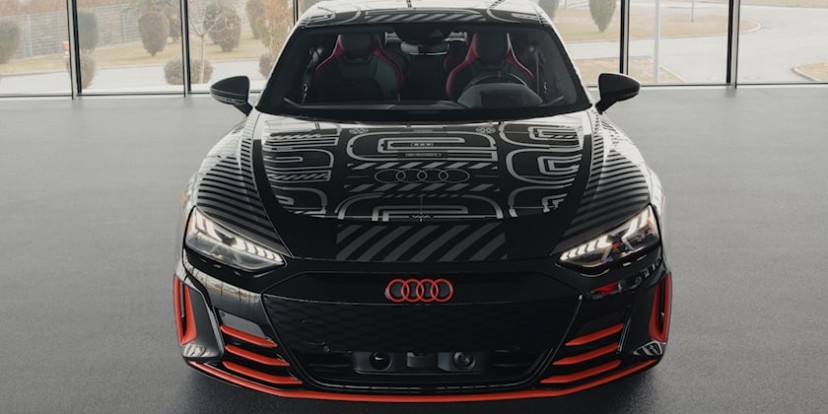 If you ever wanted to drive a car that looks like a prototype - now is your chance. Audi has commissioned a limited run of 75 units of the RS e-tron GT that will be prepared by Audi Exclusive, its customization division. The cars will be made to look like the original prototype of Audi e-tron GT under the Project 513/2 name.
There's more to the car than just a fancy wrap, though. The wrap itself mimics the graphic design Audi uses for its EV prototypes, the paint scheme is simple with gloss black and red accents. For the first time ever, the Audi logo goes red as well.
The customization goes much deeper, each of the 75 units gets ceramic brakes with red calipers, carbon fiber roof and carbon fiber inserts spice up the Alcantara-clad interior. Red accents from the outside are complemented with interior details - air vents, stitching and seatbelts. Sports seats are wrapped in the finest Nappa leather and finally the Project 513/2 name is embossed in the central console.
On the performance side of thing, the Project 513/2 is a standard Audi RS e-tron GT - twin-motor 646 hp and 830 Nm of torque with top speed of 250 km/h (155 mph) and 0 to 100 km/h sprint time of 3.3 seconds (0 to 60 mph in just 3.1 s). Rear wheel steering is standard as well, helping the nearly 5-meter long Audi turn on a dime.
It's not the first time Audi offers the prototype-like look for e-tron owners. Its previous offering was just a car cover though, sure - it had the prototype-style graphics printed onto it, but it was only a car cover. This here is a real deal for all Audi and its prototype vehicles aficionados.
The only question that remains is how much will this pleasure of being unique set you back? You better sit down for this one - taking into account that the "normal" version of the Audi RS e-tron GT costs $143,900, the Project 513/2 comes at a rather painful $179,900. Then there is the destination charge of $1,495 which brings the total to $181,395 and makes the RS e-tron GT Project 513/2 officially the most expensive Audi on sale in America.
Related
Nothing yet. Be the first to comment.
Popular models