Hyundai entices US buyers with complimentary chargers for Ioniq and Kona EVs
Max McDee, 22 September 2023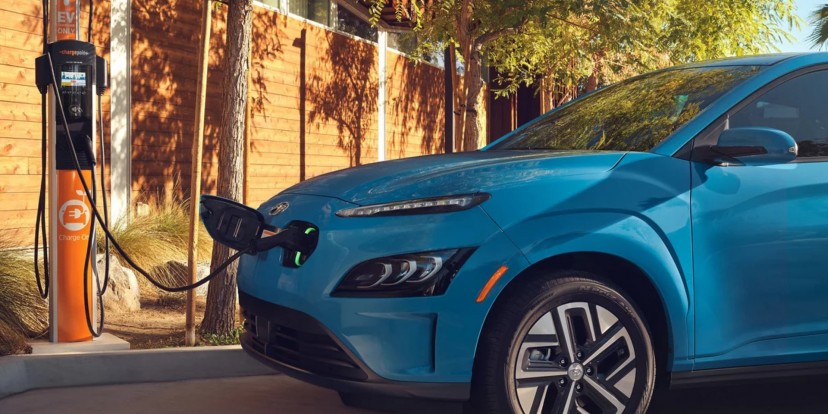 In a market slowly becoming busier with electric vehicles, automakers strive to stand out and make electric transitions smoother for consumers. Hyundai is plugging into this ethos, unveiling an enticing offer for US buyers of its new Ioniq 5, Ioniq 6, and Kona Electric models.
From September 21 to October 31, 2023, those who purchase or lease a 2023 or 2024 model of the aforementioned EVs will be in for a treat – a complimentary ChargePoint Home Flex Level 2 charger, plus a $600 installation credit. The charger alone flaunts a value of $549, making the total perk worth over $1,100.
But here's the catch: buyers are required to register on Hyundai's online Marketplace and input a unique coupon code within 90 days of signing the contract. Once connected, a dedicated Energy Advisor from Hyundai Home will guide them through the charger installation process. This includes assessing the buyer's home, finding a trusted installer, and obtaining the necessary permits. A clear-cut path to electrification, indeed.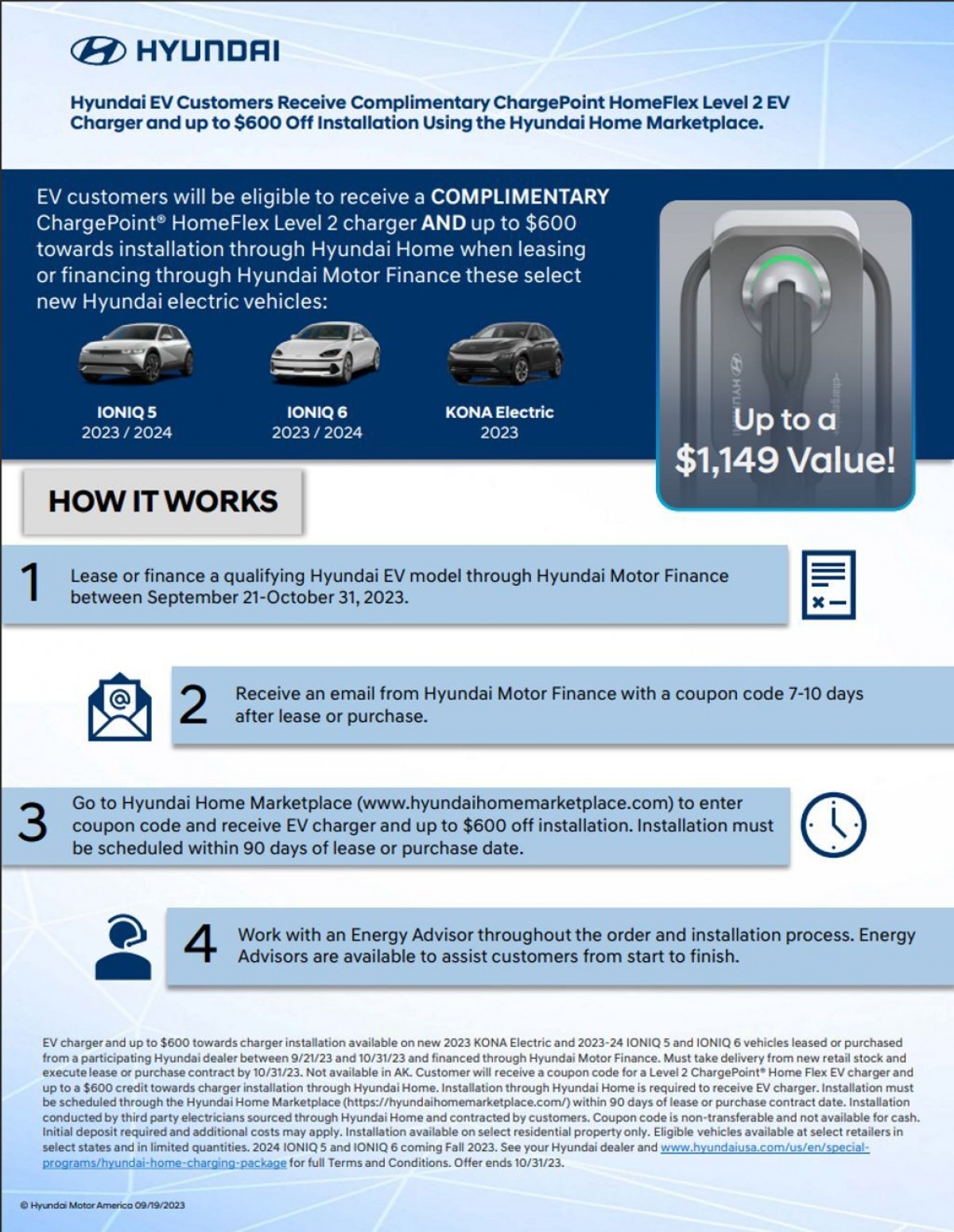 Hyundai is not just stopping at providing chargers; the company's Marketplace also facilitates the purchase of solar panels and home energy storage systems. Teaming up with Electrum, an online home electrification solutions provider, Hyundai aims to offer a comprehensive approach to home electrification.
The ChargePoint Home Flex Level 2 charger is quite the gem, capable of delivering between 16 and 50 amps to an EV. Consumers have the flexibility of choosing between three different variants: hardwired, with a NEMA 6-50 plug, or a NEMA 14-50 plug. Choices, choices!
José Muñoz, the president and global COO of Hyundai Motor Company, and president and CEO of Hyundai Motor North America, emphasized the company's commitment to customer convenience. He stated that Hyundai is not only focused on offering a diverse range of quality EVs but also understands the significance of charging infrastructure for potential buyers.
By walking customers through the process of home charging installation, Hyundai aims to diminish the apprehensions of "EV-curious" buyers and encourage a broader audience to embrace electric mobility. This initiative exemplifies Hyundai's vision for the future – making electric vehicle ownership more accessible and less daunting for the general public.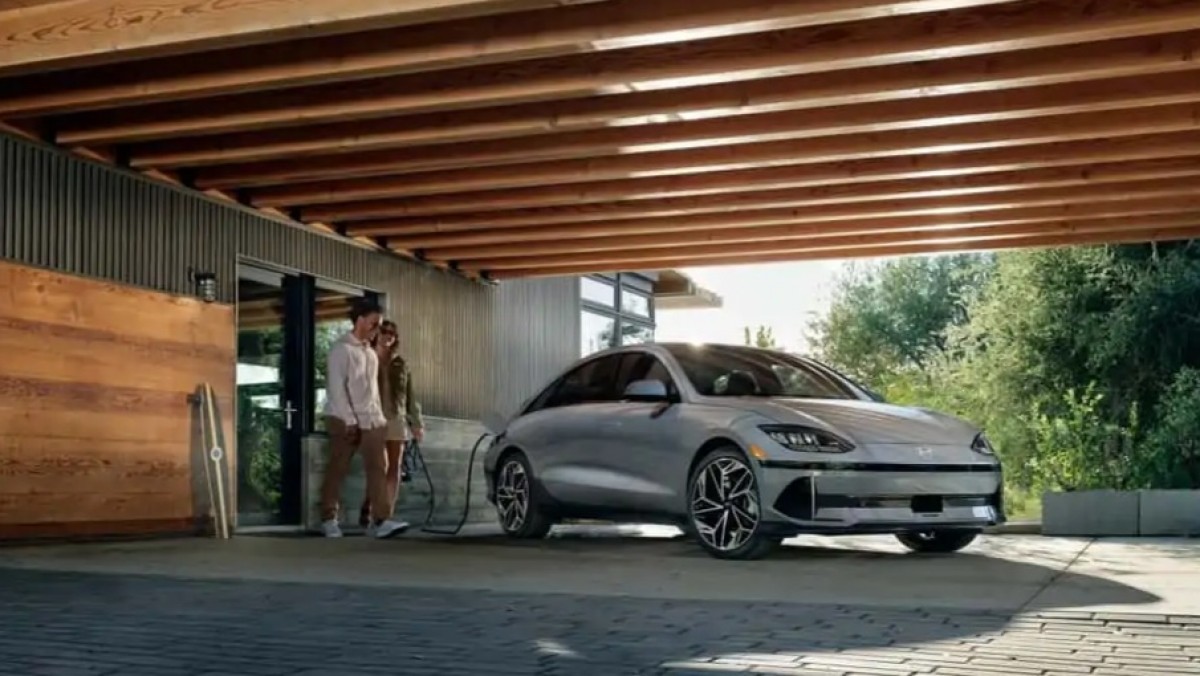 Hyundai's recent move highlights the growing emphasis on customer-centric approaches in the electric vehicle market. The Korean automaker is crafting an experience that extends beyond the car itself, addressing potential roadblocks in a buyer's journey to electric vehicle ownership.
With such perks, Hyundai is essentially fueling the electric dreams of consumers, attempting to ease the transition and remove the bumps off the electric road. However, while the offer is indeed tempting, potential buyers should, as always, approach with a healthy dose of skepticism and ensure that the deal aligns with their specific needs and preferences.
In a rapidly evolving automotive landscape, where electric vehicles are finally becoming the norm rather than the exception, Hyundai's approach to customer satisfaction and its attempts to streamline the EV buying process are worth noting.
Related
Nothing yet. Be the first to comment.
Reviews
Unknown column 'RWD' in 'where clause'
SELECT models.*, drives.DriveID, drives.Anchor, drives.Thumb, makers.MakerName FROM models LEFT JOIN ( SELECT ModelID, MAX(DriveOrder) AS MaxDO FROM drives GROUP BY ModelID ) AS dlinks ON models.ModelID = dlinks.ModelID LEFT JOIN drives ON dlinks.ModelID = drives.ModelID AND dlinks.MaxDO = drives.DriveOrder LEFT JOIN makers ON models.MakerID = makers.MakerID WHERE models.ModelID IN (56,2023,RWD,BYD,212,2021,Air,348,2022,SR) ORDER BY FIELD(models.ModelID, 56,2023,RWD,BYD,212,2021,Air,348,2022,SR) LIMIT 6; -- 1062, 35.175.107.142
Warning
: mysqli_num_rows() expects parameter 1 to be mysqli_result, bool given in
/home/gsmarena/arenaev/m/_rankingswithpics.php3
on line
37