Tesla's Gigafactory in Berlin caught fire, activists call for production stop
Ro, 26 September 2022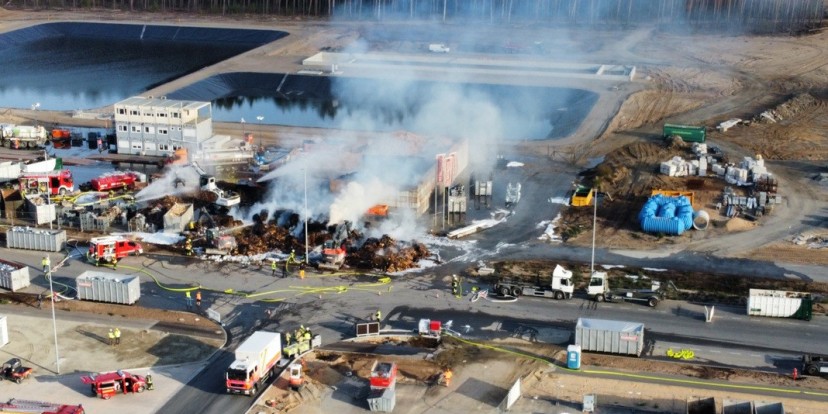 When Tesla was in the early stages of negotiation with the German government, activists were against the company building its Gigafactory Berlin on the grounds of potential water contamination and other environmental issues that may arise. Well, a fire in the factory's recycling plant broke out early in the morning and some of the locals are asking for production to stop.
According to German media, a large amount of cardboard and wood caught fire in the factory's recycling facility - 800 m3 of paper and wood as per sources. The flames were seen from afar and it took 50 firefighters, 12 of them from Tesla's very own brigade, to extinguish the fire.
Fortunately, there are no reports of injured workers at the factory, but the activists are still calling for the Gigafactory to stop production. At least until a proper investigation has been carried out and safety measures are in place. It's reported that earlier this year, the same group was asking the local government to revoke Tesla's production permit due to a paint leak.
Related
Maybe Tesla should have built somewhere else in Europe. The radical greens screwed up German energy policy and are responsible for the absolute dependence of Germany on Russian gas, and by extension, for enabling the current land-grab war by Russia.
Reviews
Unknown column 'RWD' in 'where clause'
SELECT models.*, drives.DriveID, drives.Anchor, drives.Thumb, makers.MakerName FROM models LEFT JOIN ( SELECT ModelID, MAX(DriveOrder) AS MaxDO FROM drives GROUP BY ModelID ) AS dlinks ON models.ModelID = dlinks.ModelID LEFT JOIN drives ON dlinks.ModelID = drives.ModelID AND dlinks.MaxDO = drives.DriveOrder LEFT JOIN makers ON models.MakerID = makers.MakerID WHERE models.ModelID IN (56,2023,RWD,BYD,213,2021,Air,348,2022,SR) ORDER BY FIELD(models.ModelID, 56,2023,RWD,BYD,213,2021,Air,348,2022,SR) LIMIT 6; -- 1062, 35.175.107.142
Warning
: mysqli_num_rows() expects parameter 1 to be mysqli_result, bool given in
/home/gsmarena/arenaev/m/_rankingswithpics.php3
on line
37