Tesla Model S 75D 2018 used car review
Vik Braykov, 21 September 2023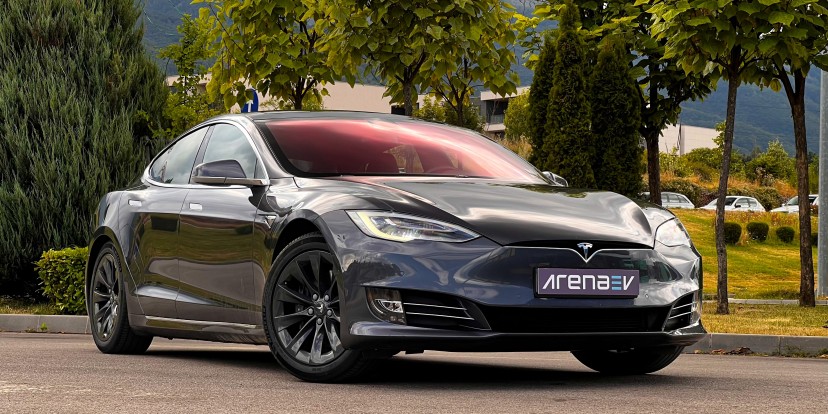 Tesla first came out with the Model S over a decade ago, but it still is the company's flagship model with more than 600,000 sales. The Model S has always been the first one to get the new Tesla technologies and features, which later on trickled down to the other models. The following the Model S has is immense, and the car has become somewhat of a symbol in modern pop-culture.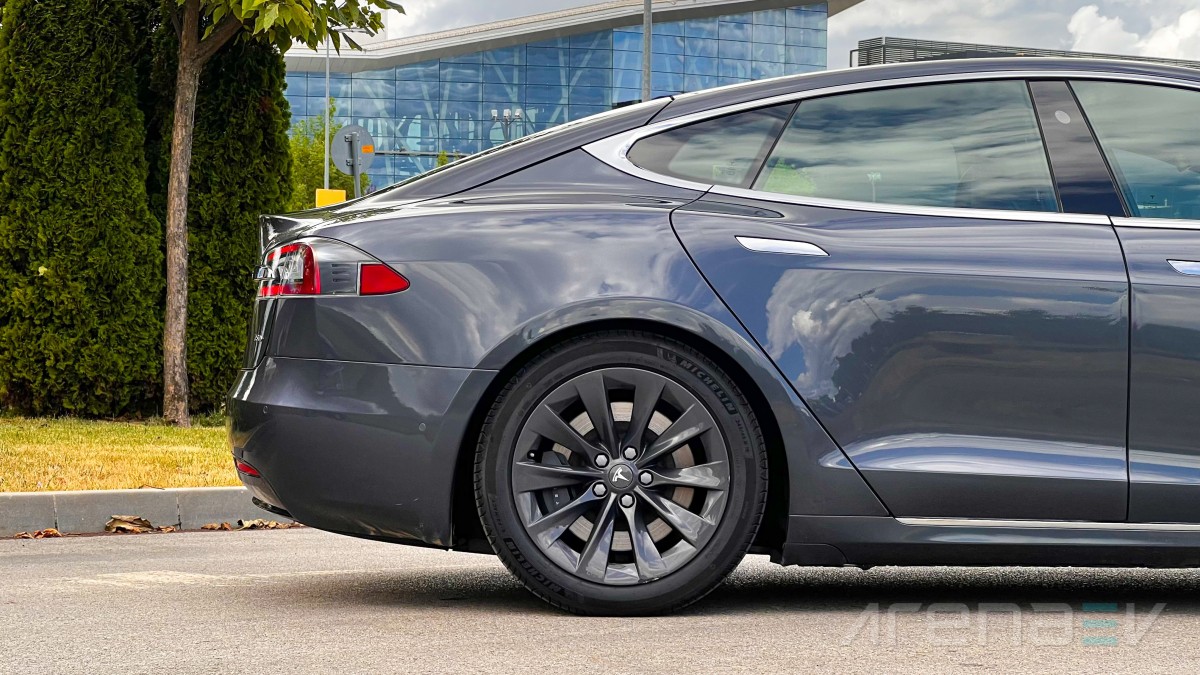 Which begs one question: How does the Model S do in the long run? Is it just a marketing exercise that becomes useless with time, or is the Model S an actually great car that has stood the test of time - we are here to find that out in this review.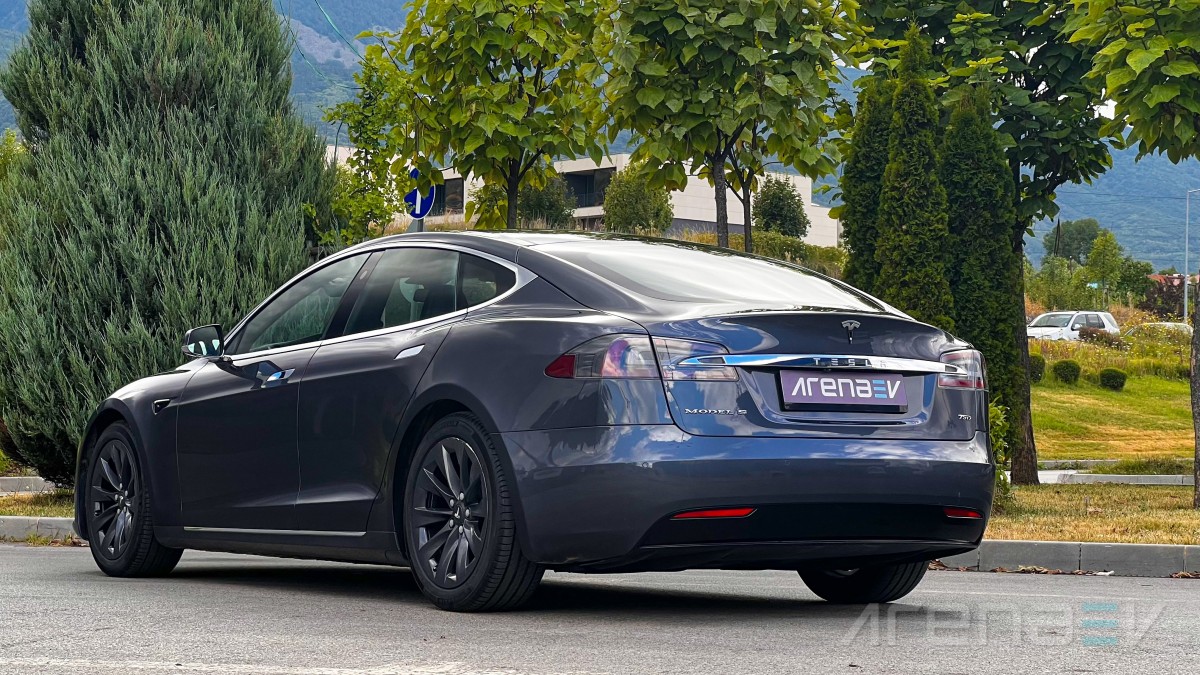 Today, we have a used 2018 Model S 75D with shy of 99,400 miles on the clock. It is the updated version with 386 kW (518hp) output and is currently owned by one of our ArenaEV editors. This allows this review to feature more on real-life experiences and personal observations over a longer period of time.
2018 Tesla Model S 75D at a glance:
Dimensions: 196 inches x 77.3 inches x 56.9 inches, 116.5 inches wheelbase.
Drivetrain tested: 75D - AWD 386 kW (518 hp), 486 lb-ft, 75 kWh total battery capacity; 72.6 kWh usable.
Other drivetrains: P100D - AWD, 568 kW (772 hp), 723 lb-ft, 100 kWh total battery capacity; 95 kWh usable.
Charging: 150 kW Supercharger, 142 kW CCS; 10-80% in 42 min.
Range: 304 miles NEDC (259 miles EPA)
Weight: 4,647 lb unladen
Other features: Sunroof, Tesla Supercharge, OTA updates, Autopilot, Dog mode.
Exterior
Looking at the Tesla Model S from the outside, we recognize a familiar silhouette. More or less, all Tesla models follow the design language that the Model S started. It has a sleek look, with curvy lines and soft edges, which make the car look reasonably modern even 11 years after the first models came out.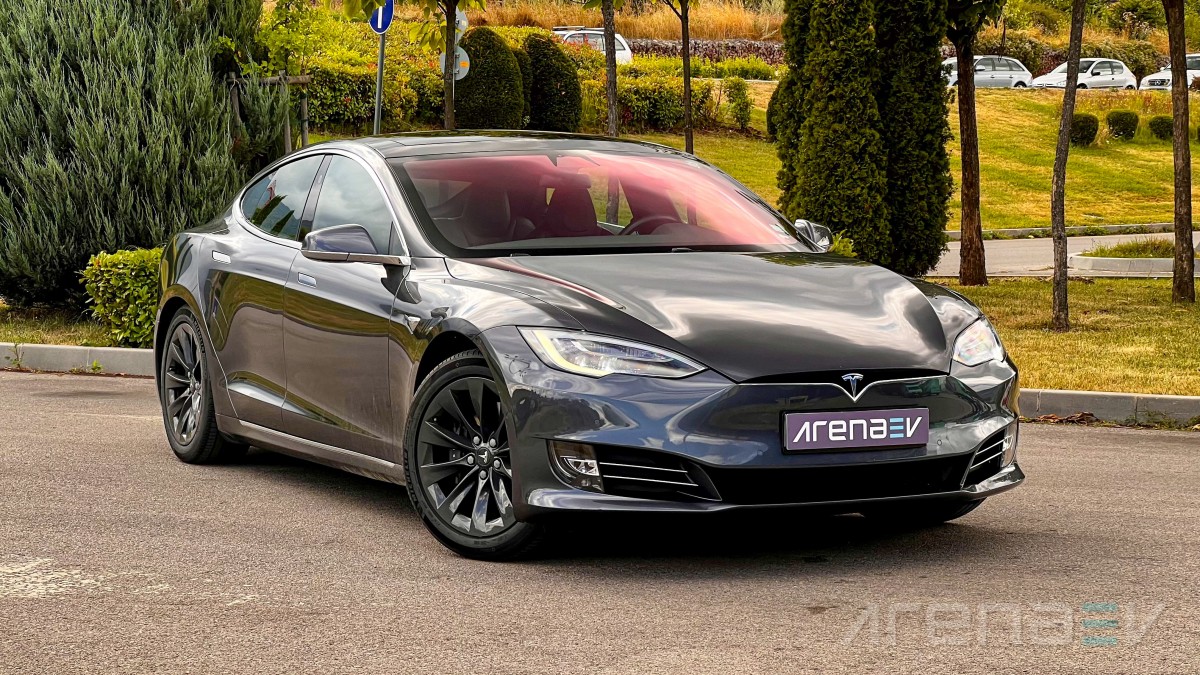 A fact that helps the design stay fresh over such a long period is the lack of significant changes over Tesla's entire lineup. The Model S has taken only evolutionary steps, and very minor ones at that, which means even the oldest Model S examples don't look too different from brand-new ones.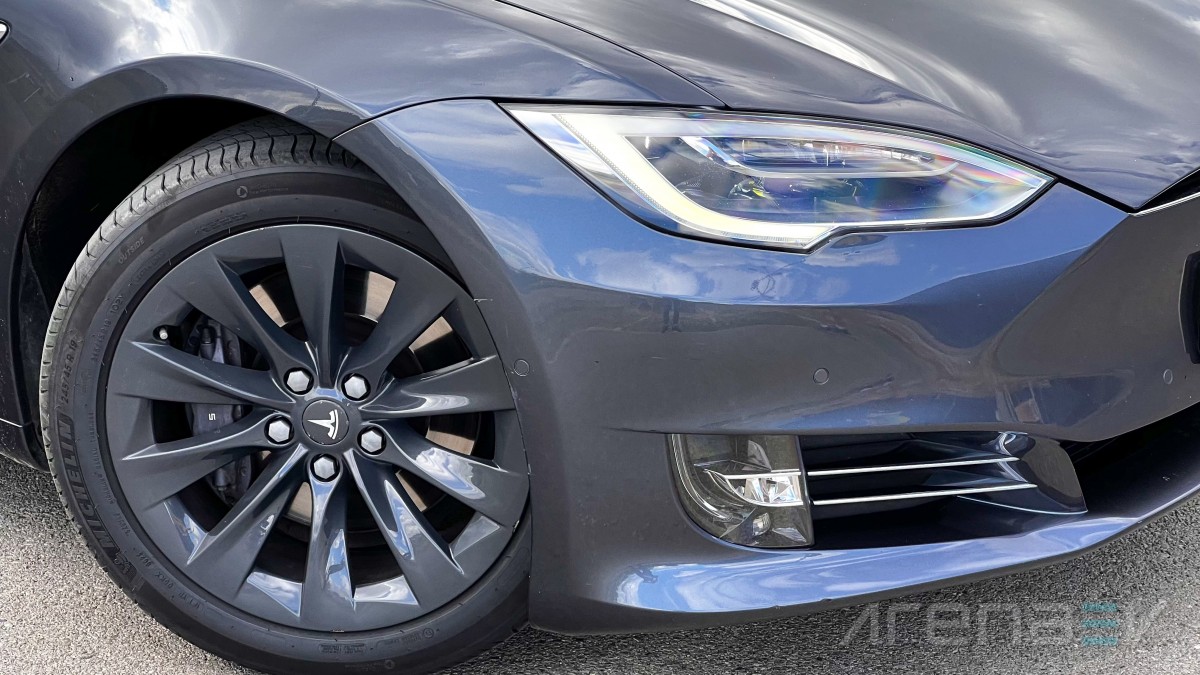 The front is recognizable with the lack of center grille and its swoopy lines. The headlights come with a signature LED strip, and the foglights are regular bulbs in the lower corners. Overall, the face of the Model S has distinct styling without being too expressive or pretentious.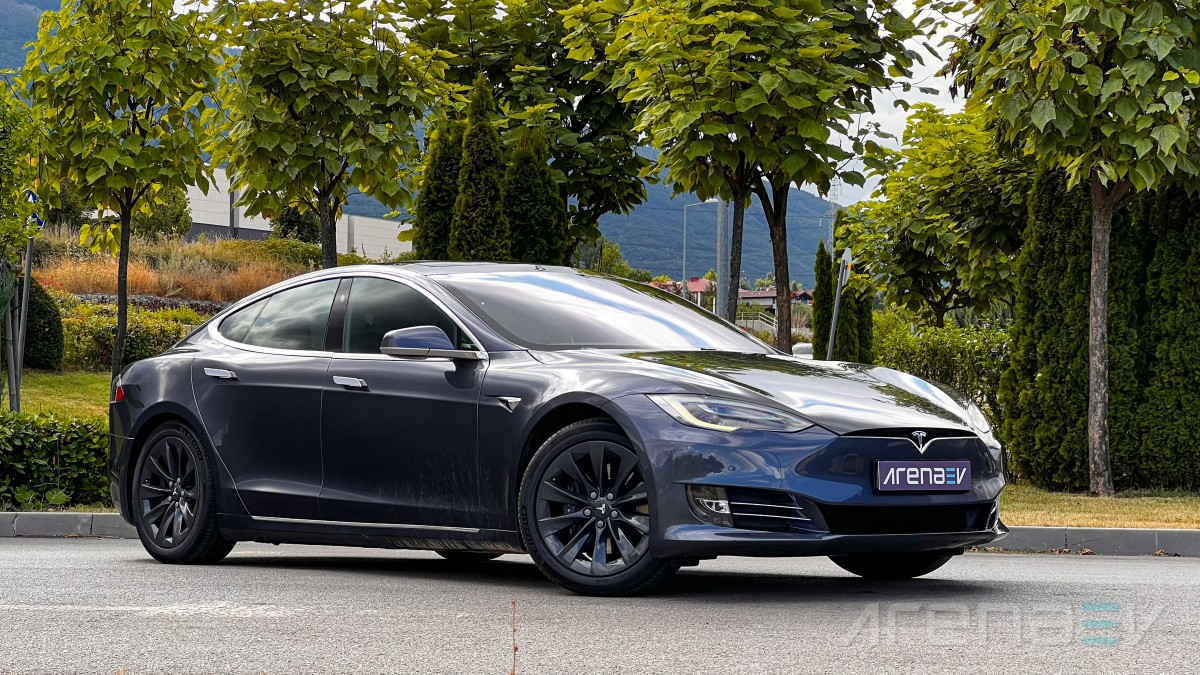 From the side, the Model S carries some typical sedan styling cues with its long hood, and raising roof line, which gracefully drops down again for the trunk. The profile is similarly sleek and restrained, tailored for aerodynamics rather than instant recognizability. The sides are characterized by flushed door handles, and where most other vehicles have vents on their fenders, the Model S has cameras.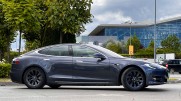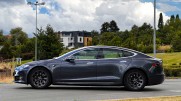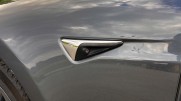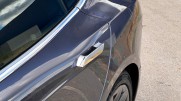 The Model S has some fine touches on the side, but nothing is too flashy or overstyled.
The rear of the Model S is where the design becomes more distinct. The tail lights are connected with a big aluminum trim, which spells out "TESLA" and gives the car an upscale look. Above it stays the Tesla "T" to complete the rear-end design.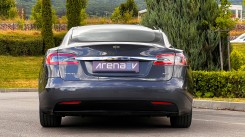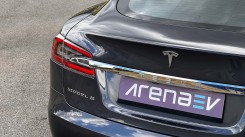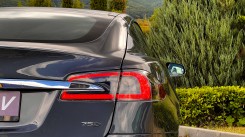 The rear of the Model S is subtle, yet very distinct.
Interior
Stepping inside the Model S, we get the feeling of "subdued luxury". Most of the elements and the overall design are unique to Tesla, while some parts are borrowed directly from Mercedes, since the two companies worked together at the time. One example is the finish in black leather and Alcantara with wood details, which is a very classical old-school decision. The other option at the time was a white interior with aluminum trim, which definitely created a more modern, but slightly less cozy atmosphere.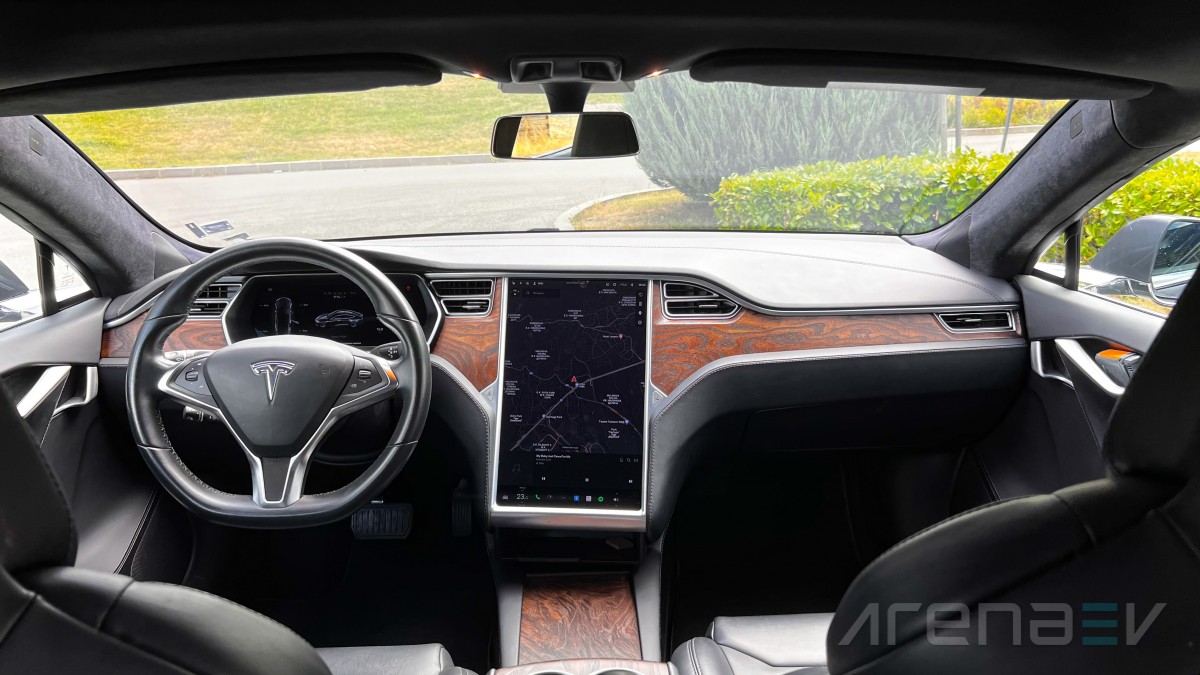 The leather feels soft but is starting to show some wear, while the plastics continue to be decent, just as when they were new. Tesla has never been among the best regarding quality of materials and build, but after 5 years of usage, this car still holds up pretty well, without any significant damages or problems on the interior.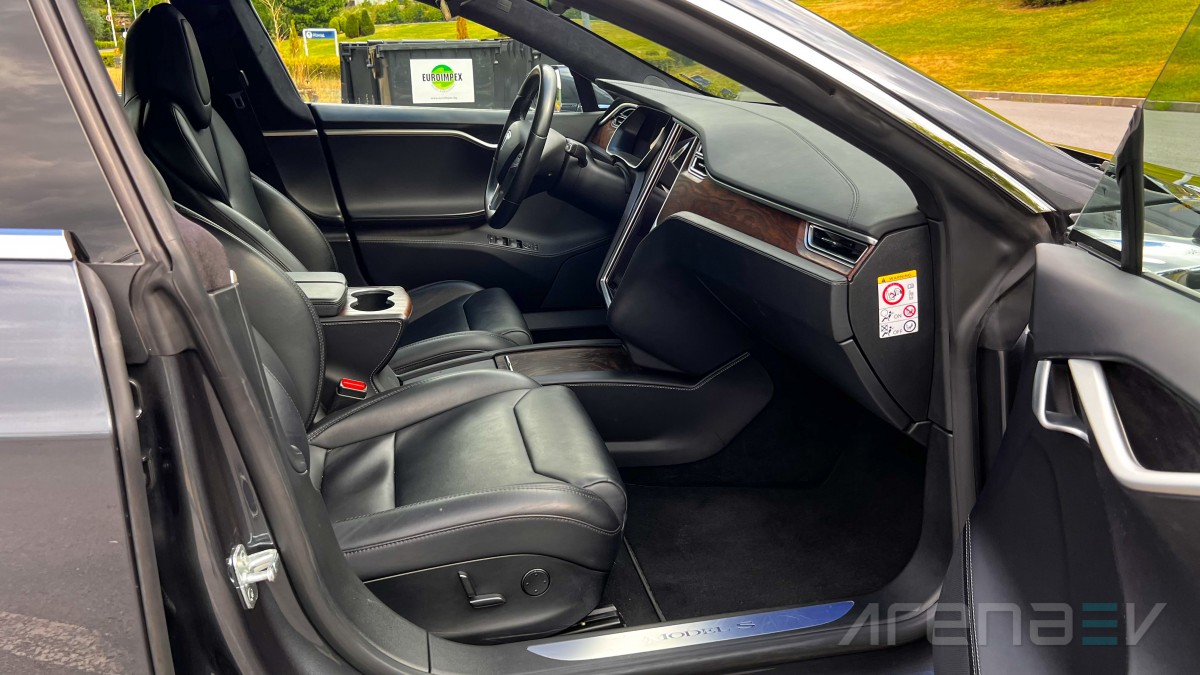 The steering wheel and the stalks behind it, as well as the window controls, come directly from Mercedes, and they work flawlessly. The steering wheel is big and thick, with a slightly flattened lower end for easier entry and exit. Many of the vehicle controls happen from the steering wheel buttons, which are very minimalist and have multiple applications.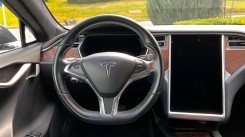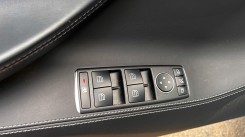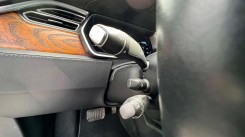 Tesla has borrowed some important parts from Mercedes!
The digital gauge cluster is a seriously impressive screen with great usability and many customization options. It is split into 3 sections, with the center one being the only non-customizable as it shows all important indicators like your speed, cruise control, speed limits and lane assist. The left and right sections of the screen are interchangeable, but enable you to have all kinds of vehicle data shown at the same time.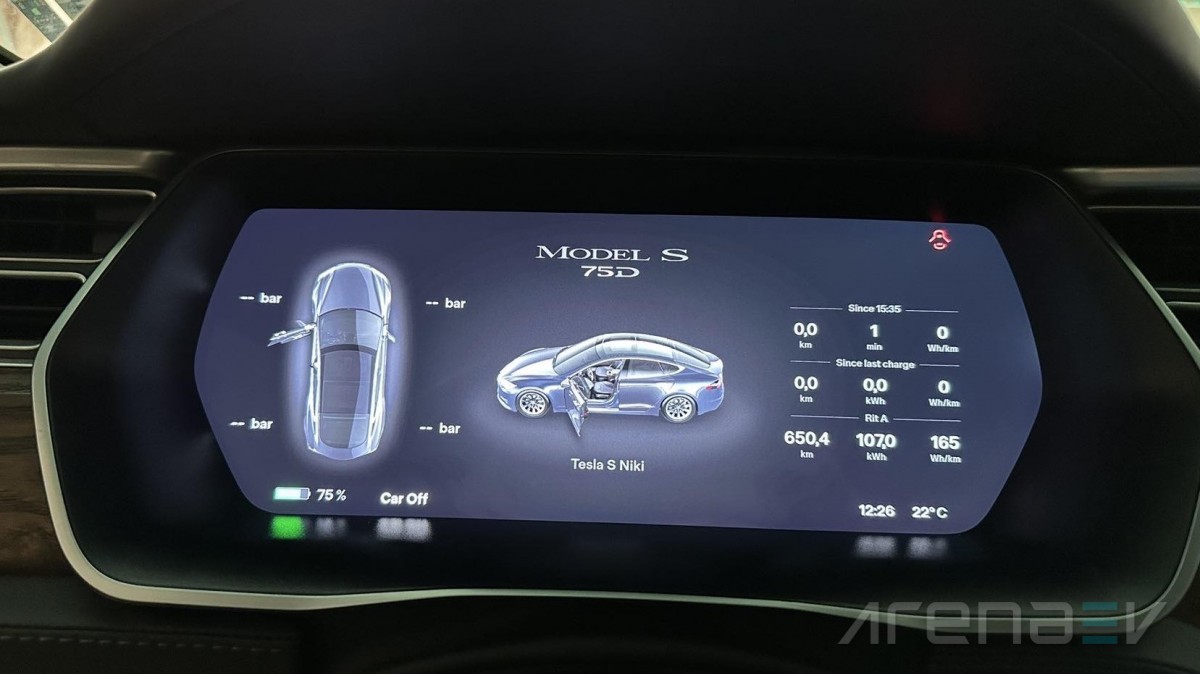 Moving onto the center screen, which has always been Tesla's biggest hallmark. It is vertically mounted and absolutely huge, with a 17-inch diagonal. It doesn't flow great with the restrained interior design of the vehicle and almost looks like an aftermarket installation, but the way it works is very impressive. All of the vehicle's functions are controlled through the center touchscreen, which still works well to this day, although it isn't as quick as some modern infotainment systems.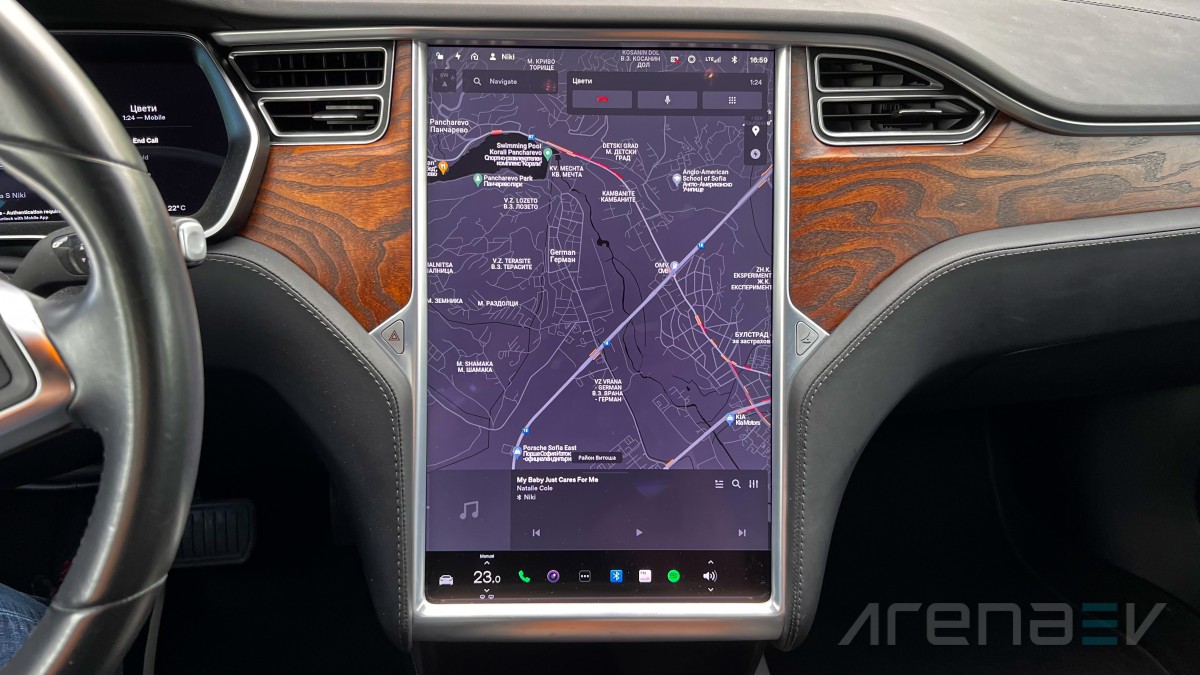 The next piece of the interior that is starting to show age is the seats, which, as we already mentioned with the rest of the materials, weren't great even when they first debuted, and now, several years later, they start to show some tear. The leather has already started to sag, even though the owner takes great care in order to keep it fresh and clean at all times.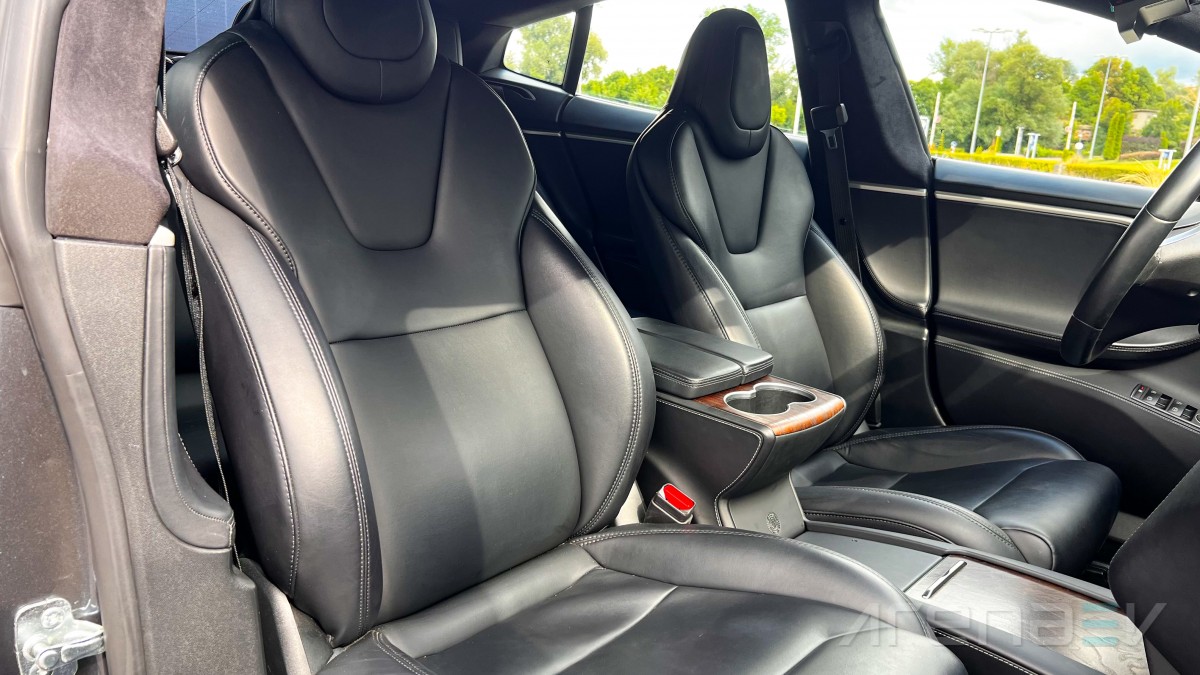 Beyond that, the seats are comfortable and offer good side support and many adjustment options, which is great for such a big sedan. Many people use the Model S for long trips, where seat comfort is a sought-after feature.
The best part is that the back seats offer the same comfort as the front ones. Only taller passengers might struggle with the headroom due to the sloping roof line. The zone where the rear sunroof runs is a bit higher up, but headroom still remains compromised.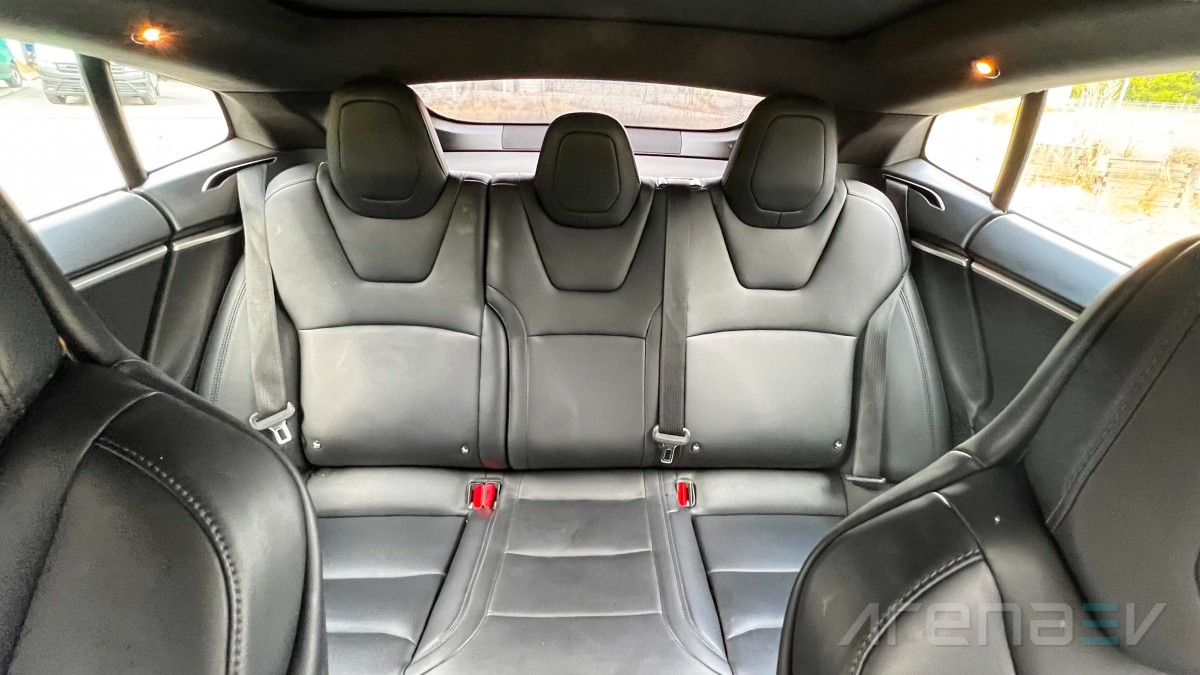 Legroom is great for a bigger mid-size sedan. Even our 1.95m (6'4") tall reviewer has no problem fitting around back and enjoying a nice ride on longer trips with plenty of room left.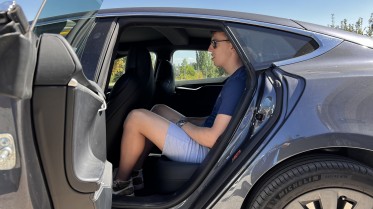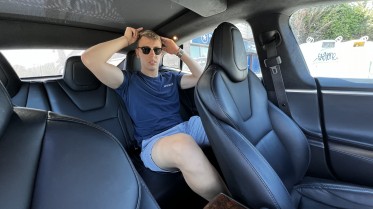 The back seats offer great legroom, but headroom is limited.
Storage and practicalities
The trunk of the Tesla Model S is notoriously big for a sedan and very convenient too. It incorporates a hatchback opening style with a huge opening, low loading floor and great overall space. The Model S even used to be available with 2 more seats in the trunk, which turned the vehicle into a 7-seater. This was a major selling point for people that needed those extra seats, but also didn't want to opt for a big SUV.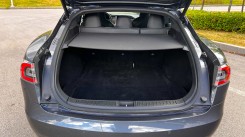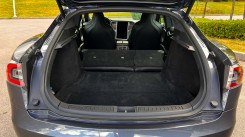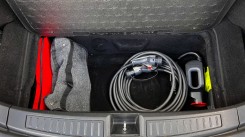 The trunk is amazingly spacious and can carry a lot of luggage.
The frunk (front trunk) is also wide and deep and can hold a lot of stuff. You have to be careful with the load weight, though, because the weight limit is just 110 lb.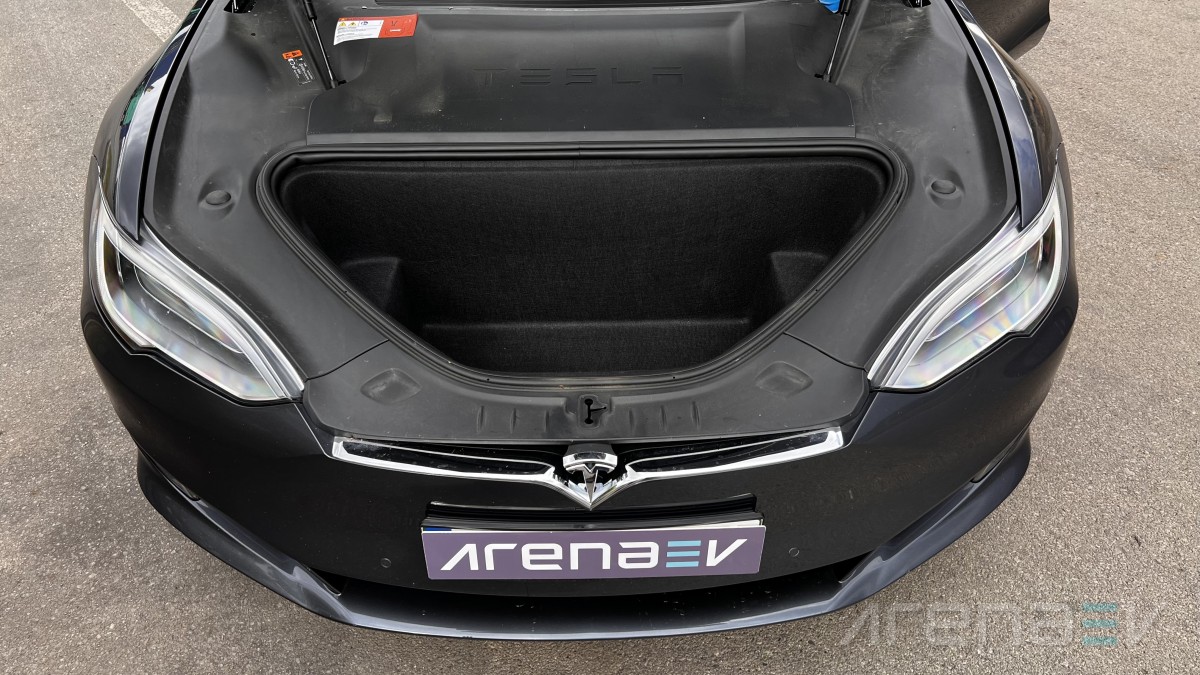 Inside the vehicle, the doors offer absolutely no storage space. In contrast, the center console and armrest offer very deep pockets, which can hold several small objects you frequently use while driving.
Driving experience
Behind the wheel of the Model S, we hardly feel like driving what is realistically an 11-year-old model now. The steering is very light and comfortable, which suits such a big sedan. It is easy to maneuver the vehicle around, but the road feedback is almost non-existent.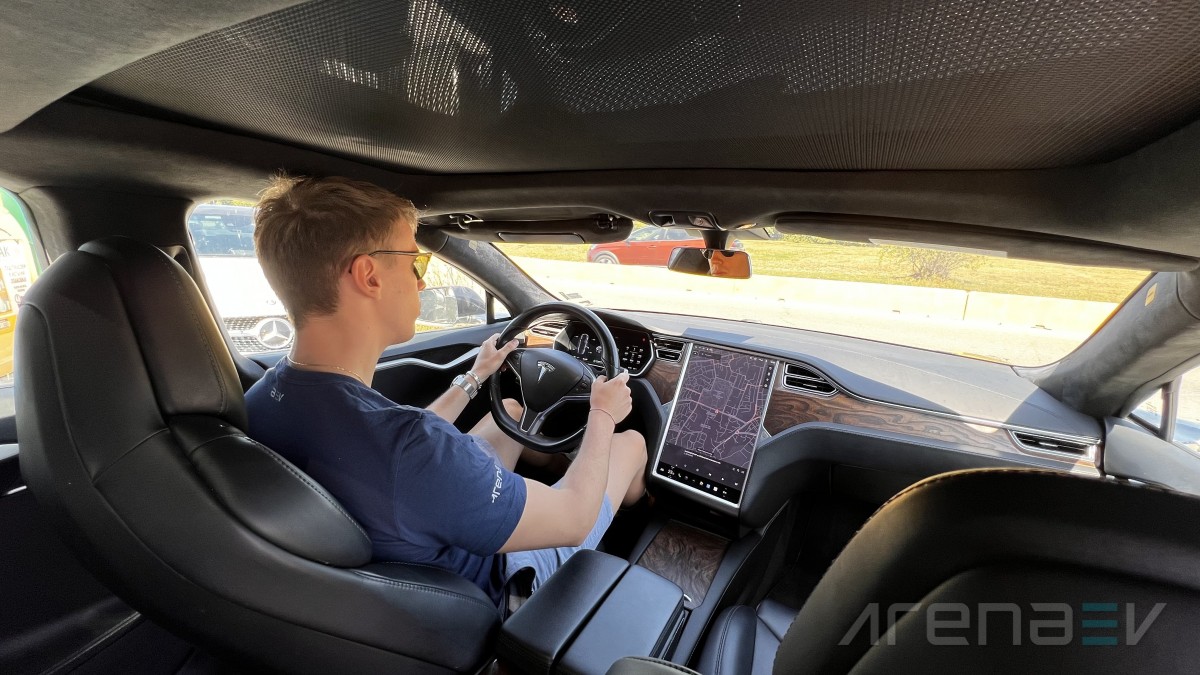 Driver assist technology is among the greatest in the industry even today, and this makes for a truly unique experience, especially on highways. The displays with all the needed information are big and easy to read, allowing even more relaxed and carefree driving.
The vehicle stays flat in corners due to its air suspension, which inspires confidence in the driver. The low center of gravity is a bonus in handling, but the serious weight of 4,647 lb can always be felt when turning at speeds and while braking.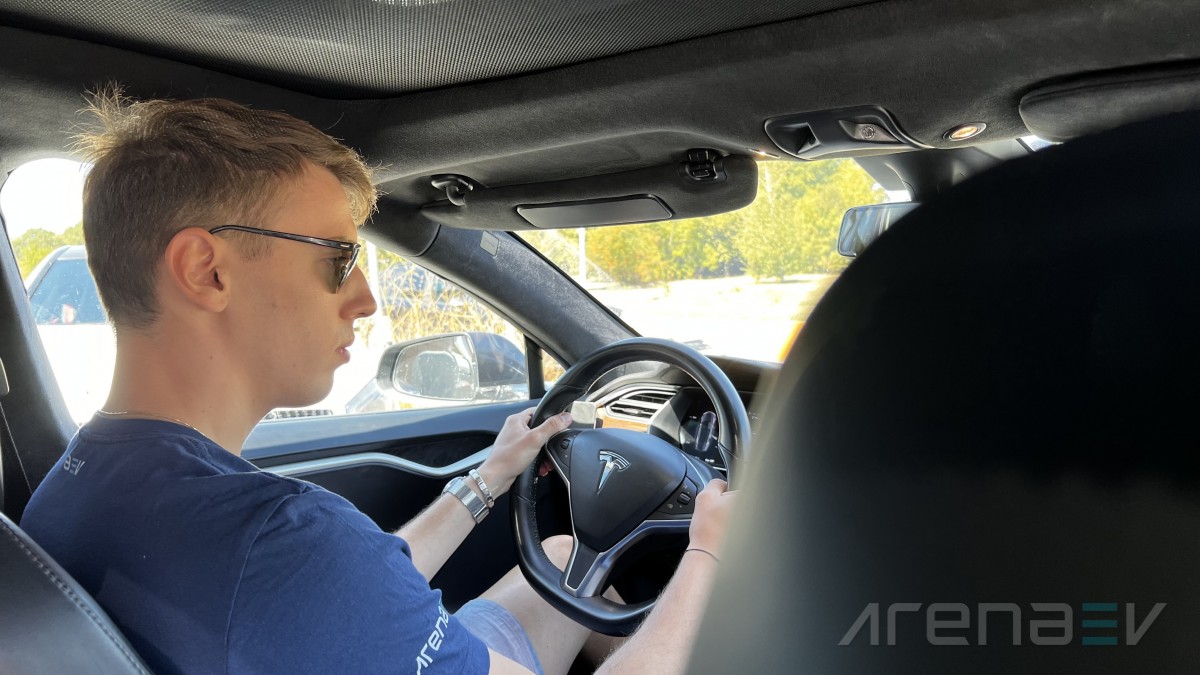 Tech features
When the Model S was first introduced, it was a technological marvel. More than a decade later most of the technology on-board still looks and feels up to date. The center screen remains among the biggest to ever be fitted into a passenger car, while its usefulness remains great.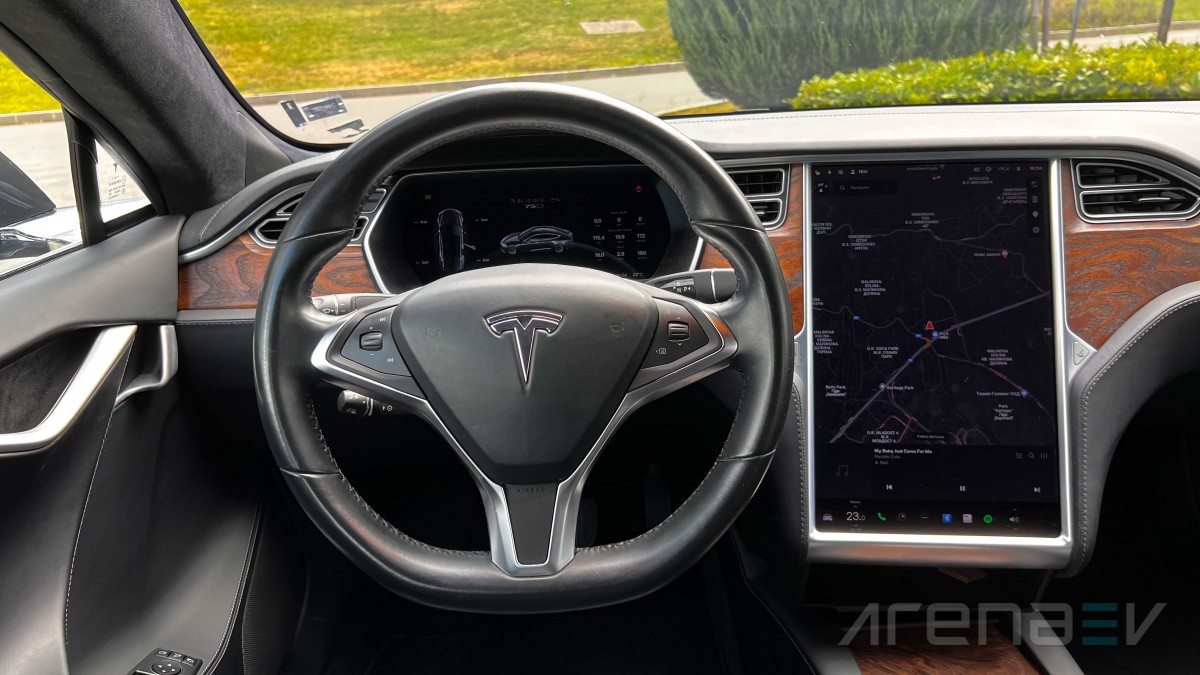 The OTA (over-the-air) updates keep the multimedia fresh and relevant even today, allowing you to use all modern connected and online services. In a world of continuously developing technologies, OTA's are almost a must. This Model S is far from being brand new, but its multimedia still feels modern, except for the occasional lag.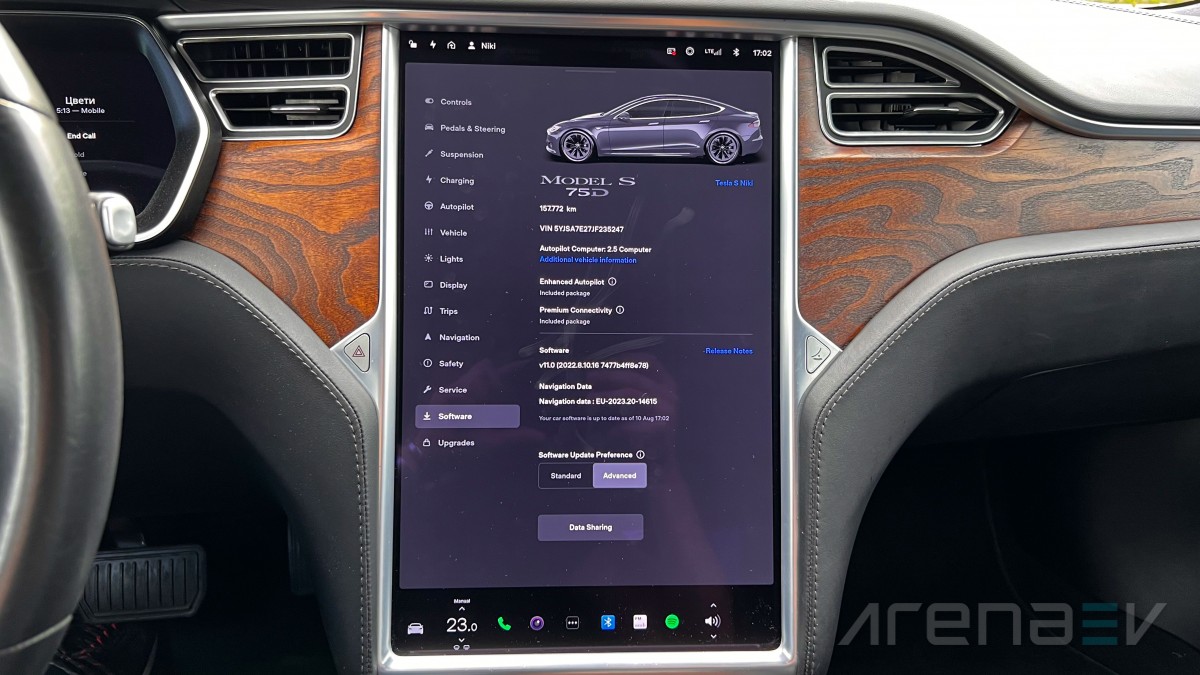 Some key functionalities of the infotainment include the navigation system, suspension controls and climate controls. Generally, all controls are integrated well and are easy to understand and use, except for the climate controls, which are cumbersome and require a lot of attention while driving.






The center display screen controls the majority of options of the Model S.
A useful feature all Tesla's have is the amount of different trip meters you can have at the same time. This helps measure exactly how much you consume based on your different driving styles, different trips or compare your consumption in different conditions.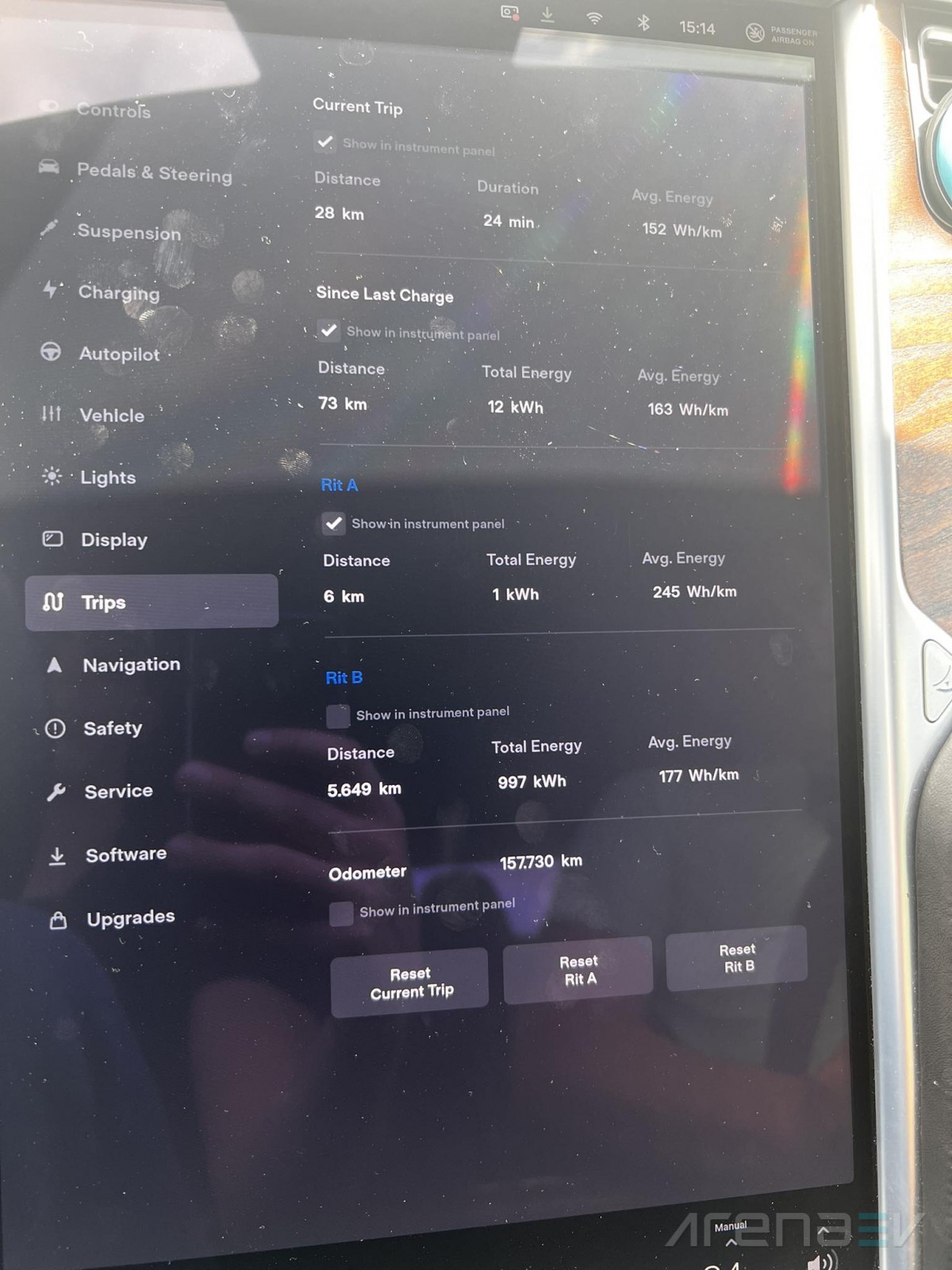 Modern services like Spotify and streaming platforms are also available, which is a function not even many brand-new vehicles have and can be very useful while waiting anywhere. Sadly, Apple CarPlay and Android Auto are not supported, as is the norm with Tesla models.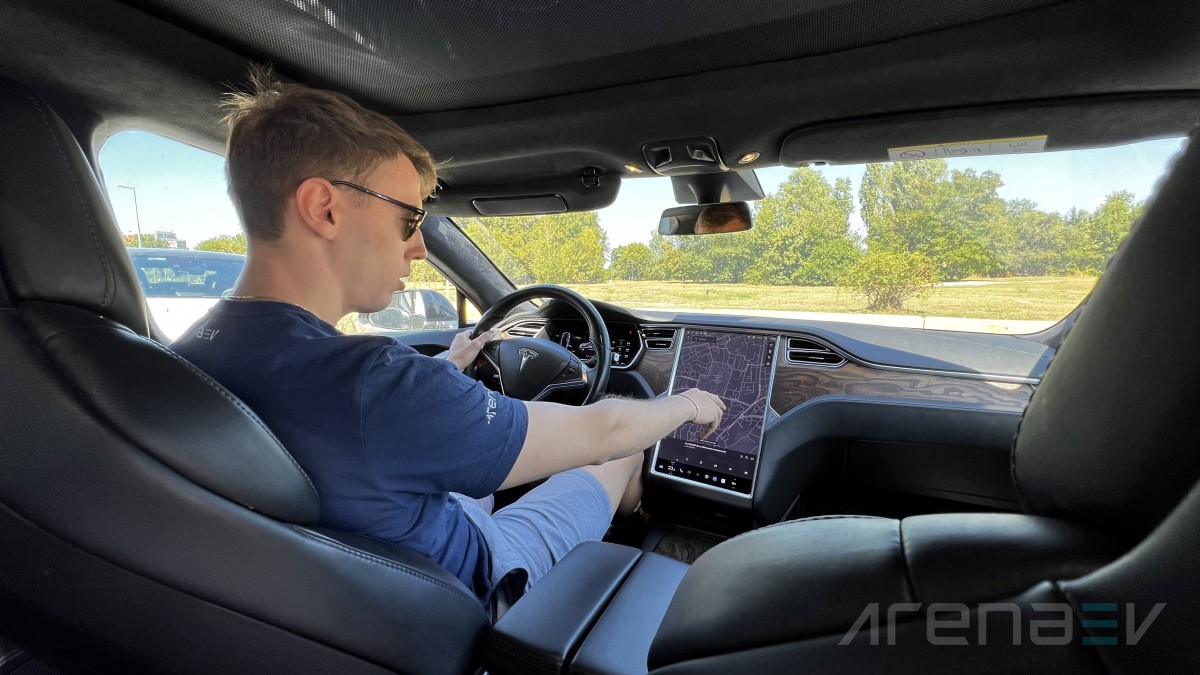 The autopilot feature has become a benchmark that sets Tesla apart from other manufacturers, and it was first available in the Model S. For the 2018 version we have, it was updated and works great even today. It allows for almost fully autonomous driving and makes traveling long distances a real pleasure.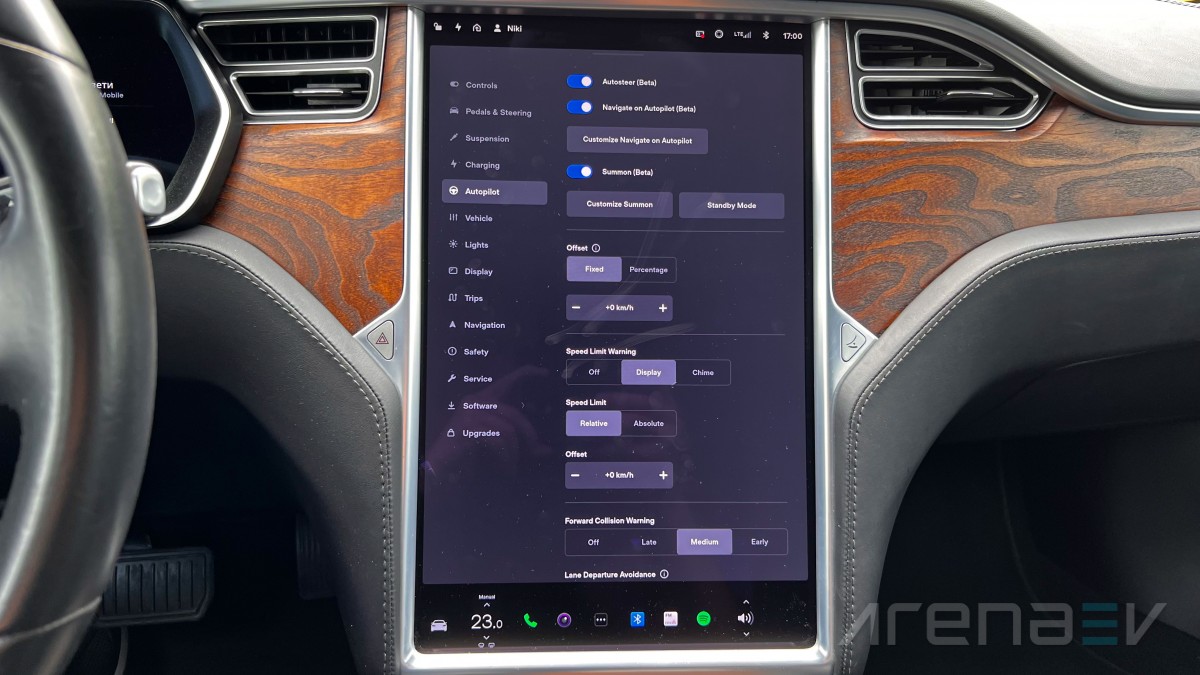 Ride comfort
Even though the Model S has an air suspension, which works great in corners and on the highway, small bumps and potholes are felt really harshly inside. For the segment the suspension is definately stiff, and while in the grand scheme of things it's not too bad, it contrasts with the comfort-first behavior of the steering wheel.
Cabin noise
The Tesla Model S does exactly how a big family-oriented sedan should perform and offers great sound insulation inside. It is quiet inside, but some rivals do better in that regard.
2018 Tesla Model S 75D Cabin Noise:
| Speed | Cabin Noise |
| --- | --- |
| 37 mph | 54.6 dB |
| 56 mph | 59.1 dB |
| 81 mph | 64.2 dB |
Sound level tests are carried out with a specialized sound level meter placed in the car's cupholders. The test is conducted with air conditioning and radio off and while maintaining a steady speed.
Acceleration and braking
The AWD and updated powertrain with 386 kW (518 hp) make the Model S 75D impressively quick. The sprint from 0 to 62 mph should take only 4.2 seconds. Our model did it in 4.7, but this is partially caused by the tires that prioritize efficiency over grip. The car is currently equipped with Michelin e-Primacy in size 245/45/R19.
Stopping was decent for such a big and heavy vehicle, with 36 m (128 ft) needed for a full stop from 62 mph. However, after a few such rapid stops, the brakes stopped functioning properly, so they are really pushed to their limits in this setup.
Consumption
The Tesla Model S was the first EV to use a streamlined body to optimize its efficiency. The consumption in our tests was impressively low for such a big and heavy vehicle. Our testing was conducted in one of the best possible conditions with an ambient temperature of 73°F.
It should be noted that our Model S has been charged primarily at home, which is the reason why its battery is still close to its full potential when new. Its degradation over time is 6.9%, which means that the capacity left now is 66.5 kWh and our calculations are based on this number.
2018 Tesla Model S 75D Consumption:
| Speed | Consumption | Range |
| --- | --- | --- |
| 37 mph | 5.9 mi/kWh | 393 miles |
| 56 mph | 4 mi/kWh | 265 miles |
| 81 mph | 3.2 mi/kWh | 212 miles |
We measure consumption by driving at constant speeds on an identical test route during the day. Testing is conducted with air conditioning, all safety systems and radio on. The data comes from the vehicle's board computer. Specific testing parameters, such as ambient temperature, are mentioned in the text on a case-by-case basis.
Charging speed
Charging is where the 2018 Model S 75D is starting to show its age. When it was first available, charging with up to 150 kW was amazing, but nowadays, it is far from impressive. Not to mention, the peak 150 kW is attainable for only a short period of time, and afterward, it slows down considerably.
AC home charging is also recommended as the primary charging method to keep the battery health at its best for as long as possible. However, if you need to, you can always rely on Tesla's greatly developed Supercharger network to charge up quickly.
Competition
Selecting competitors for a used electric sedan is a hard task, and that is why we chose one new and one used competitor. The Model S is hard to beat when it comes to pricing, since depreciation is a blessing for second-hand owners.
A used competitor that is around the same price range is the Audi e-tron 55. It was first available in 2019 and early examples have been hit with massive depreciation as well. The differences in size and body shape are obvious, but price, practicality and status are similar. The Audi feels much more modern and offers a more spacious interior. However, the Tesla is more efficient and weighs significantly less.
The second rival comes from Tesla's own stable - the Model Y Long Range is the brand's small crossover that is selling really well. Even brand new, the price difference isn't huge, but used examples tend to sell for even less. It isn't as upscale and luxurious as the Model S, but offers more space and almost the same number of conveniences, combined with a great range and the most modern technologies.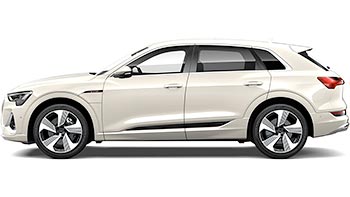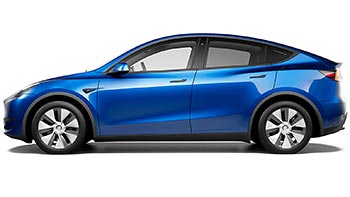 Audi e-tron 55 quattro 2019 - • Tesla Model Y LR AWD 82kWh 2021 -
Verdict
A used Tesla Model S is a good choice for those looking for a practical used EV, which can still provide all of the benefits it had when new. It is a spacious big sedan that is comfortable for both long travels and regular daily commutes.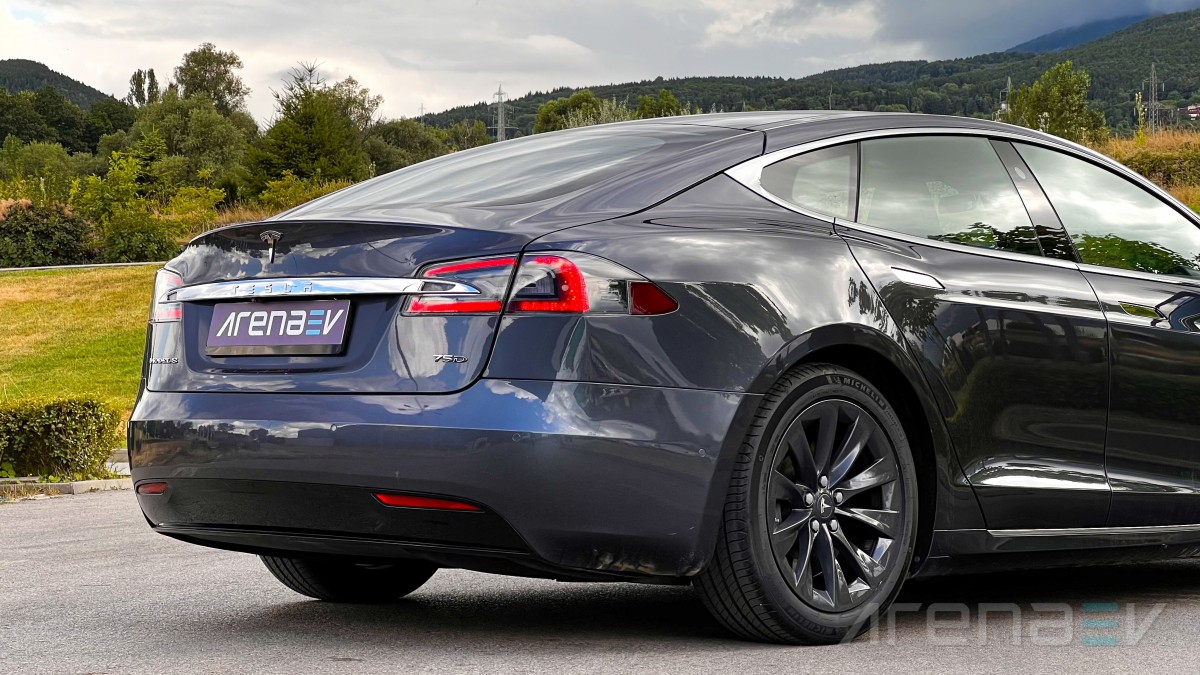 The technology inside the Model S still feels up-to-date, which is rarely the case with used cars. The OTA updates have worked like an anti-aging serum for the Model S, whereas the battery pack has proven to be reliable and still provide almost the same capabilities as when new.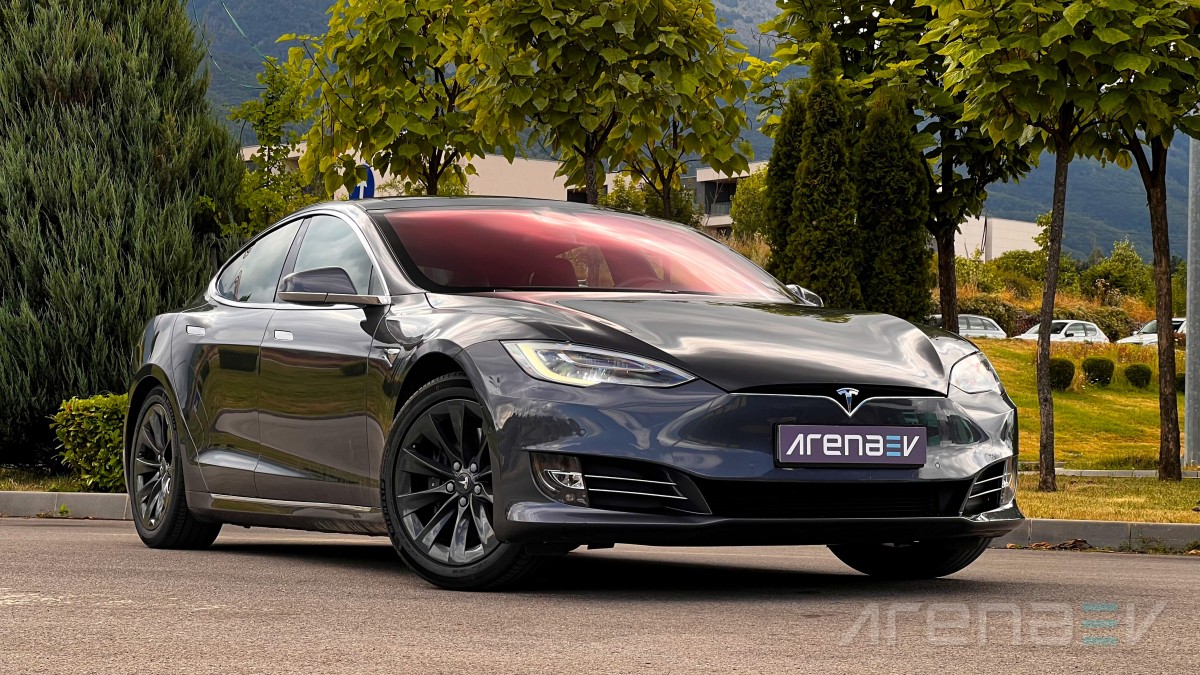 Pros
Styling that stood the test of time.
Great power efficiency.
Tesla's Supercharger network.
Nice handling.
Very quick off the line.
Comfortable seats front and back.
Modern infotainment even by today's standards.
Cons
Build and material quality is not great.
Limited headroom in back.
No Android Auto and CarPlay integration.
Harsh ride despite the air suspension.
Related
99,400 miles and 5 years with only 6.9% lost to degradation, that's crazy good, turns out batteries and motors probably can last a long time
Reviews
Unknown column 'RWD' in 'where clause'
SELECT models.*, drives.DriveID, drives.Anchor, drives.Thumb, makers.MakerName FROM models LEFT JOIN ( SELECT ModelID, MAX(DriveOrder) AS MaxDO FROM drives GROUP BY ModelID ) AS dlinks ON models.ModelID = dlinks.ModelID LEFT JOIN drives ON dlinks.ModelID = drives.ModelID AND dlinks.MaxDO = drives.DriveOrder LEFT JOIN makers ON models.MakerID = makers.MakerID WHERE models.ModelID IN (56,2023,RWD,BYD,212,2021,Air,348,2022,SR) ORDER BY FIELD(models.ModelID, 56,2023,RWD,BYD,212,2021,Air,348,2022,SR) LIMIT 6; -- 1062, 35.175.107.142
Warning
: mysqli_num_rows() expects parameter 1 to be mysqli_result, bool given in
/home/gsmarena/arenaev/m/_rankingswithpics.php3
on line
37