Apple CarPlay goes Multi Screen and can control more than music
Max McDee, 07 June 2022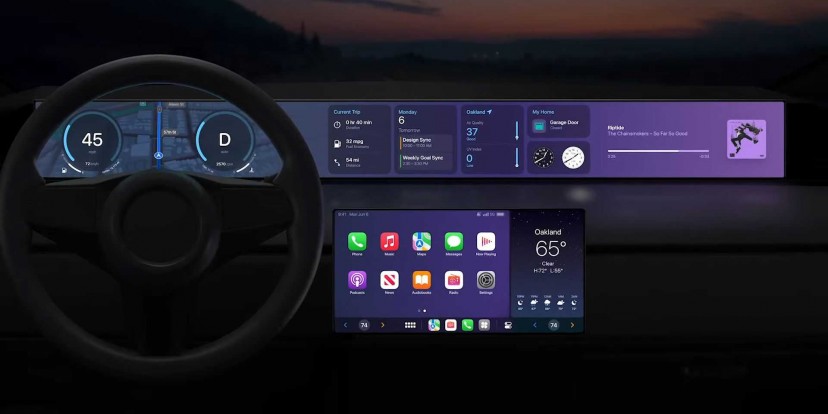 Apple showed the world a glimpse of the future during its 2022 Worldwide Developer Conference. A part of its iOS 16 announcement was a real gem - a fully updated Apple CarPlay that is no longer interested in just playing your favorite tunes. This all grown up CarPlay is ready to take full control of your car.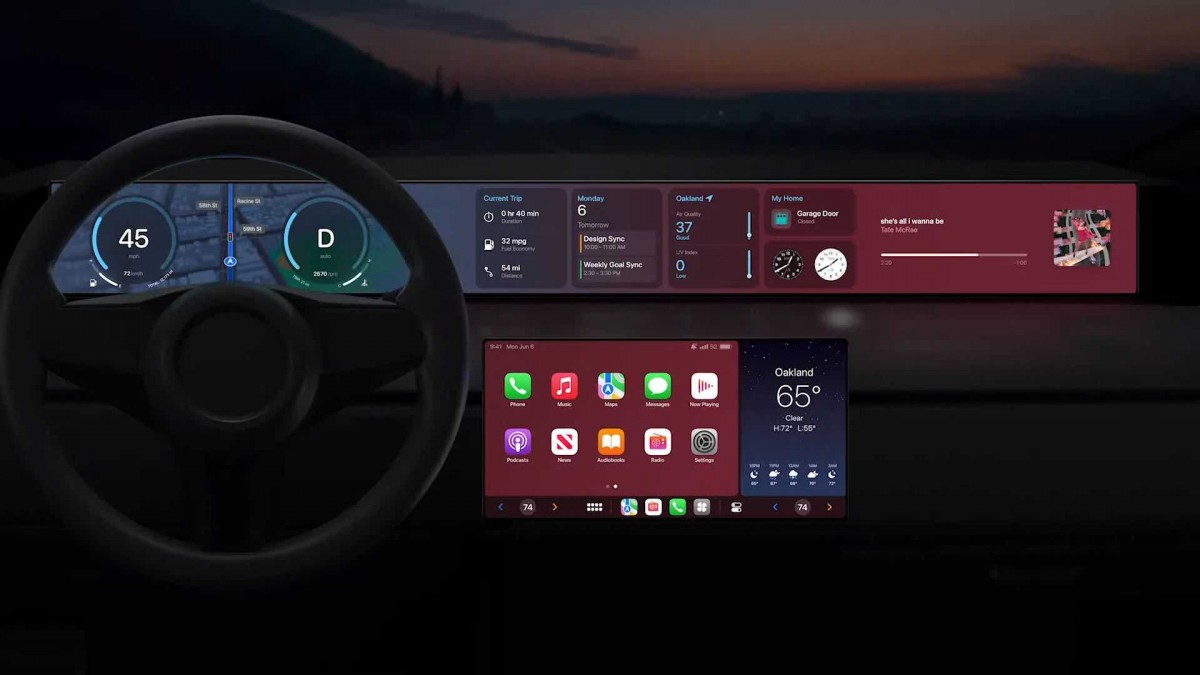 Updated CarPlay will be able to control all the functions of the car
The updated CarPlay will integrate with the car's entire infrastructure, taking over all of its screens in the process. With your phone connected you'll be able to interact with your car through the CarPlay interface - adjusting temperature or looking for directions will no longer mean having to leave the Apple environment. The phone will be fully responsible for running graphics and relaying all the vehicle information to however many screens the car has.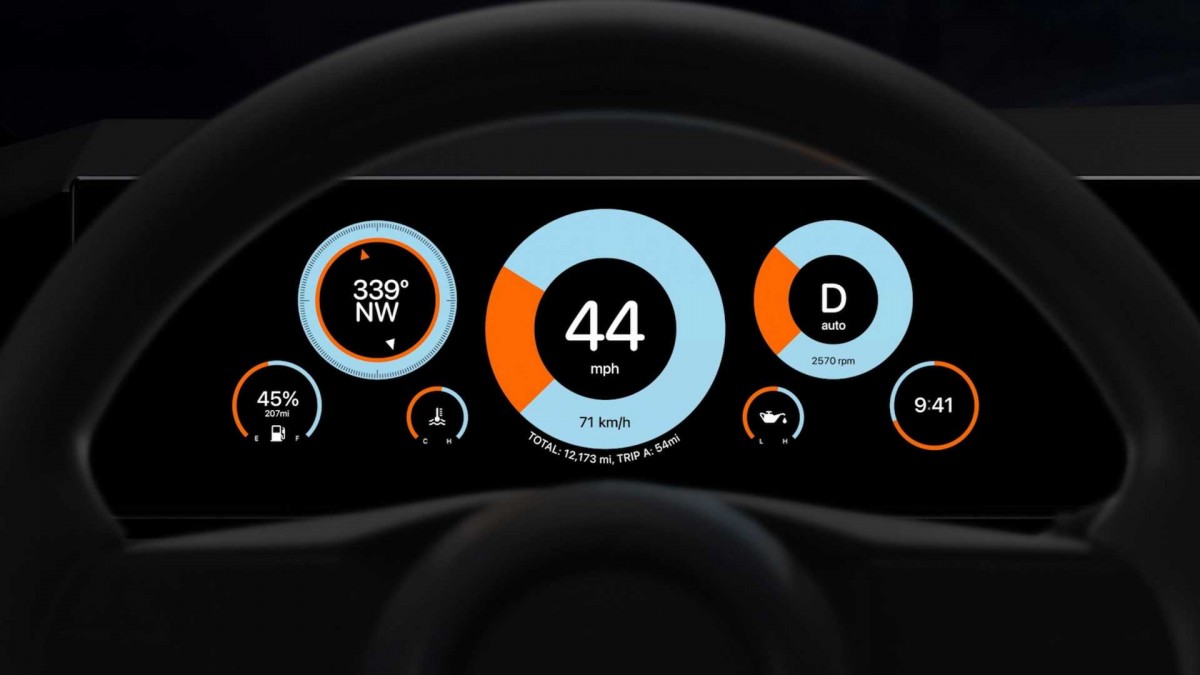 Driver info display can come with infinite options
Driver's information will be fully controlled by Apple CarPlay with all the information laid out intuitively, it will be possible to adjust the displays to suit personal preferences. This is no longer just a music app, this is a full vehicle control and diagnostics run by your phone. It seems like a natural progress for Apple and its iOS to integrate further with cars since this is where we all spend a lot of our time.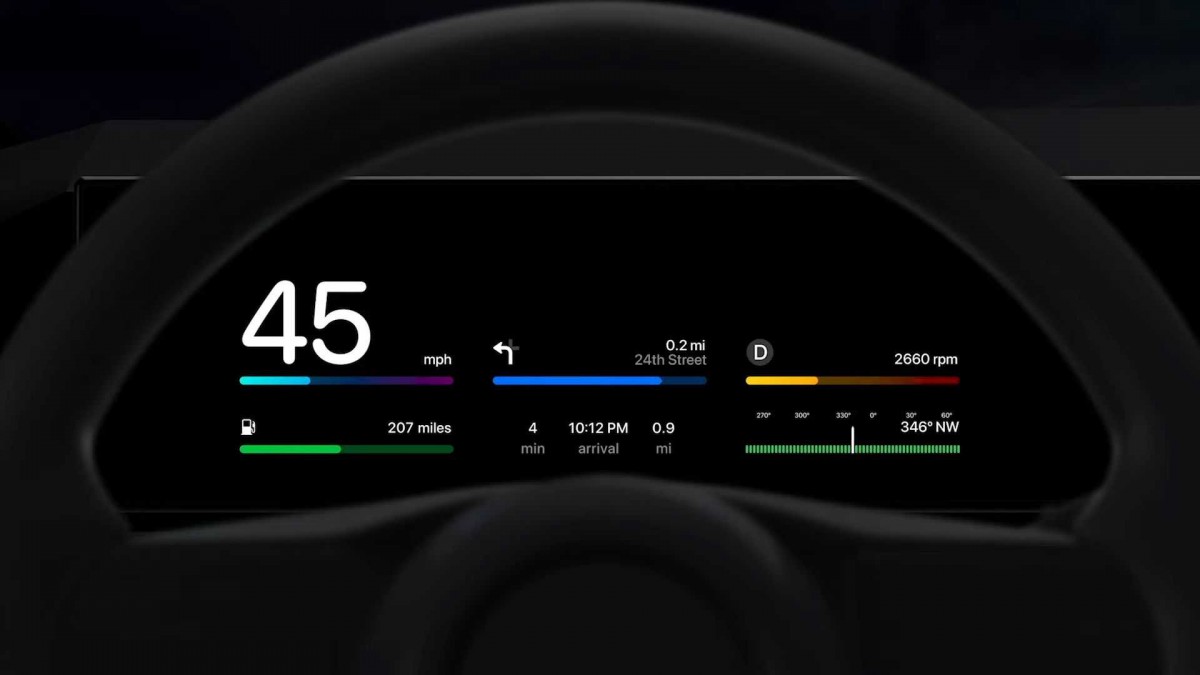 Graphics will no longer be predetermined by a car manufacturer
It is not difficult to see in the near future the cars coming with just a basic rudimentary software with a view to be really fully controlled by a phone. Phones have enough processing power to control multiple screens and graphics aren't that demanding. And they get replaced and updated far more frequently, meaning they are always current, unlike the car infotainment systems.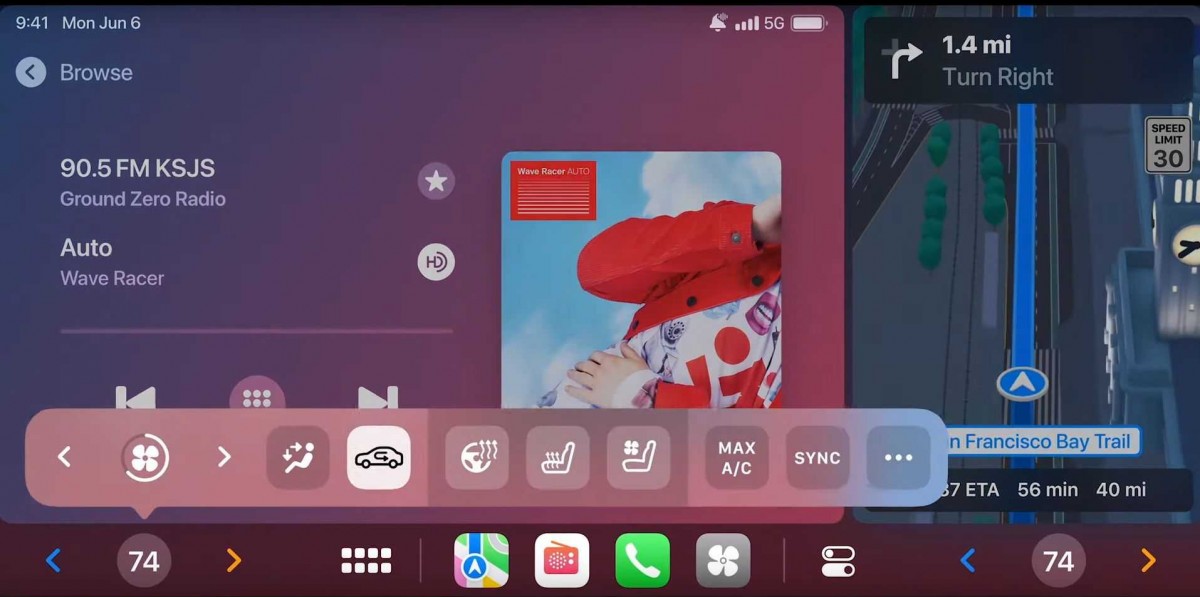 No longer just a music app
This also enables one phone to control multiple vehicles - imagine having a rental car behave like your own vehicle without having to adjust a thing. Family members sharing one car will no longer need to worry about seats or radio stations - all those preferences will live on the phone.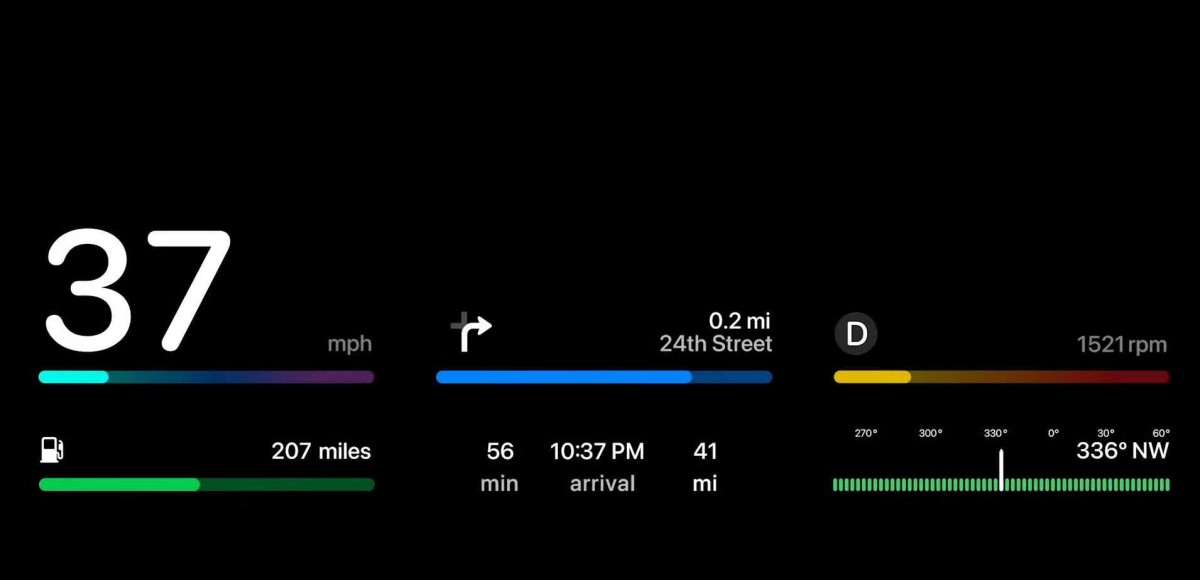 If your choice is simple and easy to read display - your phone will take care of that
With Apple pushing for even greater integration of the iOS with our everyday life and things like driving licenses and house keys being stored on the phone, it is no surprise its next target is the car. It makes a lot of sense for car manufacturers as well, to provide a vehicle as a blank canvas and never have to worry about infotainment software again.
Leaving it up to Apple (or Google, as Android Auto will undoubtedly follow that path) is a clever choice as it cuts the substantial development costs and it ensures the vehicle will always be up to date with Apple taking over the responsibility for software updates.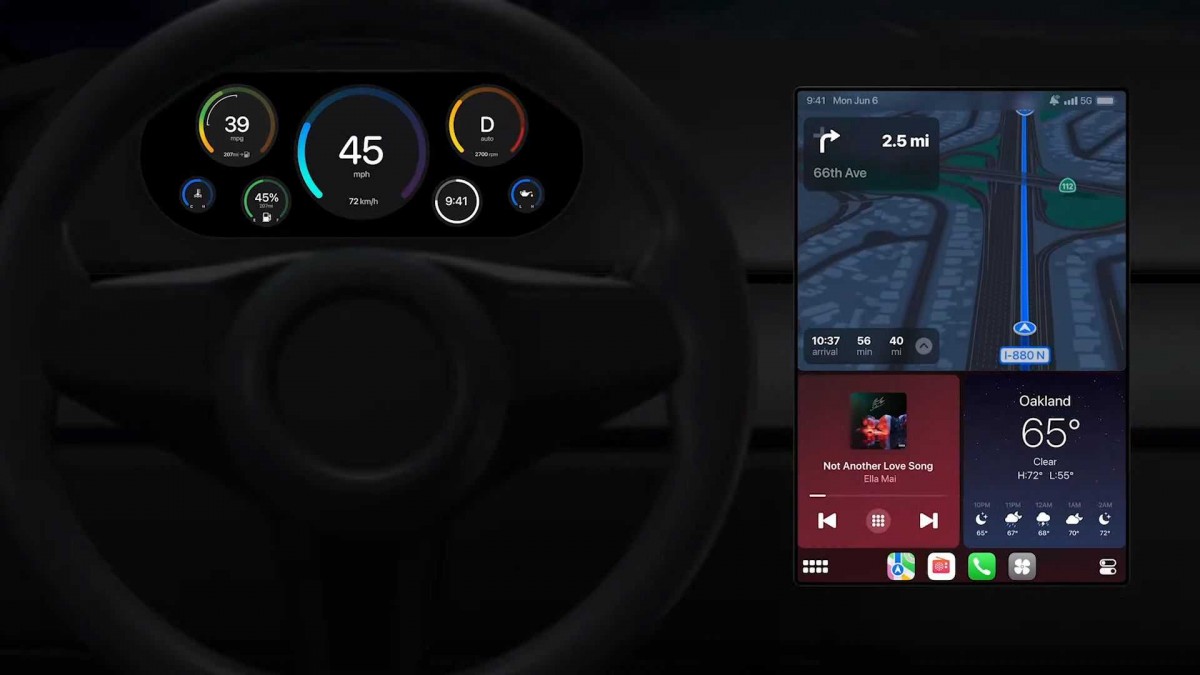 Apple will control multiple screens regardless of their shape and size
Apple has made integration its priority and this strategy is paying off with many automakers signing up to open up their vehicles for collaboration with the phone giant. Land Rover, Mercedes-Benz, Porsche, Nissan, Ford, Lincoln, Audi, Jaguar, Acura, Volvo, Honda, Renault, Infiniti and Polestar have all signed up to this latest iOS integration.
The only bad news is first cars to feature the new CarPlay are not going to be announced before late next year. So we still have a bit of waiting to do, but we have little doubt it will be worth it as it will be a turning point for our entire in-car experience.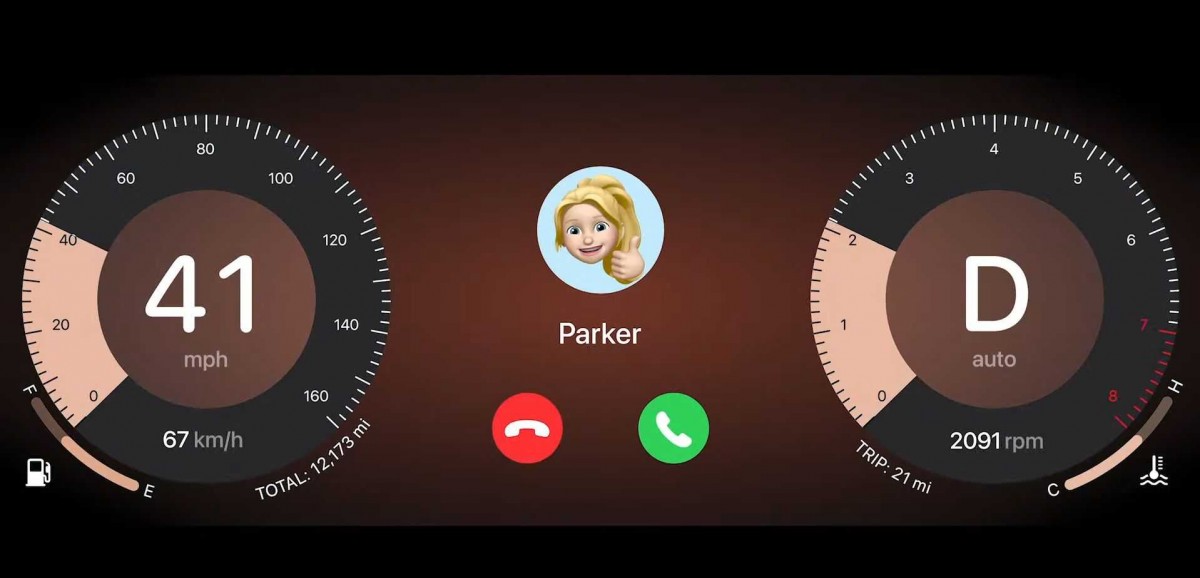 A car is becoming a phone with wheels
Related
Man yes but this works only as long as you have grass which those sheeps eats. Not everything which shimmering is real gold. Apple is far from that. Its maybe shimmering but is just a yellow color over a brass statuette. Far away from real...
Apple has found a niche - unlike other manufacturers looking for a product niche, Apple focused on customers. They have millions of customers who will never even look at any other brand. This is done by design - ruthless and clever tactic. Create a d...
Popular models