BYD shares plans to build two factories in Europe
Ro, 08 December 2022
BYD's overseas expansion seems pretty aggressive. In a recent interview for Bloomberg, the company's Vice President said that the automaker plans to open at least one factory in the EU, possibly two. This announcement doesn't come as a surprise given that BYD is making its vehicles available in France and the UK by the end of 2022 and has already started its expansion in Germany, Sweden, Denmark, Belgium, Luxembourg, France, the Netherlands and even Norway.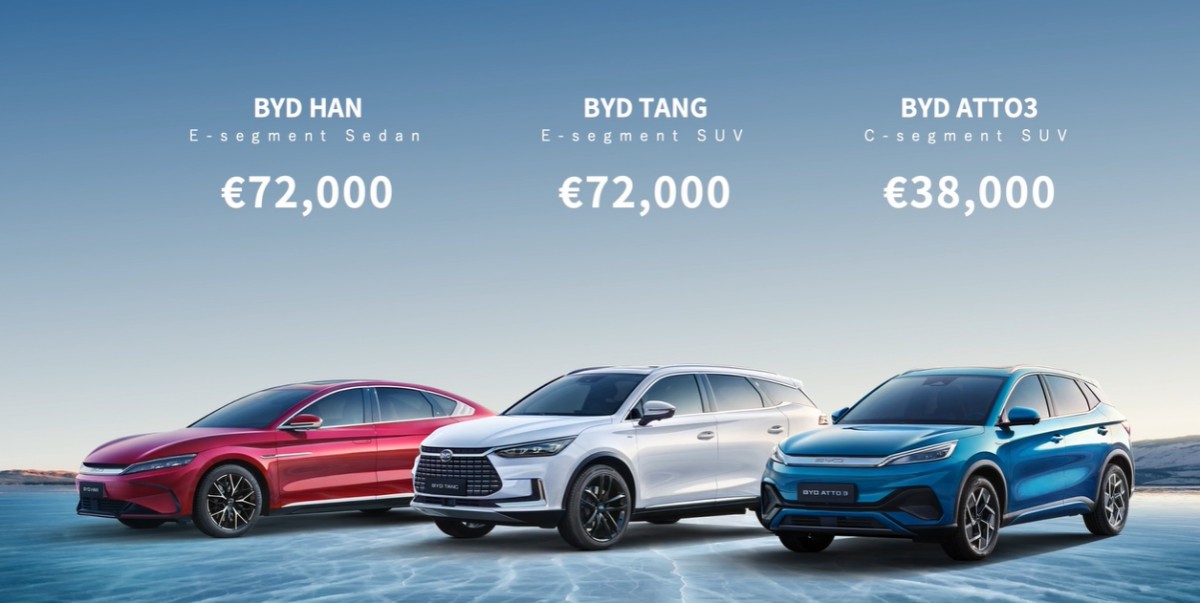 As of now, BYD is shipping its cars from China with its own ships because no shipping companies meet BYD's requirements and standards. In any case, the Chinese-based car maker hasn't decided on a location for its first European factory, but it will likely come out with more details soon enough.
BYD promised to bring three of its models in Europe - two SUVs - Atto 3 and Tang along with a sports sedan named Han.
The interviewer also asked BYD about one of its biggest competitors, Tesla. The Vice President said that right now, Tesla isn't BYD's biggest competitor and the company's success is partly due to people learning about EVs as a whole. BYD's biggest thread is ICE vehicles.
Related
Nothing yet. Be the first to comment.
Reviews
Unknown column 'RWD' in 'where clause'
SELECT models.*, drives.DriveID, drives.Anchor, drives.Thumb, makers.MakerName FROM models LEFT JOIN ( SELECT ModelID, MAX(DriveOrder) AS MaxDO FROM drives GROUP BY ModelID ) AS dlinks ON models.ModelID = dlinks.ModelID LEFT JOIN drives ON dlinks.ModelID = drives.ModelID AND dlinks.MaxDO = drives.DriveOrder LEFT JOIN makers ON models.MakerID = makers.MakerID WHERE models.ModelID IN (56,2023,RWD,BYD,212,2021,Air,348,2022,SR) ORDER BY FIELD(models.ModelID, 56,2023,RWD,BYD,212,2021,Air,348,2022,SR) LIMIT 6; -- 1062, 35.175.107.142
Warning
: mysqli_num_rows() expects parameter 1 to be mysqli_result, bool given in
/home/gsmarena/arenaev/m/_rankingswithpics.php3
on line
37