EV sales are 49% up, China still far ahead of Europe
Max McDee, 02 October 2023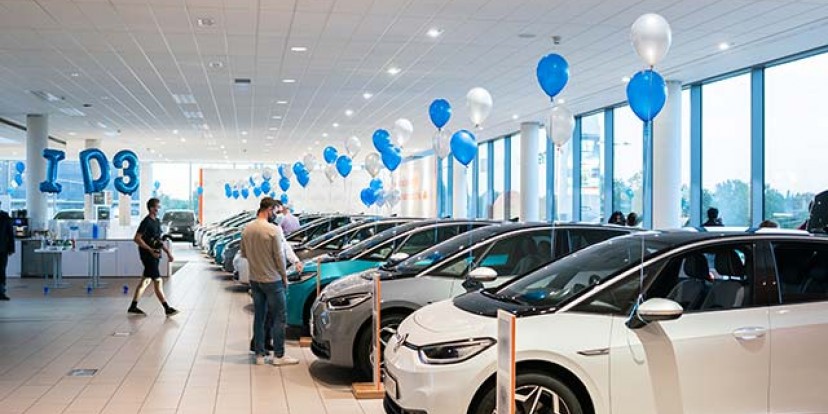 The first half of 2023 saw an impressive surge in global electric vehicle (EV) sales, painting a picture of a world increasingly swayed by sustainable transit choices.
In the first six months of this year, global EV sales posted a 49% increase, reaching 6.2 million units. This isn't just a tiny blip on the radar. EVs now constitute 16% of the global light vehicle market, a jump from 12.4% in H1 2022.
China remains the runaway leader with 55% of global EV sales in H1 2023. However, it's worth noting that China's growth rate has settled to a more modest 43% in H1 2023, down from a staggering 118% in H1 2022.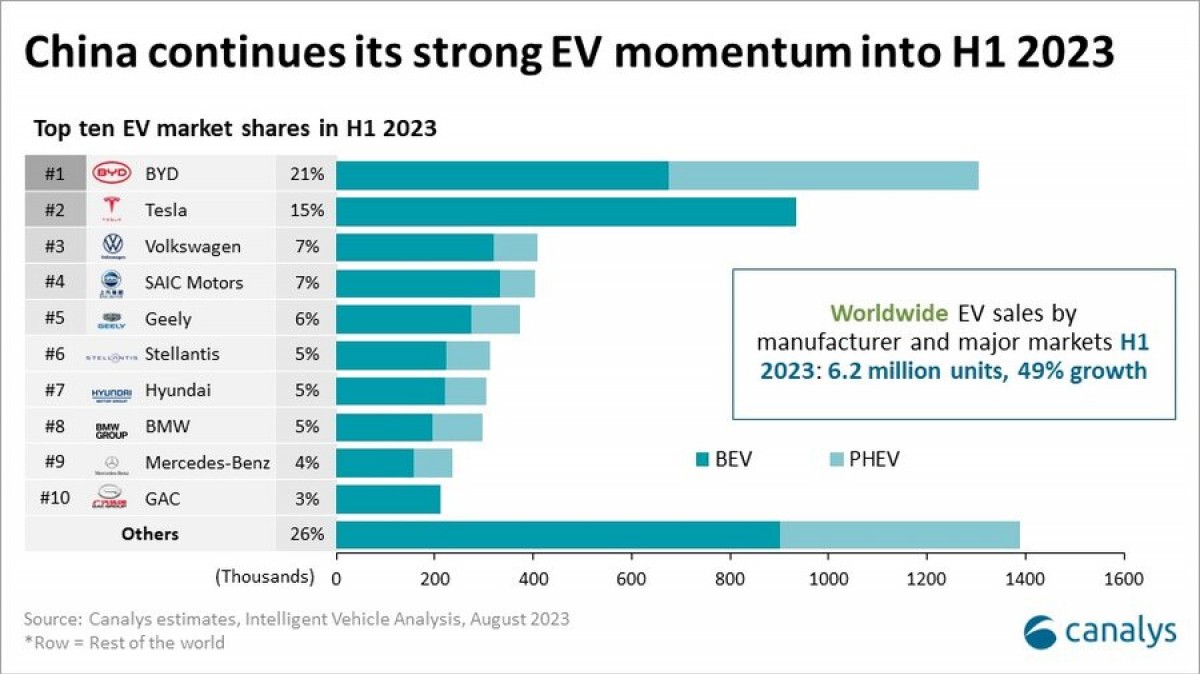 Why the slowdown? The end of China's EV support scheme and the ensuing price wars and market turbulence. As Canalys Principal Analyst Jason Low notes, the expansive selection of EVs in China means that no single brand has more than 10% market share. Leading the charge in China is BYD, although the brand is facing stiff competition, especially from Tesla.
Europe follows as the second-largest EV market, boasting 1.5 million units, a 24% slice of the global pie. The old continent saw a 34% growth year-on-year, an acceleration over the 9% recorded in H1 2022. While Tesla remains the top dog, several Chinese EV brands are now present in Europe with varying degrees of success.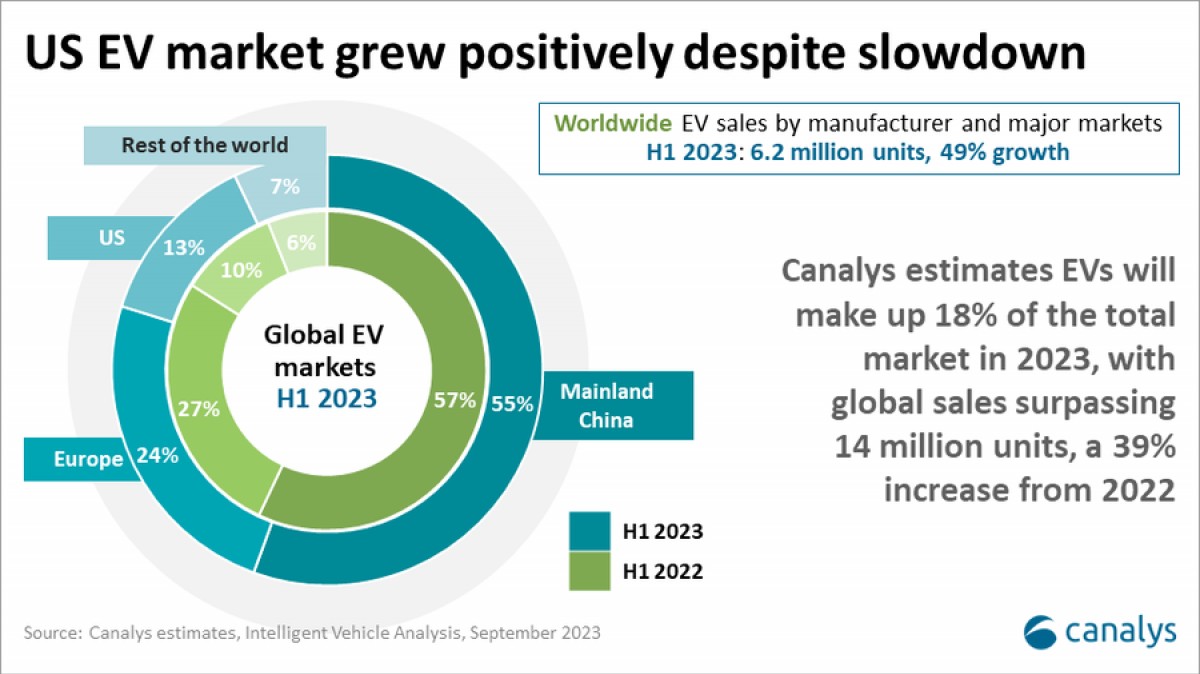 The US, traditionally trailing in global EV sales, has shown some grit and determination. Holding a 13% market share, it accounted for 815,000 units. What's particularly eye-catching is the US's 97% year-on-year growth, up from 62% in H1 2022. Tesla, unsurprisingly, reigns supreme, but the market craves diversity as consumer interest in EVs surges.
Tesla recorded a growth of 65% year-on-year, it sold over 935,000 units in H1 2023. Tesla Model Y continues to be the single most popular model, followed closely by Model 3. BYD sold over 1.3 million units of electricity-driven cars, but they are split between BEVs and PHEVs, so depending on how you look at it either of those brands can be considered a leader in the space. Still, BYD is undoubtedly the faster to rise with a whopping 104% increase year-on-year. Its top models, including the Yuan PLUS (Atto 3), Dolphin, and Song Pro, have all left their mark.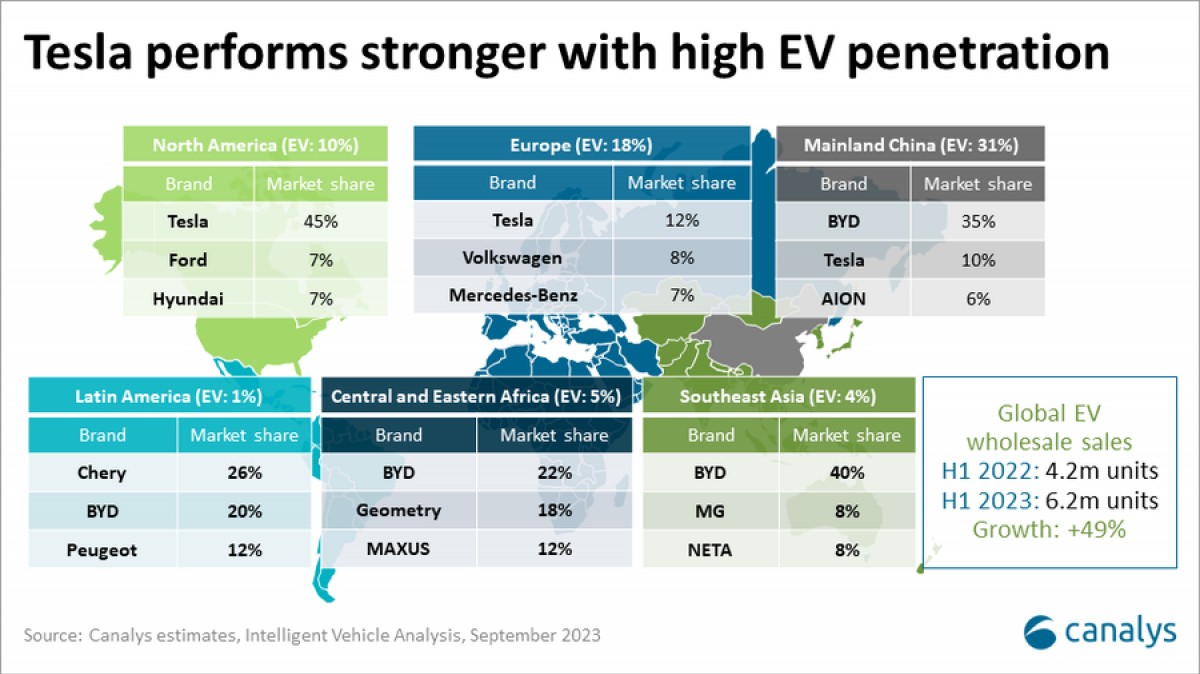 Tata Motors is electrifying India with over 30,000 shipments in the first half of 2023. MG is making waves in Southeast Asia and places like Australia, India, and the UK. Hyundai is not to be left behind, standing third in North America and maintaining a firm grip in South Korea.
As the drive towards sustainability gains momentum, the latter half of 2023 promises an EV market ready for significant growth. Canalys speculates that EVs will constitute 18% of the total market in 2023, with sales exceeding 14 million units. This would be a 39% hike from 2022.
Related
Nothing yet. Be the first to comment.
Reviews
Unknown column 'RWD' in 'where clause'
SELECT models.*, drives.DriveID, drives.Anchor, drives.Thumb, makers.MakerName FROM models LEFT JOIN ( SELECT ModelID, MAX(DriveOrder) AS MaxDO FROM drives GROUP BY ModelID ) AS dlinks ON models.ModelID = dlinks.ModelID LEFT JOIN drives ON dlinks.ModelID = drives.ModelID AND dlinks.MaxDO = drives.DriveOrder LEFT JOIN makers ON models.MakerID = makers.MakerID WHERE models.ModelID IN (56,2023,RWD,BYD,213,2021,Air,348,2022,SR) ORDER BY FIELD(models.ModelID, 56,2023,RWD,BYD,213,2021,Air,348,2022,SR) LIMIT 6; -- 1062, 35.175.107.142
Warning
: mysqli_num_rows() expects parameter 1 to be mysqli_result, bool given in
/home/gsmarena/arenaev/m/_rankingswithpics.php3
on line
37