Ford introduces the F-150 Lightning Flash
Max McDee, 03 October 2023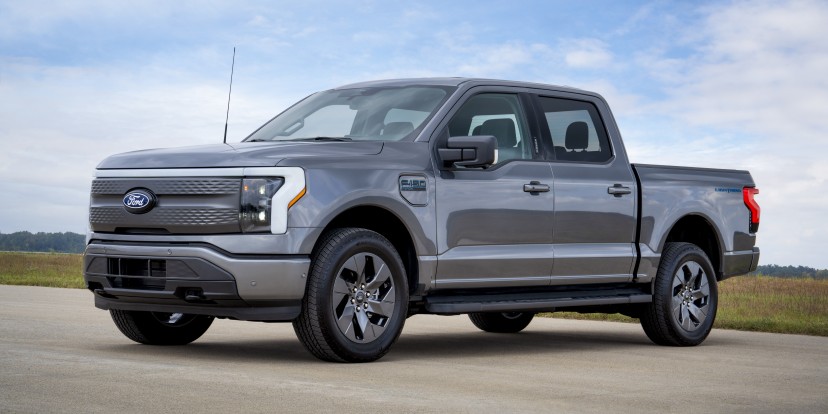 Ford just announced a fresh addition to its electric fleet, the F-150 Lightning Flash. The all-electric F-150 Lightning is getting another version that will make the long range battery more affordable than ever.
It upgrades on the XLT model with the extended-range battery that boasts an EPA range of 320 miles.
The Flash also comes with Ford BlueCruise hands-free highway driving. This nifty piece of tech comes in version 1.2, which includes the ability to change lanes hands-free after a simple tap of the turn signal (once the coast is clear).
The F-150 Lightning Flash is packing a sizable 15.5-inch touchscreen, a B&O Sound System and an array of added tech for towing.
The F-150 Lightning Flash will be available for $70,000. That's right! All these features for an MSRP of $69,995. That's $12,000 more than the XLT with its smaller battery, but more than $7,000 less than the Lariat, which was the previous gateway to the longer range.
And if you're now imagining a future with you in this truck, you can place online orders on Ford's official website in early 2024.
Related
Spending $70,000 on a pickup is absurd. I wouldn't do it, nor would anyone with common sense. An electric Maverick would be a better option that would fly off the shelves. Ford is clueless about what to make.
Reviews
Unknown column 'RWD' in 'where clause'
SELECT models.*, drives.DriveID, drives.Anchor, drives.Thumb, makers.MakerName FROM models LEFT JOIN ( SELECT ModelID, MAX(DriveOrder) AS MaxDO FROM drives GROUP BY ModelID ) AS dlinks ON models.ModelID = dlinks.ModelID LEFT JOIN drives ON dlinks.ModelID = drives.ModelID AND dlinks.MaxDO = drives.DriveOrder LEFT JOIN makers ON models.MakerID = makers.MakerID WHERE models.ModelID IN (56,2023,RWD,BYD,213,2021,Air,348,2022,SR) ORDER BY FIELD(models.ModelID, 56,2023,RWD,BYD,213,2021,Air,348,2022,SR) LIMIT 6; -- 1062, 35.175.107.142
Warning
: mysqli_num_rows() expects parameter 1 to be mysqli_result, bool given in
/home/gsmarena/arenaev/m/_rankingswithpics.php3
on line
37