Mercedes EQT Marco Polo is a small electric camper with 280 km range
Max McDee, 04 December 2022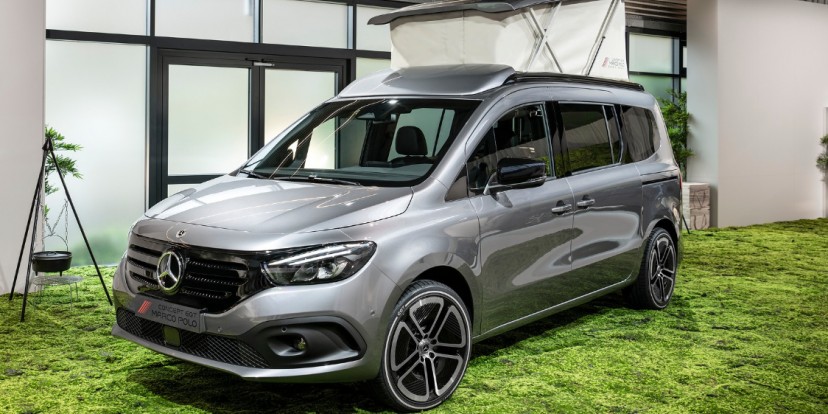 Mercedes EQT is a small, electric MPV that shares its underpinnings with Renault Kangoo E-Tech, Nissan Townstar EV and Opel (Vauxhall) Combo e-life. All the vehicles are produced at the same factory in France and only differ slightly from each other.
On its own the EQT is a solid offering - the short-wheelbase version has 5 seats, two sliding doors and a large tailgate. The car has a cavernous interior - with the rear seats down there's nearly 2,000 liters of cargo space. With 516 kg of payload and additional 80 kg on the roof rack the vehicle sounds like a perfect fit for a small camper.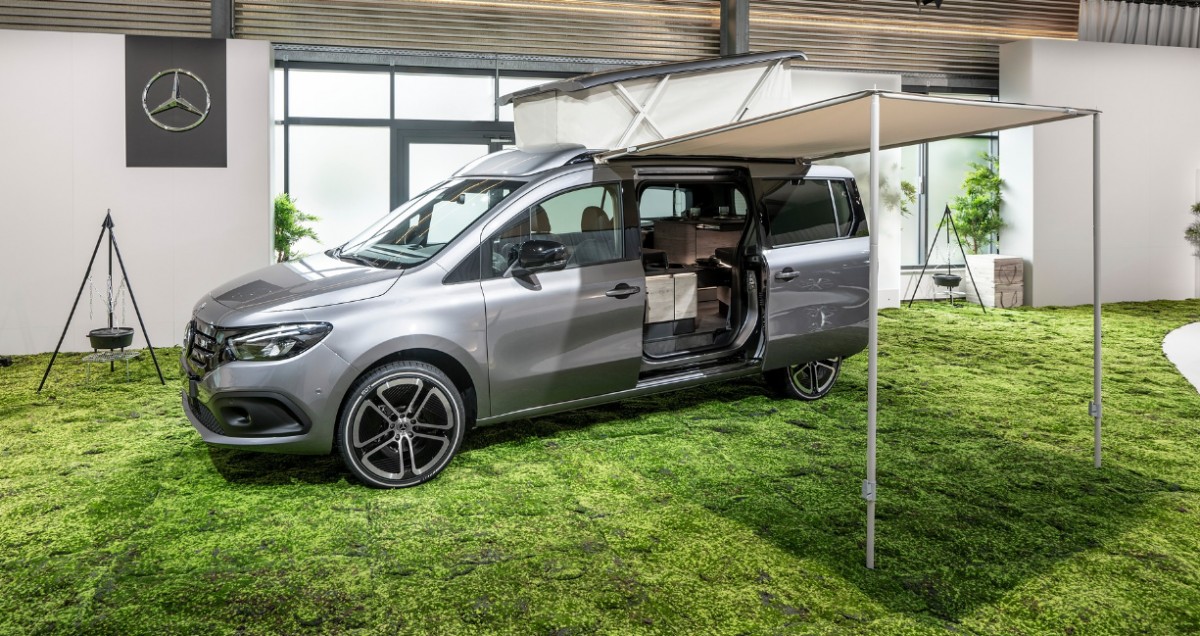 With Marco Polo being the brand's answer to VW's California vans, it was just a question of time before Mercedes decided to use it on a smaller vehicle. The EQT MArco Polo Concept is a preview of an actual camper that will go into production next year.
The base vehicle ended up with a much longer wheelbase of 2,898 mm - that's extra 182 mm over the standard EQT. The roof rack is gone and is replaced with a full-length pop-up roof that houses nearly a 2 meter long double bed. If that wasn't enough, the rear seats fold flat and together with the rear bench convert into another double bed.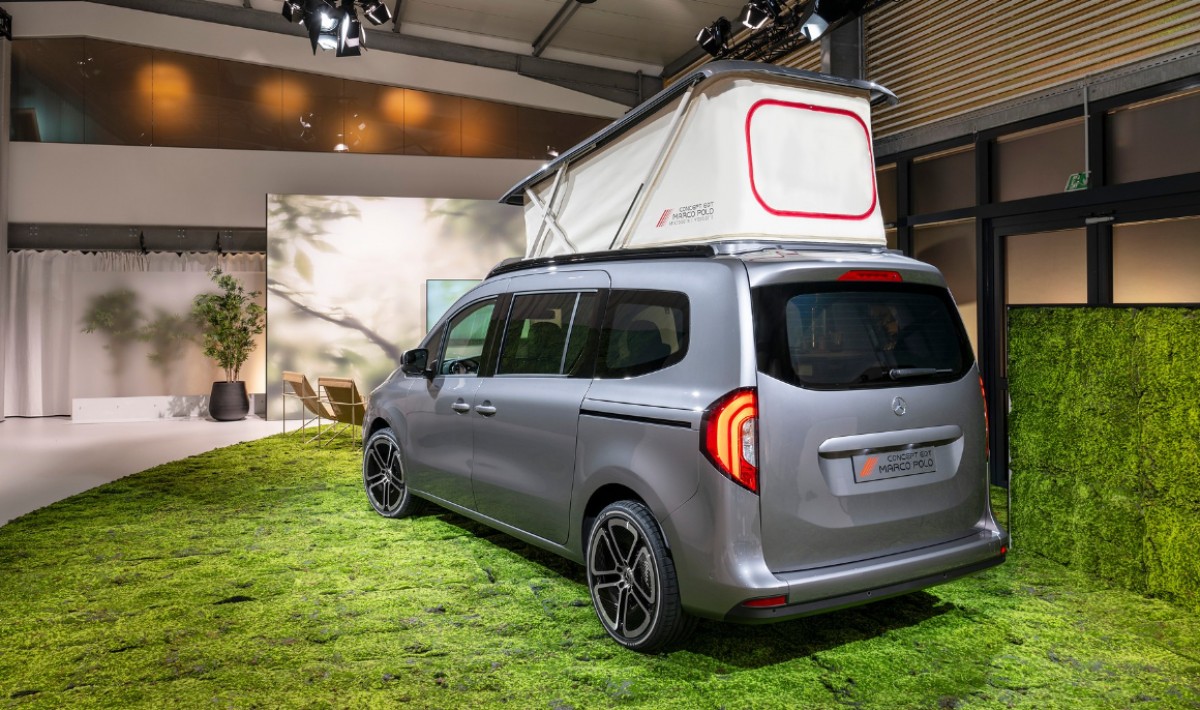 Don't expect a fully fledged kitchen or extra storage like in the larger Marco Polo models. EQT does come with clever furniture though, that hides a tiny cute sink and single induction hob burner - enough to cook a quick meal for a bunch of hungry campers. If you need more room for cooking, there's an additional gas cartridge cooker stowed in one of the drawers.
The non-Marco Polo version can be had with an optional stow-away kitchen called Marco Polo Module. It sits neatly in the boot and has everything required for a short camping trip - sink, cooker, fridge and storage.
With a claimed range of 280 km (175 miles) thanks to EQT's battery, with 45 kWh of usable capacity, the van is perfectly suited for weekend trips or even longer adventures. There is a solar panel fitted to the pop-up bed and it takes care of topping up the leisure battery and it is good enough to keep the lights on pretty much forever.
There are plenty of USB sockets dotted around the van to make sure no device runs out of juice and once the camping trip is over, all the furniture can be easily taken out and the van can be used just as a normal MPV.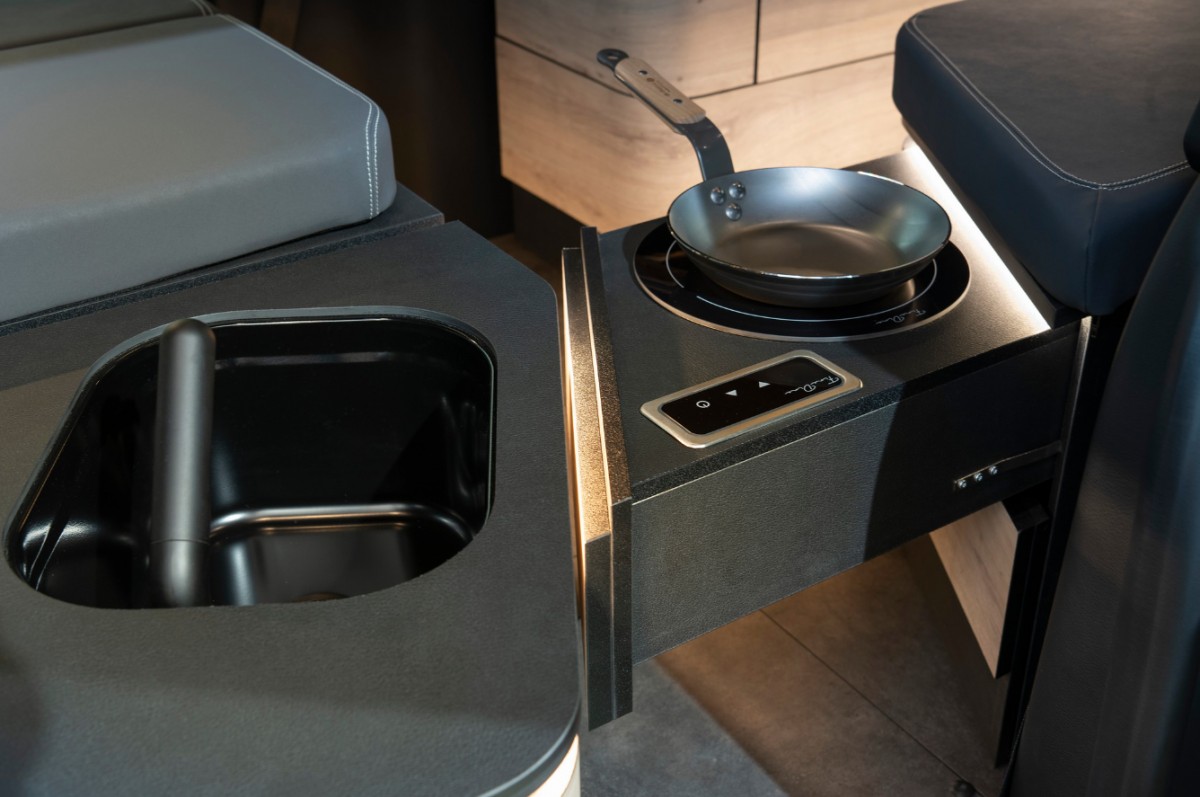 The EQT is powered by a single electric motor with 90 kW (122 hp) of power and 245 Nm of torque. It won't break any speed records for sure but it will easily get to any destination. Thanks to 80 kW fast charging ability, the battery can be topped up from 10 to 80 percent in just under 40 minutes.
The Mercedes EQT is quite an interesting proposition for families and small business owners but the Marco Polo version steals the show. It is versatile, it can be used as an everyday car and shoot to the hills or forests on the weekends. Clean, emissions-free camping and daily driving is finally a possibility. There's a catch though and it is a fairly large one at that.
This being a Mercedes, it isn't going to be cheap. The standard version EQT will start at €49,000 according to Mercedes so you can imagine how much the long-wheelbase Marco Polo will cost - pretty penny and then some.
Related
I can see this as a good use for people of two who want home away from home.
Popular models