Volvo EX90 alternatives - Mercedes EQS SUV 580 and Tesla Model X LR+
Max McDee, 13 November 2022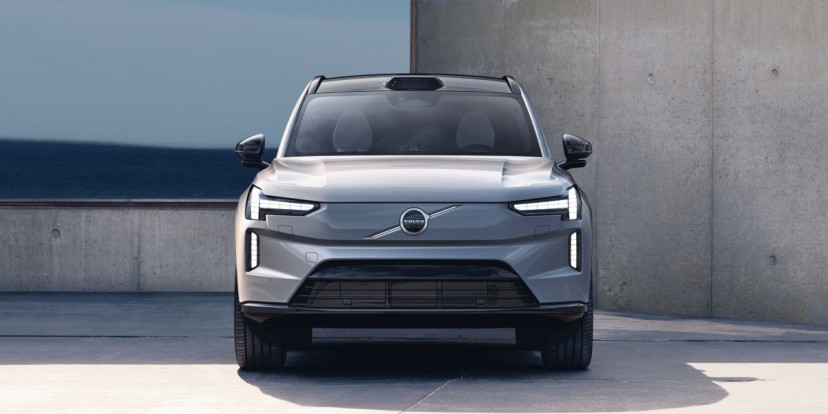 Volvo just unveiled its electric flagship SUV - the EX90. The car, as has always been the case with the latest Volvos, is an absolute pinnacle of safety technology. Apart from it, the new SUV looks great, has great performance and offers fairly good range thanks to its large battery. There is just one "but" - it won't be available until some time next year.
What if you want a luxury electric 7-seater SUV right now? There is no better way than our comparison tool to find out which cars are the closest to EX90 in terms of performance, equipment and price. Quick look through our database reveals two cars that EX90 will be competing against once it hits the market - the Mercedes-Benz EQS SUV 580 4MATIC and Tesla Model X LR+. Let's see how these three compare.
Performance
For years to come all new electric cars will be measured against Tesla cars. Model X, despite originally launching back in 2015, is simply unbeatable when it comes to raw speed, even in the lesser LR+ trim that swaps high performance for range, it comfortably beats the EQS SUV 580 and Volvo EX90 both in acceleration and top speed. It does that despite having the lowest torque of the three, but it eclipses both the newer cars with sheer power.
Volvo EX 90 Performance
Mercedes EQS SUV 580 4MATIC
Tesla Model X LR+
Power
AWD 380 kW (510 hp)
AWD 400 kW (544 hp)
AWD 410 kW (670 hp)
Torque
910 Nm (671 lb-ft)
858 Nm (633 lb-ft)
755 Nm (557 lb-ft)
Acceleration
4.9 sec 0-100 km/h
(4.7 sec 0-60 mph)
4.6 sec 0-100 km/h
3.9 sec 0-100 km/h
(3.8 sec 0-60 mph)
Top speed
180 km/h (112 mph)
210 km/h (130 mph)
250 km/h (155 mph)
Battery and Range
This is where Tesla loses a bit of ground as it has the lowest WLTP range by some margin - Mercedes manages to squeeze out 42km more than Tesla and even Volvo can travel 30km more. A closer look reveals the reason - Tesla has a smaller battery. Although the company never released its official usable capacity, many researchers concluded it has to be around 95 kWh.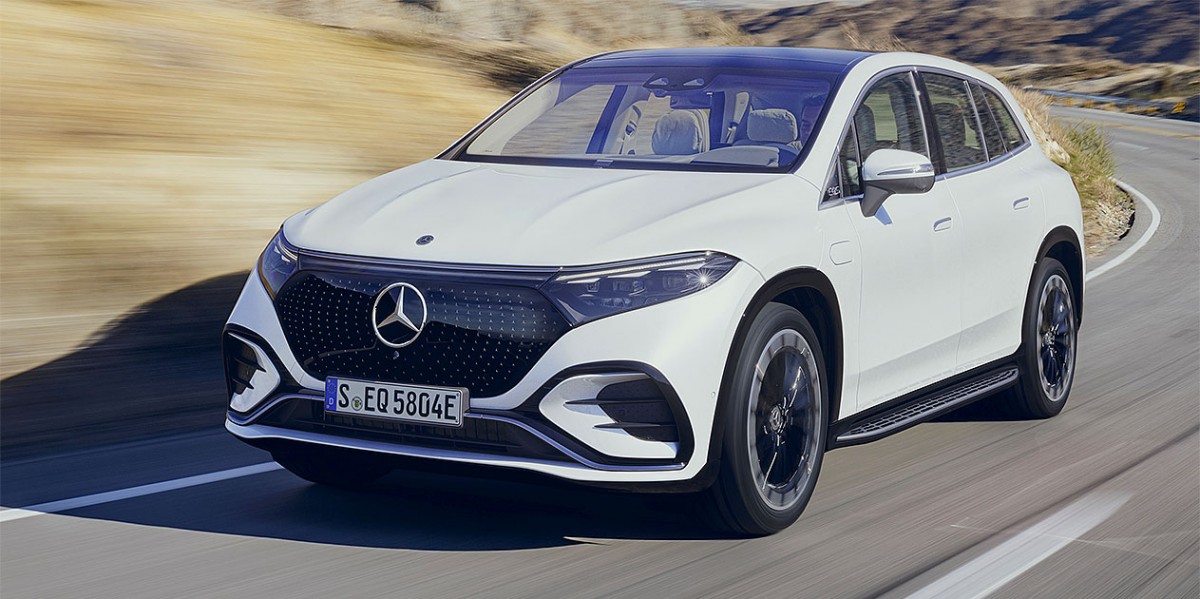 Volvo has 12kWh more and Mercedes has 13.4kWh more - that's 12.6% and 14% more respectively. If Model X had the same battery capacity it would have travelled for 632km - but it doesn't and the winner is the EQS SUV 580 4MATIC with Volvo running out of juice 12 km behind it.
All cars make use of DC fast charging to replenish their batteries in about half an hour, all use Lithium-ion chemistry and can charge at home using domestic chargers - Volvo sticks to 11 kW while both Mercedes and Tesla can make use of 22 kW.
Volvo EX90 Performance
Mercedes EQS SUV 580 4MATIC
Tesla Model X LR+
Capacity
107 kWh usable
111 kWh total
108.4 kWh usable
100 kWh total
Tech
Liquid-cooled Li-ion 400V
Liquid-cooled Li-ion 396V
Liquid-cooled Li-ion 360V
Range
590 km WLTP
602 km WLTP
560 km WLTP
Consumption
211 Wh/km WLTP
205 Wh/km WLTP
199 Wh/km EPA
Heat pump
Yes
Yes
AC charging
11 kW
9.6 + 11 + 22 kW
11 + 22 kW
DC charging time
0-80% in 30 min
10-80% in 31 min
10-80% in 30 min CCS
Max DC power
CCS 250 kW
CCS 200 kW
Supercharger V3
250 kW
Size
These are not small cars - all three are over 5 meters long and it is actually the Volvo that is the shortest, but what it loses in length, it makes up in height. EX90 is nearly 3 cm taller than EQS SUV and a whopping 6.4 cm taller than Tesla. Where Tesla shocks is in the weight department - it is nearly 500kg lighter than EX90 and EQS SUV. That's despite its super-heavy falcon doors. This weight difference explains its blistering performance and efficiency.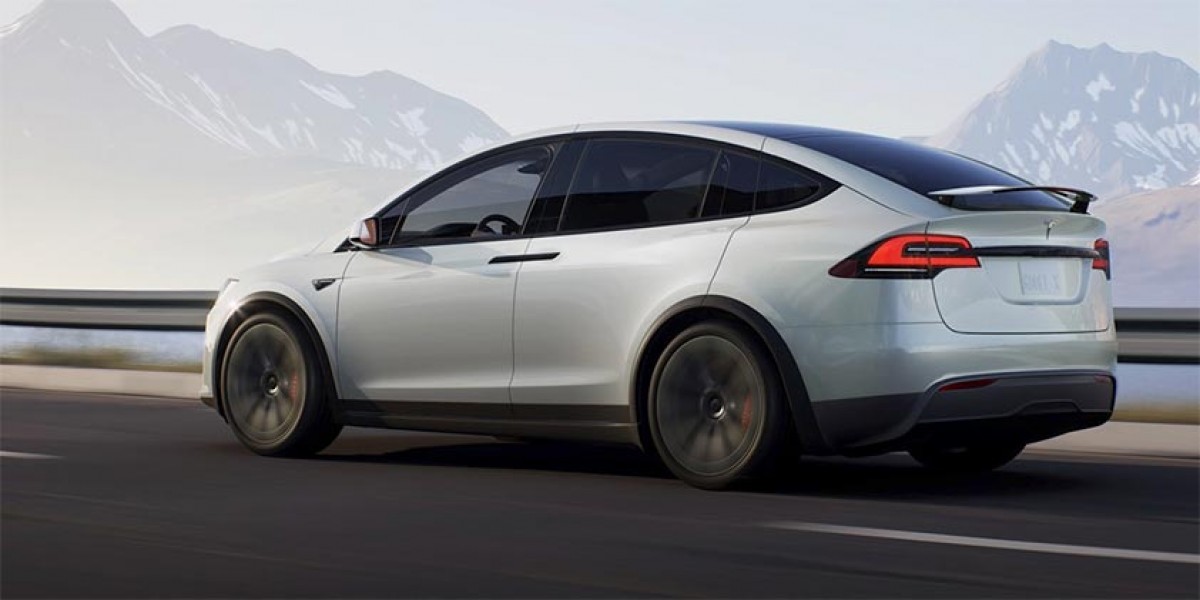 Clever packaging is everything and it shows when it comes to trunk and frunk sizes - it is again Tesla that leads the newcomers. Volvo's trunk has 365l with the rear seats up which is comparable to a family hatchback, Mercedes manages a more respectable 645l, but Tesla just wipes the floor with competition - 1,050l with rear seats up. All the three cars offer a 7 seat configuration.
Volvo EX90 Performance
Mercedes EQS SUV 580 4MATIC
Tesla Model X LR+
Body type
5 door SUV, 7 seats
5 door SUV, 5/7 seats
5 door SUV, 7 seats
Dimensions
5037 x 1964 x 1744 mm
5125 x 1959 x 1718 mm
5057 x 2073 x 1680 mm
Dimensions imperial
198.3 x 77.3 x 68.7 in
201.8 x 77.1 x 67.6 in
199.1 x 81.6 x 66.1 in
Wheelbase
2985 mm (117.5 in)
3210 mm (126.4 in)
2965 mm (116.7 in)
Ground clearance
205 - 215 mm
(8.1 - 8.5 in)
181 - 205 mm
(7.1 - 8.1 in)
146 - 206 mm
(5.7 - 8.1 in)
Weight
EU: 2818 kg unladen
EU: 2810 kg unladen
3375 kg gross
EU: 2352 kg unladen
Suspension
Front double wishbone
rear integral link
Hydraulic shock absorbers
stabilizer bar
dual chamber air suspension
Four-link front axle
multi-link rear axle
Airmatic air suspension
adjustable damping ADS+
rear-axle steering up to 4.5˚ (optional 10˚)
Adaptive Air suspension
Wheels
R21, R22
R20, R21, R22
R20, R22
Trunk
EU: 365 l
1915 l max
EU: 645 l
2100 l max
EU: 1050 l
2410 l max
Frunk
37 l
No
183 l
Towing
Towing is available; unspecified
EU: 750 kg unbraked
1800 kg braked
EU: 2268 kg braked
Comfort and Safety
When it comes to comfort Mercedes takes a clear lead - it even has "hot-stone" massage seats. Tesla is the only car here to offer heated seats in the third row. None of the competitors skimps on airbags here and all offer full ADAS suite with Volvo and Mercedes using LiDAR for autonomous driving.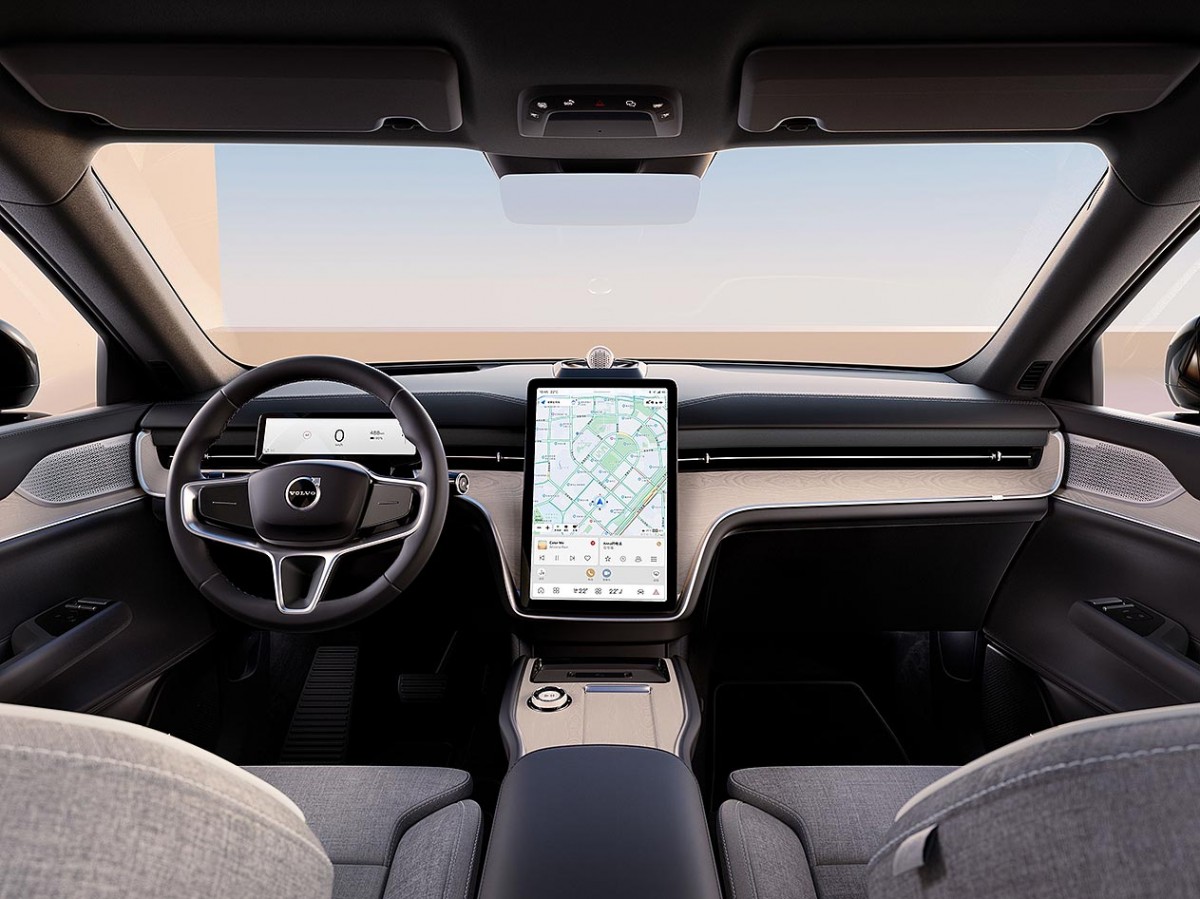 Tesla does not offer Apple CarPlay or Android Auto, Volvo and Mercedes have both onboard. In entertainment size does matter and Mercedes blows the competition out of water with its Hyperscreen, but Tesla has a few tricks up its sleeve - its 17" center screen tilts from left to right. Volvo has the smallest screen, but it's not a bad thing - many people prefer small screens and EX90 has the best graphics on the market thanks to its use of Unreal Engine.
| | Volvo EX90 Performance | Mercedes EQS SUV 580 4MATIC | Tesla Model X LR+ |
| --- | --- | --- | --- |
| Center display | 14.5" touchscreeen | 12.8" or 17.7" touchscreeen | 17" swivel touchscreeen |
| Driver's display | 8" | 12.3" | Yes |
| Head-up display | Yes, projector type | Yes, with augmented reality | No |
| Passenger's display | No | 12.3" passenger display 11.6" rear passenger display Rear comfort armrest with detachable tablet | Rear passenger touchscreen |
| Seats | Heated and ventilated front seats with massage, heated rear seats | Heated and cooled front seats, heated outer rear seats, hot-stone massaging seats | Heated and ventilated front seats, heated rear seats, heated third row seats |
| Roof | Panoramic glass sunroof, fixed | Panoramic glass sunroof, tilt & slide | All-glass roof |
| Parking aids | Front and rear sensors, 360 camera, reversing camera | Front and rear sensors, 360 camera, reversing camera, self parking, remote parking assist | 6 front and rear sensors, reversing camera, Parking Assist |
| Connectivity | Wireless Android Auto and Apple CarPlay | Wireless Android Auto and Apple CarPlay | |
| Airbags | Side airbags, front and rear, including head airbag system, front seats knee airbags, 3rd row airbags | Front, side, rear, center, head airbag system, front seats knee airbags, belt airbags for rear seats, third row side head aibags | 12 airbags: front, side, rear, head airbag system, front seats knee airbags |
| Driving aids | Radars and LIDAR, cameras, 16 sensors. Lane Keeping Aid, Road Sign Information, Rear Collision Warning, Driver Alert, Rear Auto Brake, Cross traffic alert with low speed auto brake, Pedestrian and cyclist steering avoidance, High Beam Assist, Assistance at risk of collision, Intersection autobrake | LIDAR, Traffic sign assistant, Active Lane Keeping Assist, Active distance assistant Distronic, Adaptive high beam assistant, Active Brake Assist with cross-traffic function, Pedestrian warning function in the area of ​​zebra crossings, Active Emergency Stop Assist, Active Evasive Steering Assist, Congestion emergency braking function, PRE-SAFE PLUS and Impulse Side with body-raising function | 3 front, 2 side and 3 rear cameras, 6 front and 6 rear sensors (up to 250m object detection). Automatic Emergency Braking, Dynamic Brake Lights, Lane Assist, Collision Avoidance Assist, Speed Assist, Lane Departure Avoidance, Traffic Light and Stop Sign Control |
| Crash test results | Not tested | Not tested | NCAP 2019: 5 stars, NHTSA 2017-2021: 5 stars |
Looks
Tesla is the oldest car in the trio, but its design is standing the test of time greatly. Volvo has the clean Nordic lines with its latest take on the headlights that can wink at people. Mercedes is a Mercedes - it doesn't hide its size, it wears it with pride and oozes quality whichever way you look at it. The best way to compare the three electric SUVs is to use our visual comparison tool - after all beauty is in the eye of the beholder.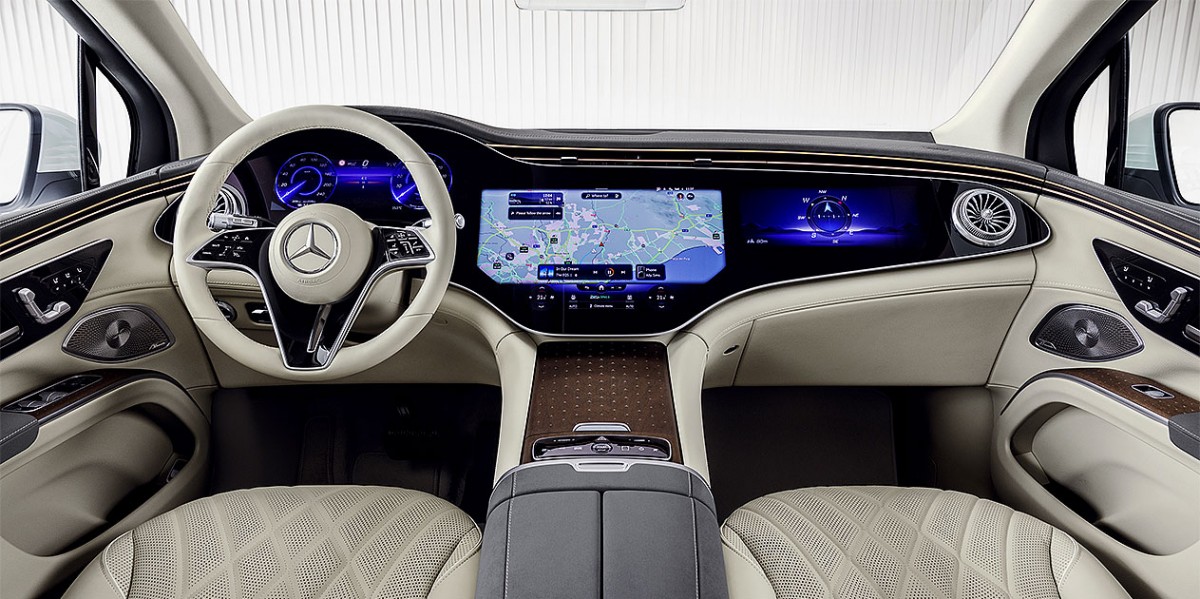 Verdict
The Tesla Model X has been on the market for so long that we sometimes forget how good it actually is. The EQS SUV 580 and EX90 both struggle to keep up with the much older Tesla in performance and cargo space departments. When it comes to design there is no hiding age, Tesla is doing a good job at keeping its lines clean and modern but both Volvo and Mercedes look miles better. That is true until Tesla pops its rear door open - that trick never gets old.
Volvo EX90 is full of the latest technology, it's made in large parts out of recycled materials and renewable energy is used for its manufacturing - that's very important these days. Mercedes EQS SUV 580 4MATIC has the longest name in the luxury SUV segment and it plays the classy card when it comes to looks - it is well executed, it has sumptuous interior and a giant Hyperscreen.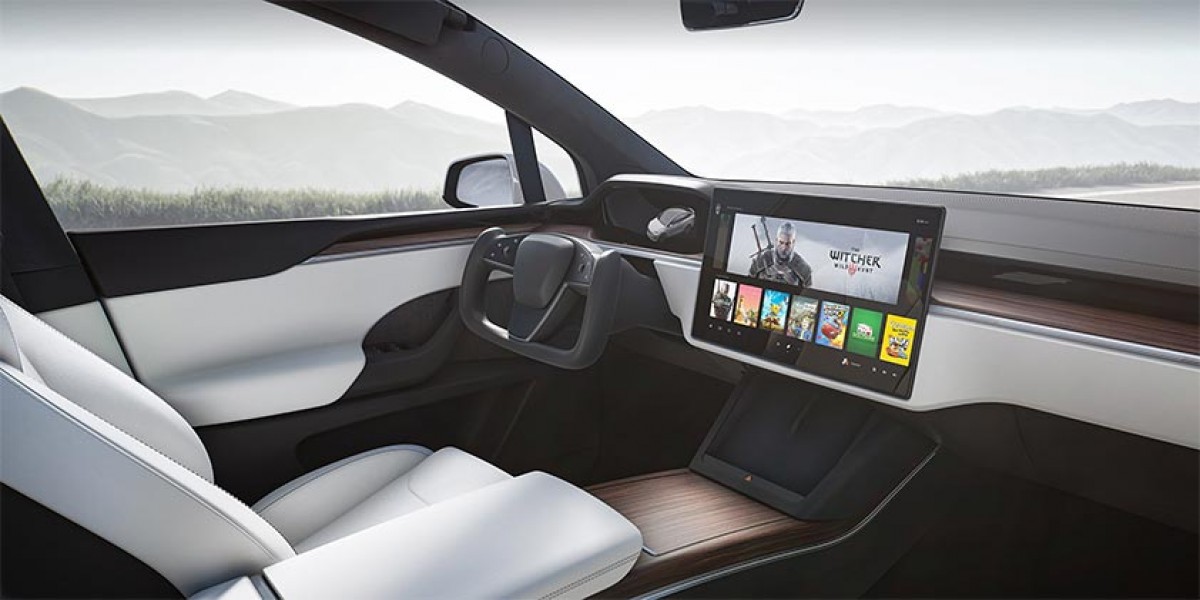 Tesla on the other hand has bags of room, performance and falcon doors. It struggles with quality though and its well reported self-driving Autopilot and FSD saga can be enough to put many buyers off. Many people buy it purely for its performance and quality takes a third row.
Availability and prices:
Volvo EX90 Performance
Mercedes EQS SUV 580 4MATIC
Tesla Model X LR+
Announced
2022, November 09
2022, April 19
2021
Status
Coming soon
Expected release 2023
Available
Released 2022, August 09
Available
Released 2021
Base price
$ 80,000 € 110,650 £ 100,500
€ 135,300
$ 120,990
Is the Volvo worth waiting for? For Volvo fans - absolutely yes. When it eventually comes to the market it shouldn't have any trouble with finding new owners. It offers decent room, decent performance, outstanding safety and quality and that's exactly what many people are looking for in a luxury SUV.
Related
One compariosn is wrong against Volvo, the trunk volume, this 1010l with the 3 seats folded. Here they compare a 7 seater with a 5 seater, not really fare.
Conventional? You mean superior..teslas interiors aren't good, their material quality is unimpressive and their control schemes are terrible with their use of haptic touch buttons and controlling literally everything through the screen, the issu...
I find the new Mercedes interiors rather tacky and sort of conventional. Tesla is still the one to beat, IMO, and its Pilot tech is miles beyond the rest.
Reviews
Popular models