Radar RD6 is a $25,000 electric pickup truck from Geely
Max McDee, 29 September 2022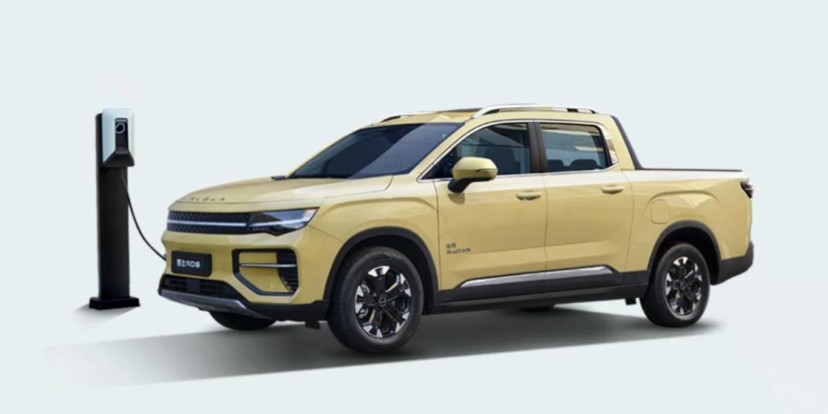 Geely is aiming its Radar Auto brand at people with outdoors lifestyles and its first electric pickup truck is meant to reflect that. The company announced it is starting pre-sales of the RD6 today with first vehicles already leaving the factory in preparation for deliveries.
With the prices starting at RMB 180,000 or $25,260 at current exchange rates, the truck seems like a tempting option. The deposit required to order it is a lowly RMB 199 or nearly $28 and placing an order through Radar's own app will come with exclusive offers.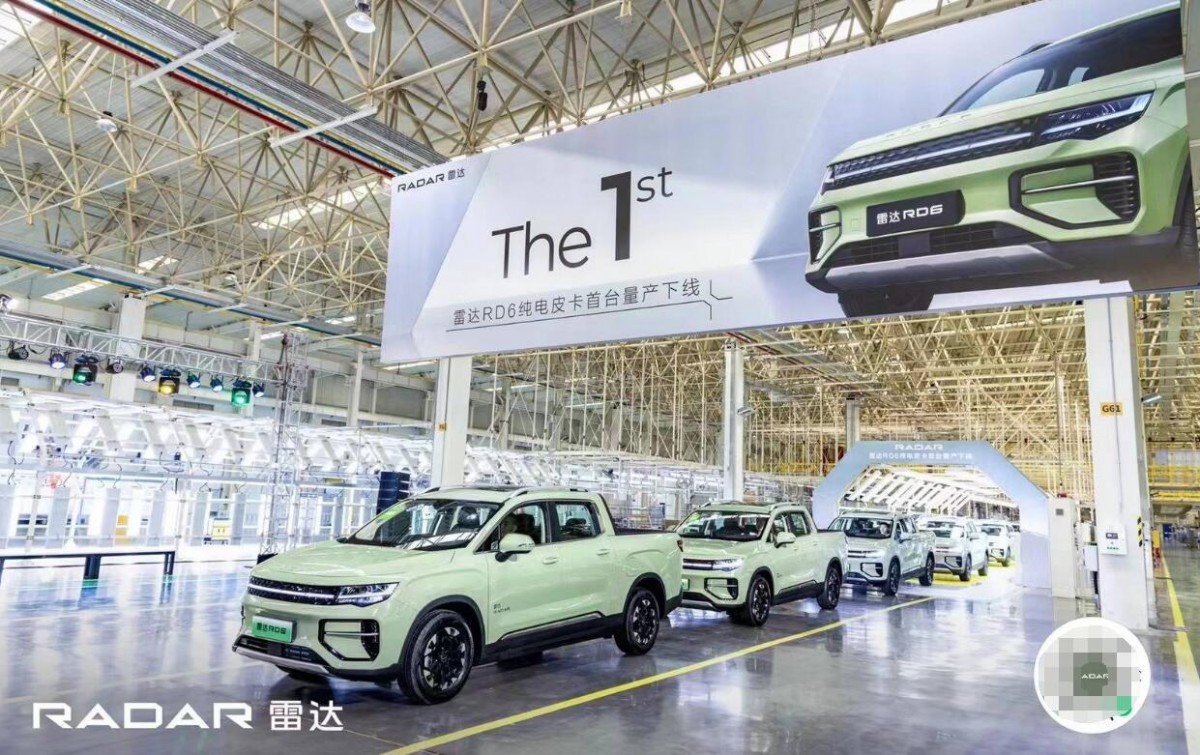 Radar is a completely independent company of Geely, although it is owned by it. The company has its own R&D center in Hangzhou and its own electric car factory in Zibo, China. RD6 is its first model, with more SUVs and even ATVs to follow soon.
RD6 is built on Geely's SEA architecture, it uses an unspecified 200 kW electric drive and there's no confirmation whether it is a RWD or AWD system. Battery capacity has not been disclosed either, the company only confirmed it supports 120 kW fast charging and can add 120 km of range in 15 minutes of charging.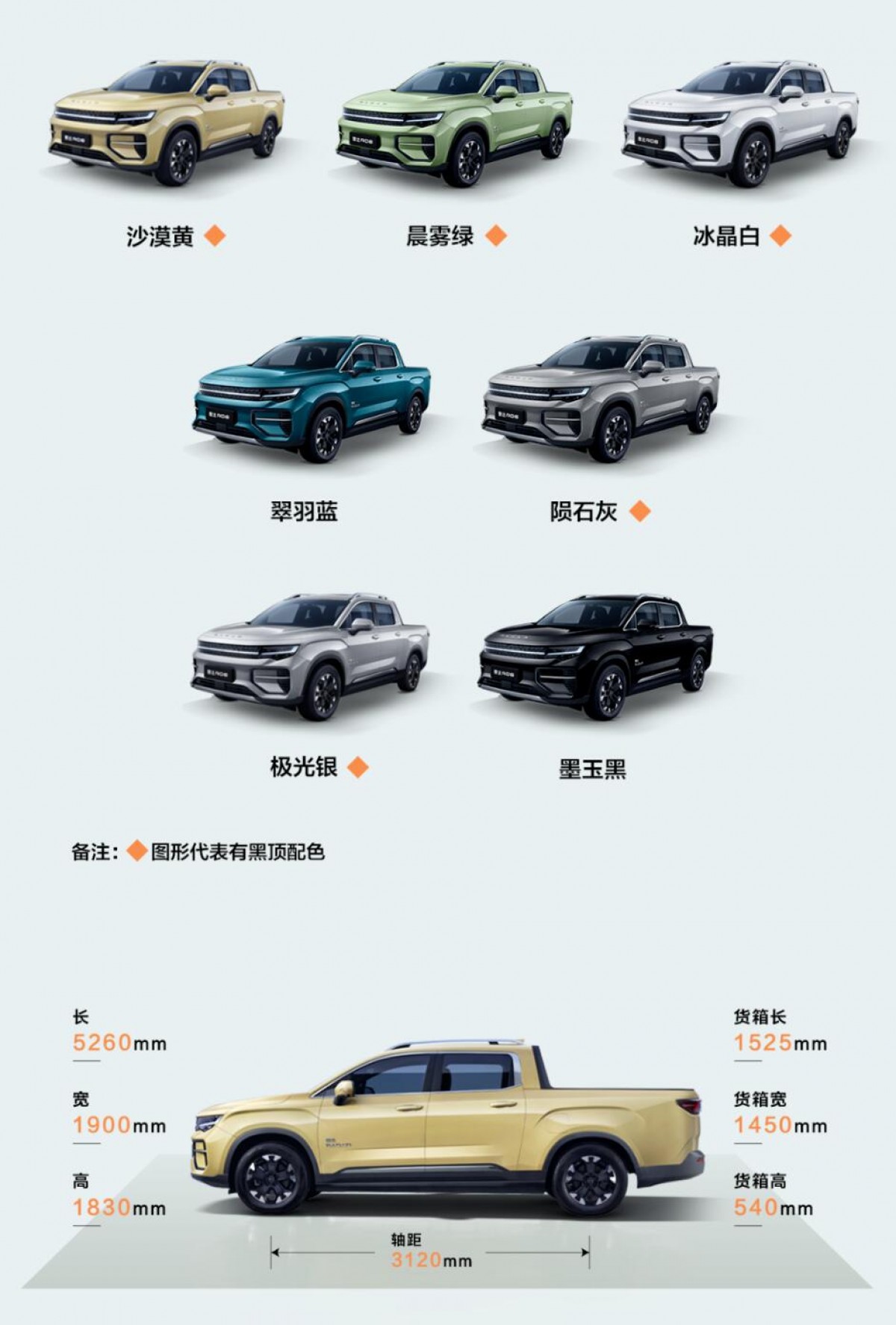 The advertised range for the pickup truck comes in three flavors - 350 km, 550 km and 610 km. That clearly means different battery capacities but for now that's all the information given by Geely.
Radar RD6 is not a full size pickup truck - it is only 5.2 meters long, that's nearly 70 cm shorter than Ford F-150 Lightning. It is shorter than a Ford Ranger and about the same size as a VW Amarok - clearly, it's more of a lifestyle pickup truck than a true workhorse.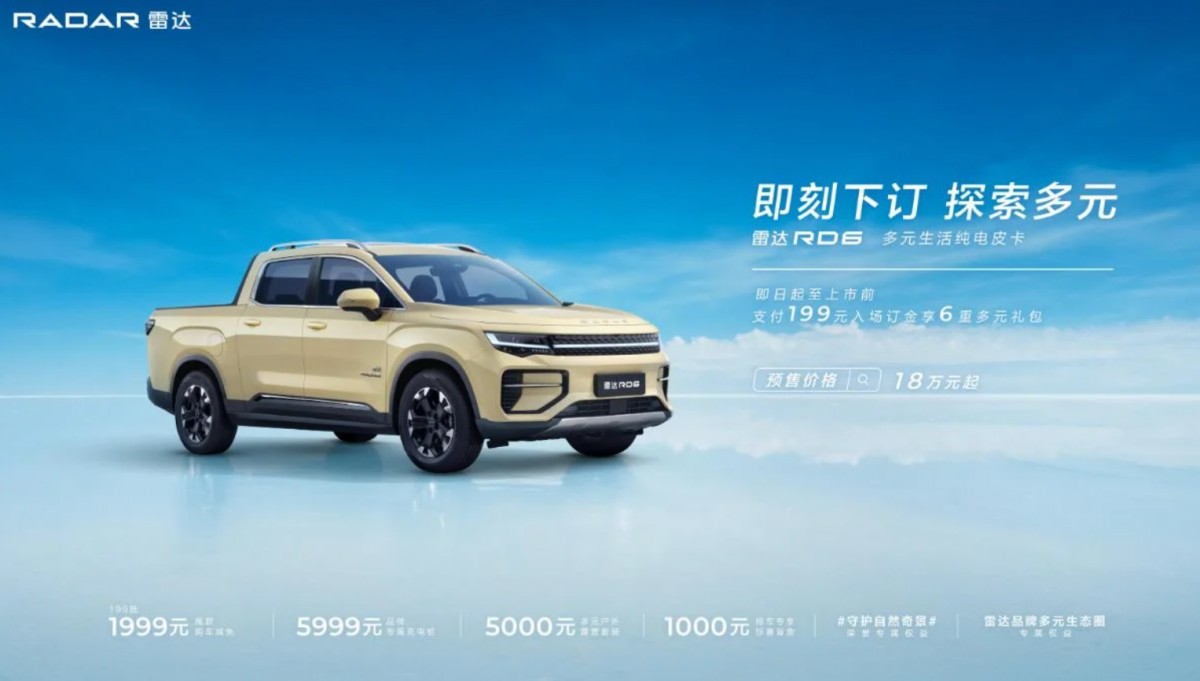 As it is becoming a norm, RD6 offers L2 ADAS which supports 12 assisted driving functions, among them is the usual adaptive cruise control, and forward as well as rear collision warning. V2L (vehicle-to-load) supports up to 6 kW electrical load which is perfect for camping or even as a backup electricity source in case of emergencies.
Related
Can I order if so where and when thanks
How long would this truck get delivered to me and how would I go about getting it
When will I be able to get one in the United States
Reviews
Unknown column 'RWD' in 'where clause'
SELECT models.*, drives.DriveID, drives.Anchor, drives.Thumb, makers.MakerName FROM models LEFT JOIN ( SELECT ModelID, MAX(DriveOrder) AS MaxDO FROM drives GROUP BY ModelID ) AS dlinks ON models.ModelID = dlinks.ModelID LEFT JOIN drives ON dlinks.ModelID = drives.ModelID AND dlinks.MaxDO = drives.DriveOrder LEFT JOIN makers ON models.MakerID = makers.MakerID WHERE models.ModelID IN (56,2023,RWD,BYD,213,2021,Air,348,2022,SR) ORDER BY FIELD(models.ModelID, 56,2023,RWD,BYD,213,2021,Air,348,2022,SR) LIMIT 6; -- 1062, 35.175.107.142
Warning
: mysqli_num_rows() expects parameter 1 to be mysqli_result, bool given in
/home/gsmarena/arenaev/m/_rankingswithpics.php3
on line
37