Colder climate is better for battery health, study on Tesla Model Y shows
Ro, 19 September 2023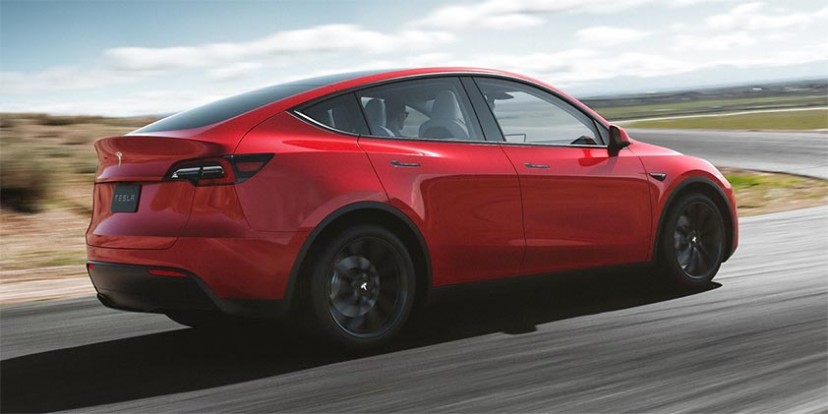 After a very insightful report from Recurrent Auto on the effects of fast charging on battery longevity, the firm has published another research looking into climate effects on battery health. The study uses data from 12,500 Tesla Model Y vehicles in the US and assigns a range score for each vehicle from 2020, which tracks battery retention in different states across the country.
A clear correlation between better battery longevity in colder states is observed, with the northern Model Ys getting an average longevity score of 95, while the southernmost parts of the country get 92 points.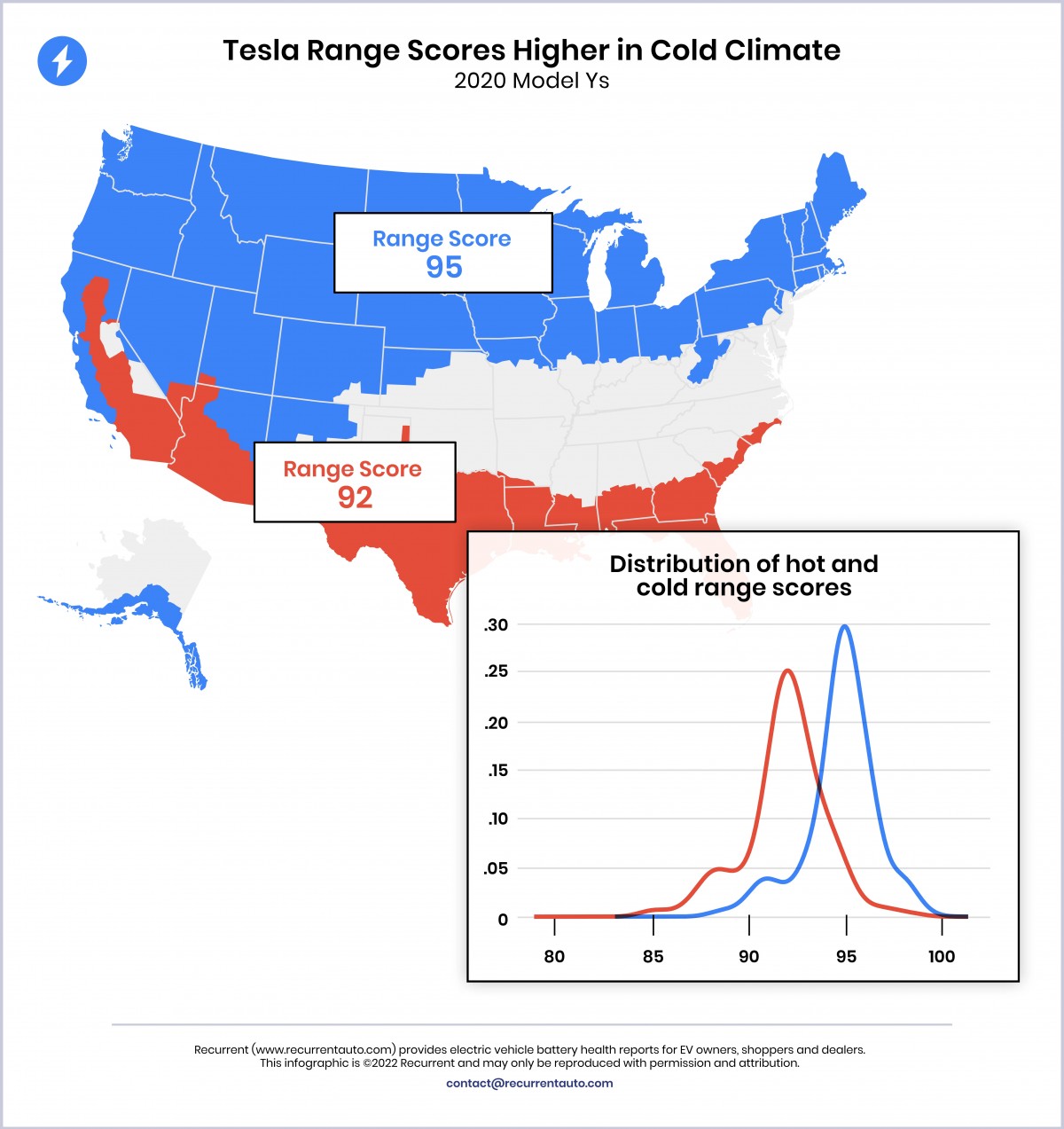 It probably doesn't come as a surprise, given that batteries don't like heat. And Recurrent Auto chose Model Y for its data collection due to Tesla's advanced pre-conditioning battery system, which is always active, not just during charging. It maintains optimal battery temperatures when it's either cold or hot. It's also the most popular EV brand in the US and makes data collection much easier.
The study uses the car's maximum battery range estimation as a baseline instead of EPA, as the latter is often inaccurate from day one.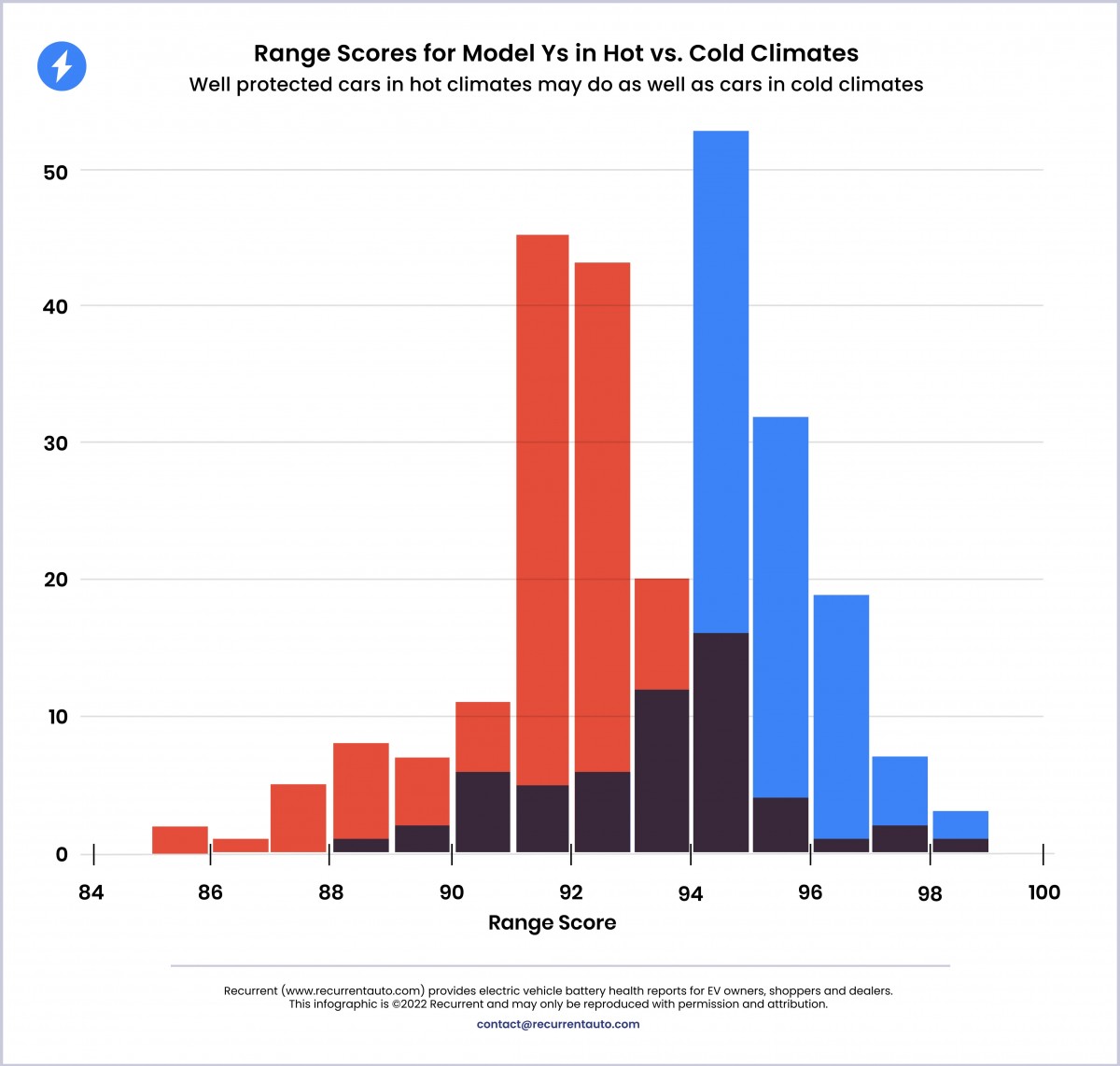 Interestingly, there are many vehicles with good battery scores in the hot states mainly because owners keep their Model Ys in a garage. That's why Recurrent Auto suggests keeping your EV under the shade when possible or just leaving the battery half full during the hot summer days. This would pay off in the long run. These precautions have an even bigger impact if the vehicle doesn't have an active thermal management system.
Surely, cold weather also affects battery range, but that's only a temporary effect. Once the battery reaches optimal operating temperature, the estimated range is back to normal.
Related
your content is very powerful. What is the Difference Between Healthy and Health?
Reviews
Unknown column 'RWD' in 'where clause'
SELECT models.*, drives.DriveID, drives.Anchor, drives.Thumb, makers.MakerName FROM models LEFT JOIN ( SELECT ModelID, MAX(DriveOrder) AS MaxDO FROM drives GROUP BY ModelID ) AS dlinks ON models.ModelID = dlinks.ModelID LEFT JOIN drives ON dlinks.ModelID = drives.ModelID AND dlinks.MaxDO = drives.DriveOrder LEFT JOIN makers ON models.MakerID = makers.MakerID WHERE models.ModelID IN (56,2023,RWD,BYD,213,2021,Air,348,2022,SR) ORDER BY FIELD(models.ModelID, 56,2023,RWD,BYD,213,2021,Air,348,2022,SR) LIMIT 6; -- 1062, 35.175.107.142
Warning
: mysqli_num_rows() expects parameter 1 to be mysqli_result, bool given in
/home/gsmarena/arenaev/m/_rankingswithpics.php3
on line
37