Firsthand look at Tesla Cybertruck's interior
Max McDee, 03 October 2023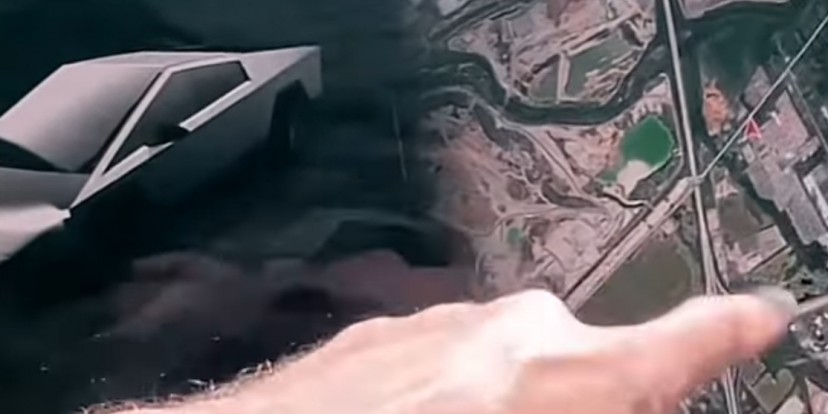 From its polarizing exterior design to its high-profile unveilings, Tesla Cybertruck has been a magnet for attention. However, its interior has so far been shrouded in secrecy. A recently surfaced 56-second video clip has given us the most detailed look yet at what lies inside it.
While many of us have caught glimpses of the Cybertruck during its numerous public outings - charging, towing, and occasionally resting after a misadventure - the inside has been a bit elusive.
The video isn't your typical Tesla insider. Could it be a mischievous transport worker? Or maybe just an opportunistic individual who stumbled upon an unlocked treasure? Either way it's evident that this isn't your regular authorized walk-through.
One of the initial visuals is the backup camera in action, displaying both rear and side views. Interestingly, a full 360-degree camera - common in many vehicles today - is absent. The video continues to show a seamless interface response when the map is engaged, hinting at the vehicle's location: a car auction lot near Columbus, Ohio. Strange choice for a high-profile, yet-to-be-released vehicle, right? Especially one showing "service required" notifications.
This latest peek confirms that Tesla continues to maintain consistency across its range in terms of user interface. A map to the right, vehicle data to the left. But there's a twist: instead of a solid demarcation between the two, the Cybertruck sports a more modern blurred separation.
The truck's digital rendering, when parked, appears more generic than specific. It's a simple representation of a basic terrainscape. However, an eye-catching detail emerges behind the display: a new colorful ambient lighting strip reminiscent of those in the updated Model 3 and Chinese Model Y.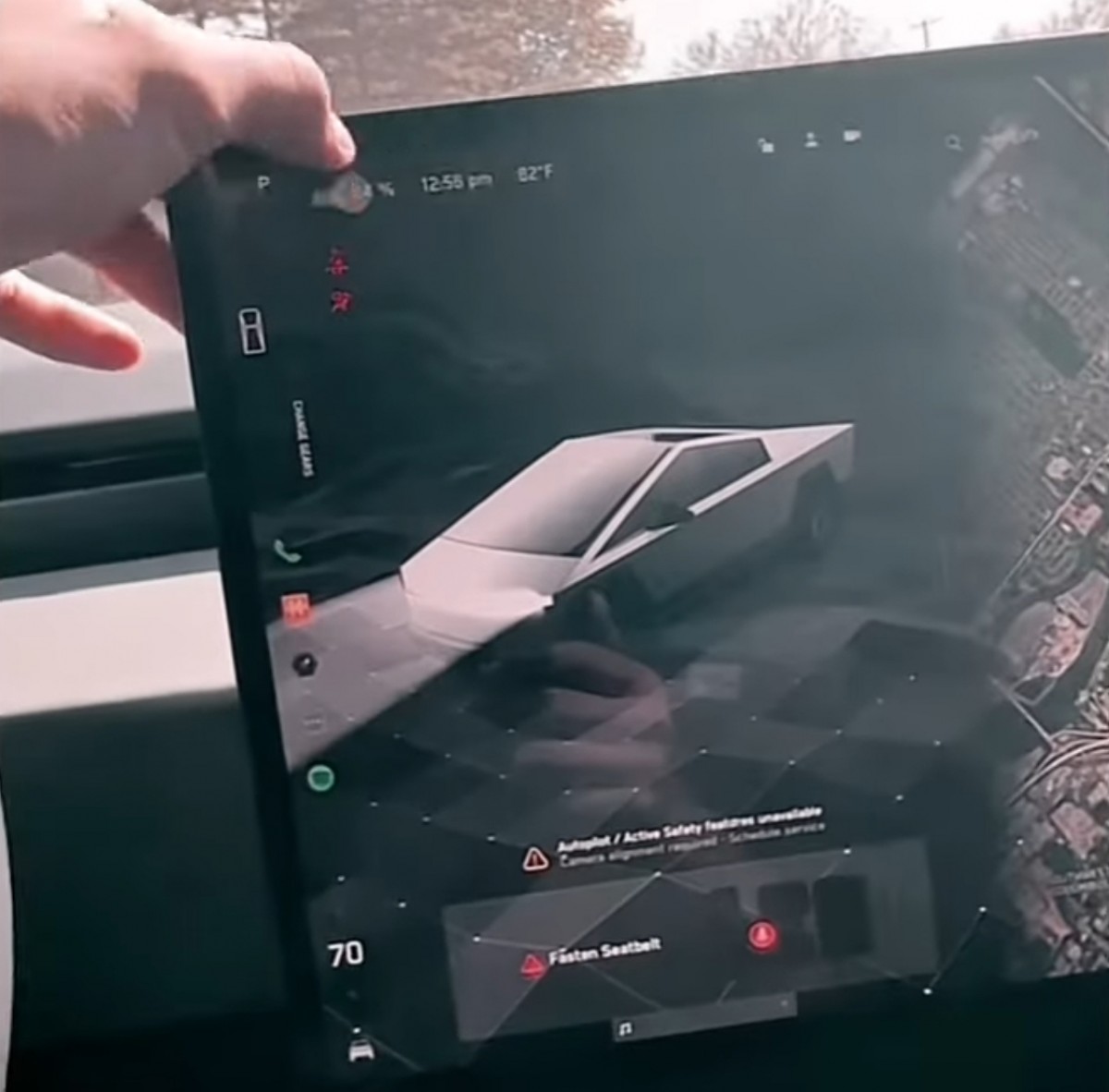 Battery enthusiasts might raise an eyebrow at the 84% battery indication without any range display. Despite the video-maker's efforts to glean more information, the truck remained tight-lipped. Add to that a "swipe to change gears" prompt, mirroring the latest Tesla models. And for those with an eye for detail, the hexagonal design of the backup camera amusingly almost aligns with the octagonal motif of the cupholders. Almost.
The truck's center console appears to sport a handy tray between the front seats, sparking memories of the older Model S versions. This tray in the video contains a tangle of wires and an indecipherable document. Additionally, octagonal "cyber cupholders" in the center console offer a departure from the rounded ones showcased earlier this year. On the convenience front, dual (wireless?) phone charging spots sit ahead of these cupholders.
In terms of sheer headroom, the Cybertruck does not disappoint. The backseat reveals a vast glass roof, providing a sense of openness rarely seen in other vehicles. If the interior felt expansive during the unveiling event, daylight is only set to amplify that experience. Circling back to the front, the video displays a dual-action sun visor similar to the Model X.
While the video reveals interesting details, it also leaves us with a myriad of questions. Like what exactly is the Cybertruck doing in an Ohio car auction lot, seemingly in the hands of a random individual?
Related
Wow, the inside of the Cybertruck looks so cool! Can't believe someone leaked this video.
Reviews
Unknown column 'RWD' in 'where clause'
SELECT models.*, drives.DriveID, drives.Anchor, drives.Thumb, makers.MakerName FROM models LEFT JOIN ( SELECT ModelID, MAX(DriveOrder) AS MaxDO FROM drives GROUP BY ModelID ) AS dlinks ON models.ModelID = dlinks.ModelID LEFT JOIN drives ON dlinks.ModelID = drives.ModelID AND dlinks.MaxDO = drives.DriveOrder LEFT JOIN makers ON models.MakerID = makers.MakerID WHERE models.ModelID IN (56,2023,RWD,BYD,212,2021,Air,348,2022,SR) ORDER BY FIELD(models.ModelID, 56,2023,RWD,BYD,212,2021,Air,348,2022,SR) LIMIT 6; -- 1062, 35.175.107.142
Warning
: mysqli_num_rows() expects parameter 1 to be mysqli_result, bool given in
/home/gsmarena/arenaev/m/_rankingswithpics.php3
on line
37