Polestar 3 hot weather testing successfully completed ahead of Q1 2024 production
Ro, 26 September 2023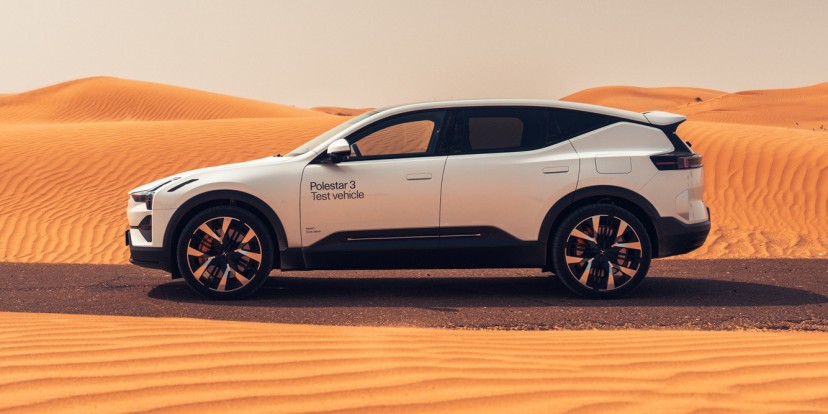 Polestar 3 is going to be the company's first SUV scheduled for a Q1 2024 production. The car manufacturer now announced it has successfully completed hot weather testing in the United Arab Emirates.
The vehicle had to go through rigorous testing around Dubai, Abu Dhabi and the surrounding deserts in toasty 50°C weather. Polestar's team of engineers was on site to fine-tune the climate systems so they can handle extreme weather conditions. Polestar is quick to remind that this is just one of the many tests before releasing a car.
It looks like everything is moving according to plan and Polestar 3 will enter production in the first quarter of next year, but potential buyers can already see the SUV in person if they wish to do so. Polestar 3 prototypes can be found in all of Polestar's retail locations across the globe. Test drives are still unavailable, but you can sit inside and explore the interior and exterior of the upcoming SUV.
Shortly after the Polestar 3, the company will launch another SUV, the Polestar 4. This one will be a performance SUV coupe.
Related
Can't wait for the range tests. This might be the one...
Reviews
Unknown column 'RWD' in 'where clause'
SELECT models.*, drives.DriveID, drives.Anchor, drives.Thumb, makers.MakerName FROM models LEFT JOIN ( SELECT ModelID, MAX(DriveOrder) AS MaxDO FROM drives GROUP BY ModelID ) AS dlinks ON models.ModelID = dlinks.ModelID LEFT JOIN drives ON dlinks.ModelID = drives.ModelID AND dlinks.MaxDO = drives.DriveOrder LEFT JOIN makers ON models.MakerID = makers.MakerID WHERE models.ModelID IN (56,2023,RWD,BYD,213,2021,Air,348,2022,SR) ORDER BY FIELD(models.ModelID, 56,2023,RWD,BYD,213,2021,Air,348,2022,SR) LIMIT 6; -- 1062, 35.175.107.142
Warning
: mysqli_num_rows() expects parameter 1 to be mysqli_result, bool given in
/home/gsmarena/arenaev/m/_rankingswithpics.php3
on line
37