Volvo EX30 is official - a small and affordable SUV that's big on performance and features.
Max McDee, 07 June 2023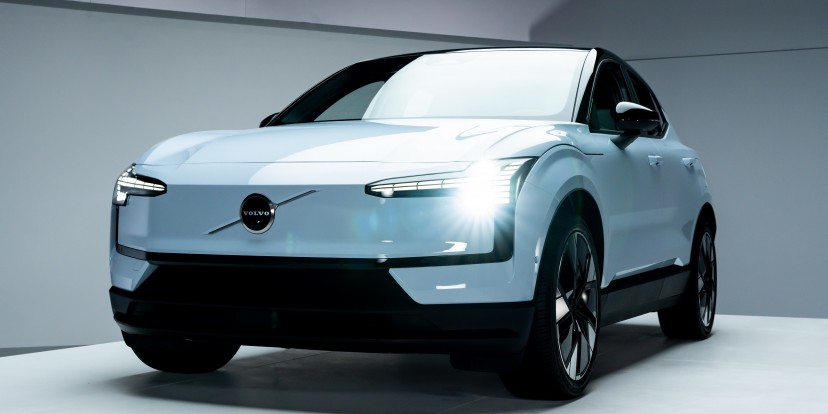 Volvo has finally taken the covers off its smallest electric vehicle - the EX30 is small, and yet the company refers to it as an SUV, not a crossover. The newcomer has plenty of performance, it has good levels of equipment - just as any Volvo should. And yet Volvo wants the EX30 to be affordable - where's the compromise, is the company cutting any corners?
The EX30 is quite a car for Volvo - it is its smallest SUV ever and, in the AWD version, it is the fastest-ever production Volvo to have left the factory. Quite a pair of boots to fill in for the little fella. We won't know if it truly lives up to the promises until the first road tests, but at least on paper, it looks very promising.
Starting with the one everyone asks about first - the performance. There are three powertrains available and two battery sizes to choose from. The entry-level model uses only one electric motor coupled with the smaller 51 kWh LFP battery pack. It will be the cheapest option by far. And it will offer 214 miles of range, it deals with the 0 to 62 mph sprint in 5.7 seconds, and it tops out at 112 mph.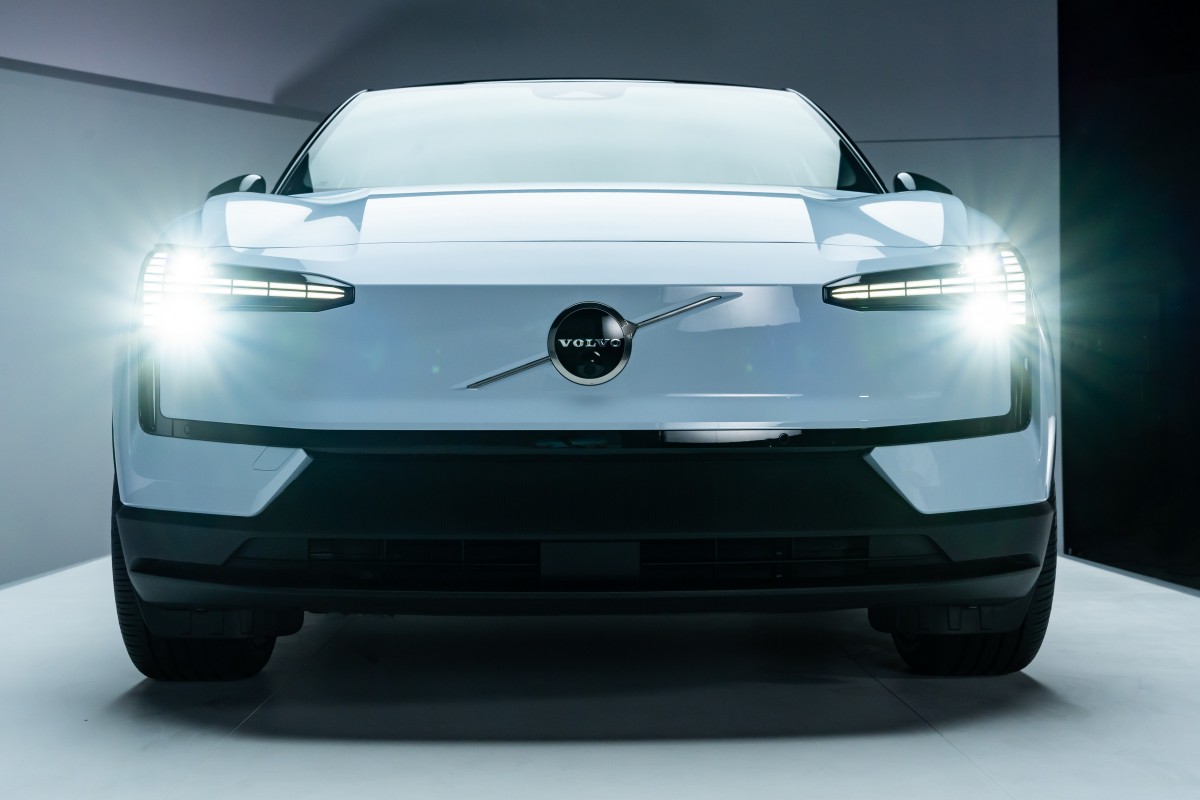 Although Volvo is still keeping some of the specifications close to its chest, it shared with the world that the Extended Range EX30 will use a slightly more powerful electric motor coupled with a larger, 69 kWh NMC battery pack. This version is aimed at long-distance drivers, Volvo promises 298 miles of range on a single charge, and its 0 to 62 mph sprint takes 5.3 seconds.
Finally, we have the EX30 Twin Motor performance version. This model uses the 69 kWh NMC battery pack and two electric motors with a combined output of 315 kW (428 hp). This is enough to catapult this small SUV from 0 to 62 mph in a blistering time of 3.6 seconds - it makes the EX30 officially the fastest Volvo ever with a still decent 286 miles range.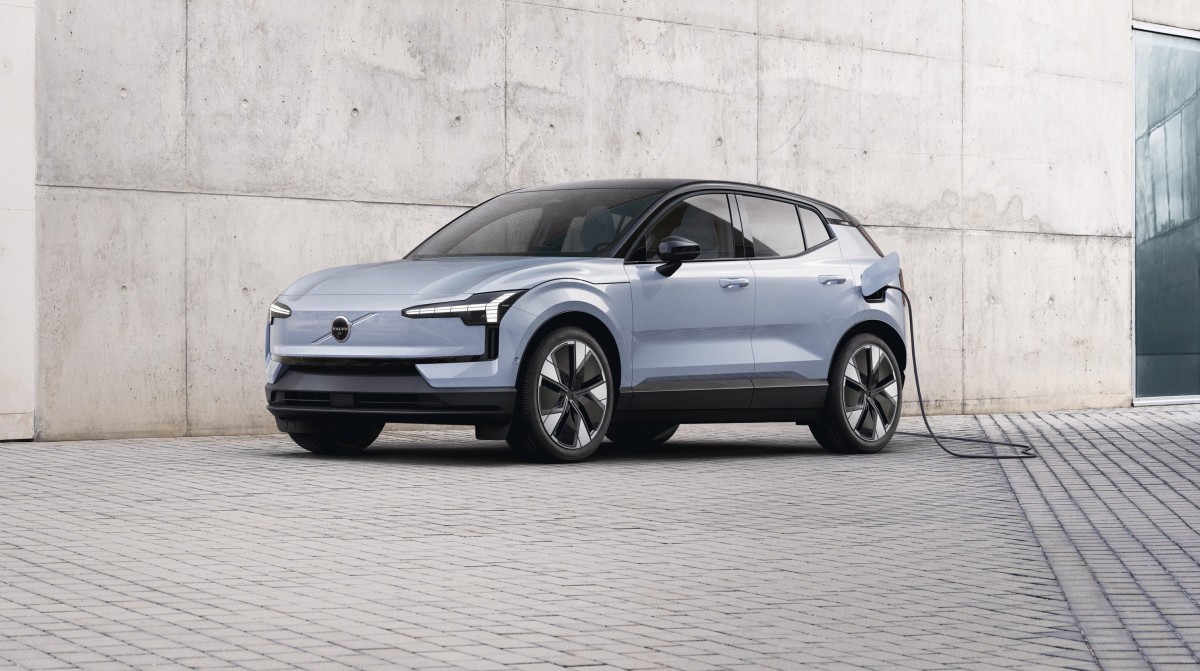 When it comes to charging the EX30, the Performance, and Extended Range versions support up to 153 kW fast charging, while the LFP battery fitted to the entry-level version supports up to 134 kWh fast charging. Both batteries charge from 10 to 80% SoC in about 25 minutes making the ownership experience a little bit easier.
Volvo is very proud of its EX30 having the smallest carbon footprint of any Volvo - and rightly so. Thanks to its smaller size, the car uses far fewer materials, and those that are used, have been either recycled or have been produced using renewable sources of energy. The smallest SUV from Volvo is expected to have a CO2 footprint of 30 metric tonnes over its 124,000 miles life span.
While on the outside the new EX30 is unmistakably a Volvo, with many design features borrowed from its bigger sibling EX90, the interior is where we get to see the new "less is more" philosophy from Volvo. Starting with a single center screen taking an unobtrusive position on the dashboard, a single soundbar replacing all the speakers, and sitting far ahead at the bottom of the windshield.
Clever use of recycled fabrics, bright colors, and glass roofs make the interior look airy and spacious. The door panels are thinner and minimalistic and offer extra width, making the interior feel much wider than it actually is. With tons of extra storage, and cup holders sliding in and out from the center console when needed, the interior is as functional as we have come to expect from Volvo. Oh, and it's no longer called the interior - it's a room now and you can choose to have it in four distinct color options.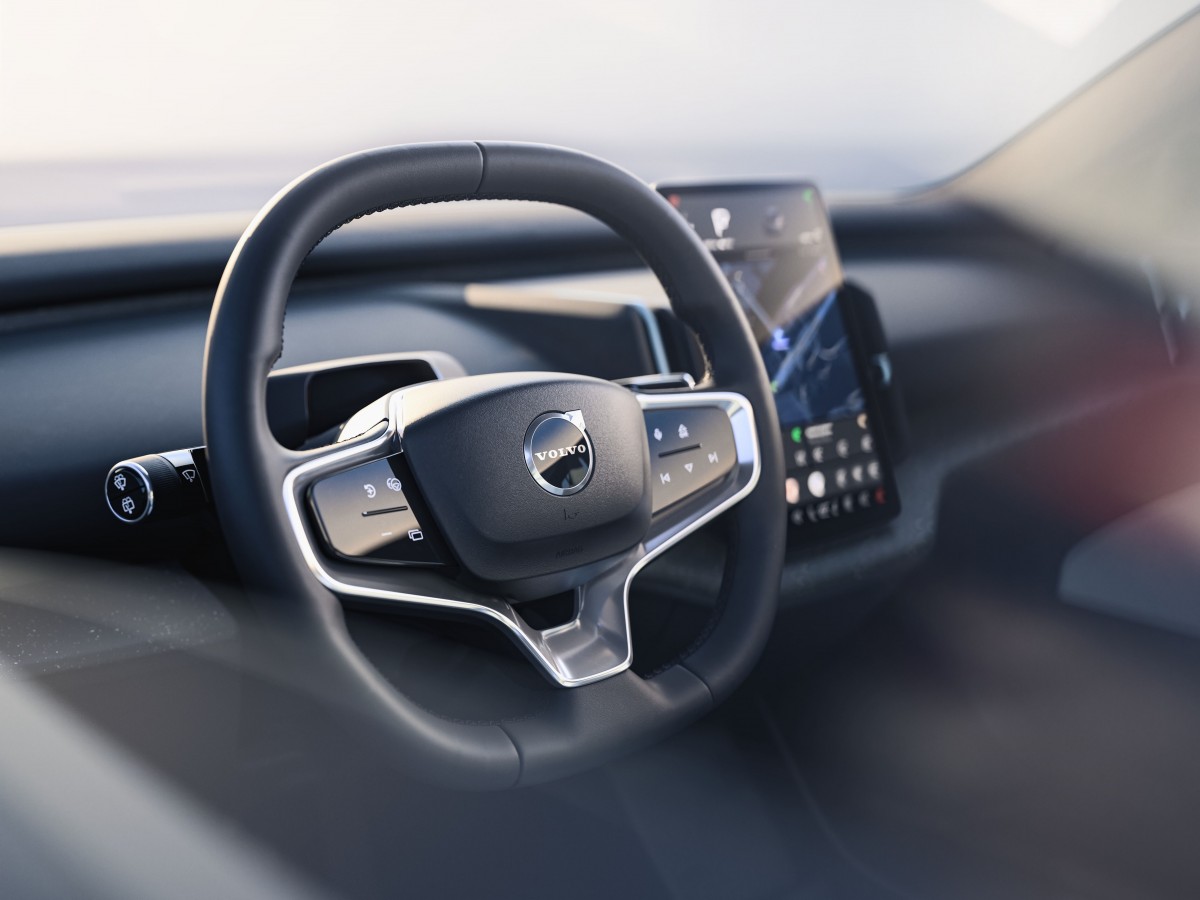 As is the case with all modern Volvos, the infotainment comes courtesy of Google and its built-in suite of services. It makes for a clean and hassle-free experience - the interface seems to be swift and responsive, with graphics that are easy to read. Overall it'll be an unobtrusive experience, focused more on aiding the driver rather than taking center stage.
Volvo has spent a considerable budget on the interior since this is where we spend most of the time, it seems like a wise choice. There is ambient light that comes with a choice of five themes, each shifting through colors and pulsating to the rhythm of matching soundscape - all inspired by Scandinavian nature.
While the AWD Performance version will be a very sought-after model, Volvo had a surprise up its sleeve. It turns out the Cross Country trim is making a comeback to Volvo, and the EX30 will be the first EV to rock this classic trim. There will be increased ride height, and special off-road trims for the front and rear bumpers coupled with 18" wheels wrapped in off-road tires.
Volvo really pulled all the stops when it designed the EX30 and they created a really good-looking, clever, and safe small SUV. But what about the affordability? The company claims the EX30 was designed to be affordable, and while it isn't the cheapest SUV out there, its pricing is comparable to the likes of Smart #1, which isn't a surprise since both vehicles are technically twins.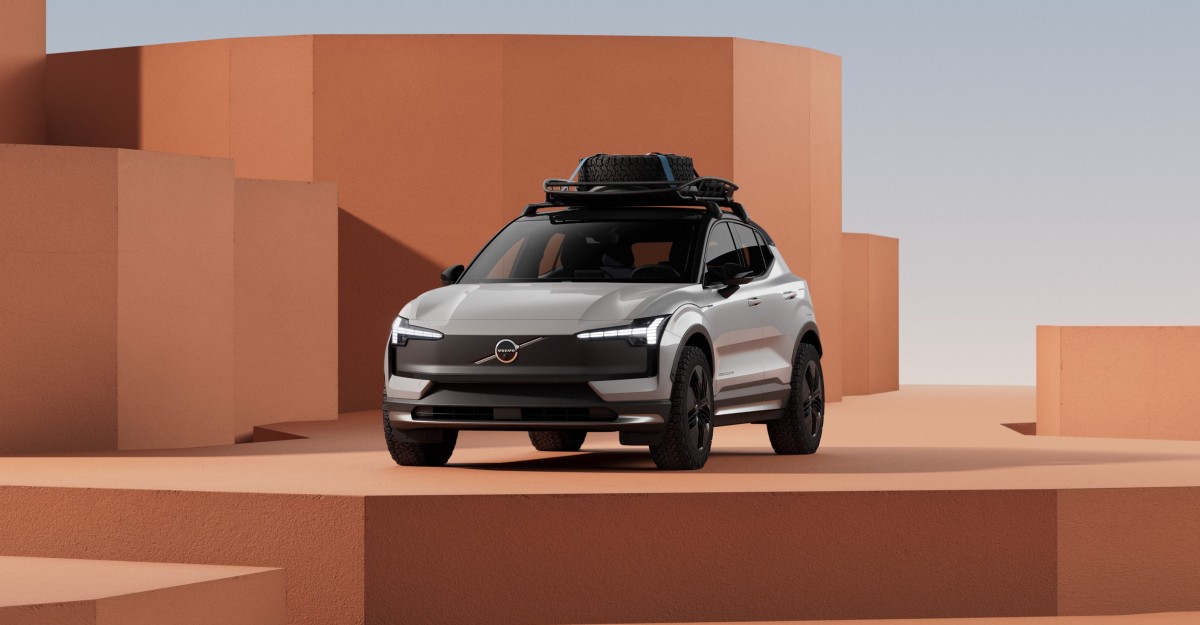 Volvo EX30 Core starts at $39,460 and comes with a smaller LFP battery, adaptive cruise control, and 4 years of Google updates. Adding $5,649 rings the bigger NMC battery with a more powerful electric motor. Volvo EX30 Plus starts at $42,638 and comes standard with a Harman Kardon audio system. It has a choice of all three powertrains - the LFP-powered version is standard, the Extended Range costs extra $6,298 while the Twin Motor Performance adds $9,154 to the base price.
Top of the range EX30 Ultra adds a panoramic glass roof and Volvo's smart Park Pilot Assist ADAS. This version starts at a rather juicy $52,310, and is only available with either the Extended Range single motor powertrain, or at an additional $2,856, with the twin-motor performance option. A $55,167 may not be an affordable Volvo, but it is quick, well-equipped, and actually not that outrageously expensive, when compared to some of its competitors.
Related
Nice. Looks good but I want to see how well I can see outside. How high am in the seat? Only silence on these parameters
Vraiment je suis fier de vous comment fait on pour travailler avec vous ?
i can buy a BMW 4 coupe with 50k thats actually a car and not this tablet on wheels....
Reviews
Popular models