Elli - VW energy brand - has 400,000 EV charging points in Europe
Max McDee, 08 December 2022
Elli is VW's answer to a fragmented EV charging market across Europe. The company decided to bring as many charging providers and brands under its own umbrella and offer VW owners simplified access to EV charging infrastructure regardless of location.
The company can count such names as BP, IONITY, Enel and Ibedrola among its many new partners. The latest additions include 24,000 charging stations in Germany, the Netherlands, Norway and Sweden from supplier Vattenfall. Fastned, with its 1,000 DC fast chargers, is also a partner, and now VW owners and Elli customers across the UK, Germany, the Netherlands, Belgium, France and Switzerland have easy access to its network.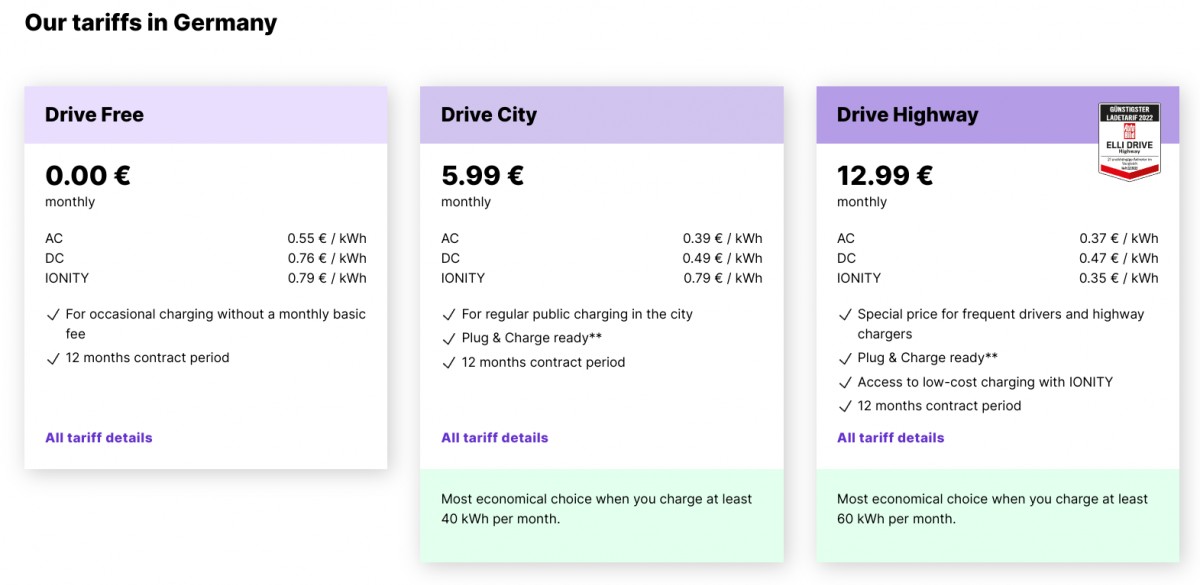 Elli charging tariffs in Germany
Elli doesn't just offer its services to VW owners, anyone with an electric car can sign up and take advantage of its sprawling charging network. It is worth noting that VW or Elli did not add 400,000 new charging points across Europe but rather unified many different suppliers and gained access to their respective infrastructures.
While owners of Cupra, Skoda, Seat and VW will have direct access to the Elli network, Audi owners are out of luck for now. They can, of course, sign up to Elli's services but will have to do it separately until the next year when the service will become available through Audi Charging.
Apart from access to the largest EV charging network in Europe, Elli offers other services related to electric car ownership. The company markets its own home charger that can charge at a maximum of 11 kW. The company offers wind-generated electricity for homes for EV owners who want to take it a step further. In Germany, thanks to the government incentives for EV owners, Elli offers up to a €380 yearly cash bonus for CO2 reduction.
Related
Popular models