Nissan Concept 20-23 is a glimpse of urban electric future
Max McDee, 25 September 2023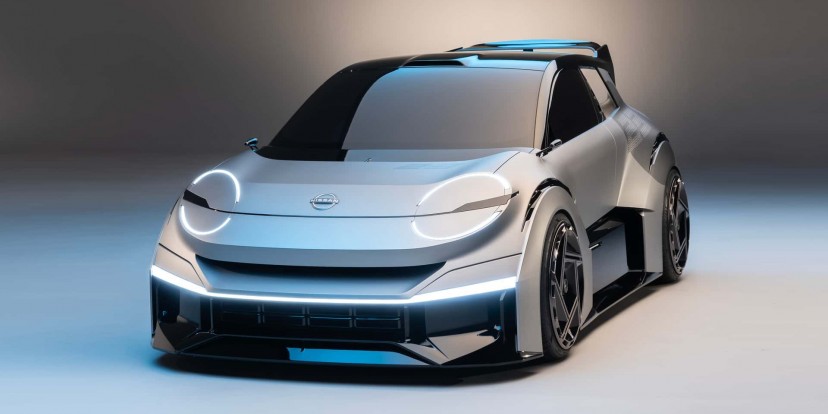 Nissan is no stranger to the electric vehicle market, and their latest unveiling, the Concept 20-23, is a testament to their commitment to innovation and design. Celebrating 20 years of Nissan Design Europe (NDE) in London, this concept car is a bold step into the future, blending sportiness with urban practicality.
The Concept 20-23 is not just a nod to NDE's two decades in London but also incorporates Nissan's traditional number 23 (ni san) and marks the current year. The design team, including some of the younger members of the studio, were given carte blanche to design a car they would love to drive through London's bustling streets.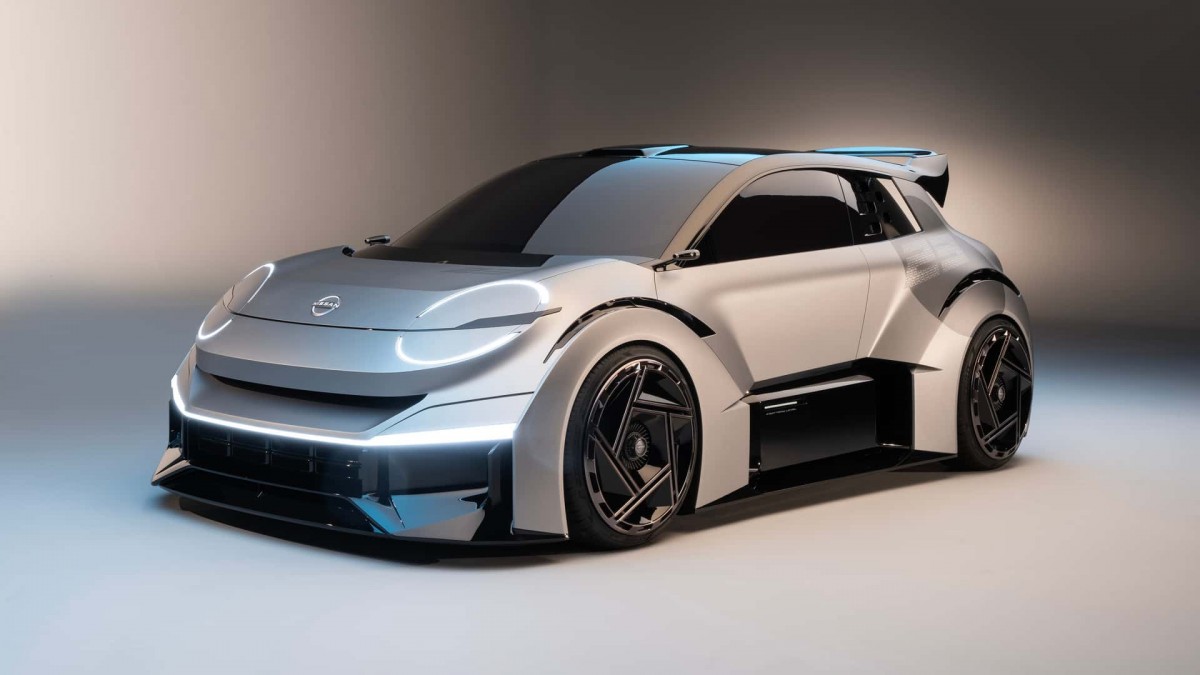 Drawing inspiration from Nissan's involvement in Formula E and online simulator racing, the Concept 20-23 pays homage to Nissan's rich heritage of distinctive hatchbacks. The concept car, however, is an "exterior model only," leaving us in the dark about its specifications and dimensions. But, given its design cues and Nissan's description, it's likely a three-door variant of the Micra EV teased earlier in January 2022.
Aerodynamics play a pivotal role in Concept 20-23's design. The car sports a three-door hatchback body style, embellished with pronounced aerodynamic elements both front and rear. Deep skirts guide the airflow, cooling the brakes and reducing air resistance in the wheel bay, showcased by the bulged wheel arches and large motorsport-style wheels.
The side profile reveals extended skirts and angular slits, framing the air outlets and inlets, contributing to the vehicle's aerodynamic efficiency. The back of the car is dominated by a single-piece roof spoiler and a squared-off diffuser, emphasizing the car's sporty nature.
Despite its aggressive aerodynamic features, the Concept 20-23 doesn't skimp on friendliness. The LED headlights and taillights, designed in thin upper and lower semi-circles, along with the scissor doors and the textured grey paint finish, give the car an interesting appearance. The number 23 adorns the rear, and a roof scoop adds a touch of flair while providing additional interior ventilation.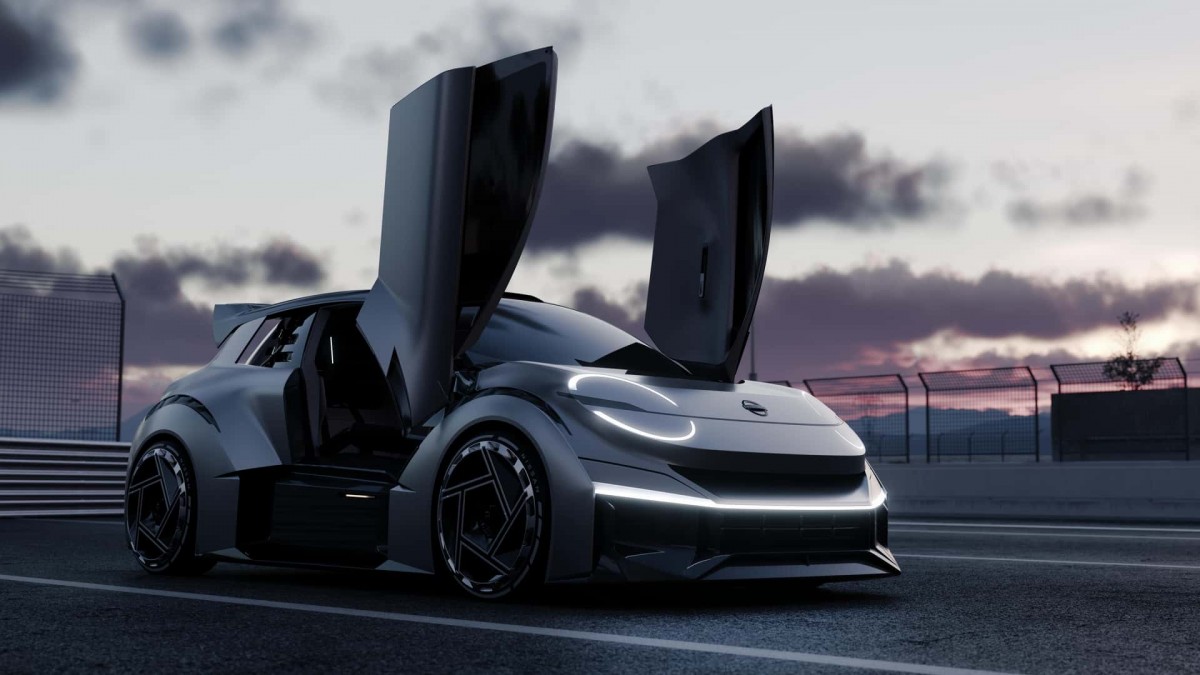 While the Concept 20-23 is primarily an exterior model, the glimpses of the interior reveal a minimalist, performance-focused design. The cabin features two deep bucket seats, reminiscent of racing cars, and an extended steering column ending with a multifunctional steering yoke. The interior is sparse, with only two screens displaying essential information, aligning with the car's sporty and minimalist ethos.
Alfonso Albaisa, Nissan's Senior Vice President for global design, expressed his enthusiasm for the project, highlighting the intersection of modern city living, online gaming, and zero-emissions mobility that Concept 20-23 represents.
However, Nissan remains tight-lipped about the electric powertrain that would best suit the Concept 20-23. The company's plans for this concept car are still under wraps, but it's safe to speculate that it will influence the design of future Nissan EVs.
Nissan Concept 20-23 is a refreshing and bold vision of what urban electric cars could be. It's a blend of sportiness, practicality, and innovative design, all wrapped up in a package that's as intriguing as it is mysterious.
Related
look a bit like a new beetle with aftermarket pieces
So, this Concept 20-23 is not just a car with a long name. It's a way for Nissan to celebrate their 20 years of doing design stuff in London. They even threw in their lucky number 23 to make it extra special. The design team got free rein to mak...
I guess the only good thing about this concept car is that it's just an exterior model. No need to worry about it actually hitting the streets!
Reviews
Unknown column 'RWD' in 'where clause'
SELECT models.*, drives.DriveID, drives.Anchor, drives.Thumb, makers.MakerName FROM models LEFT JOIN ( SELECT ModelID, MAX(DriveOrder) AS MaxDO FROM drives GROUP BY ModelID ) AS dlinks ON models.ModelID = dlinks.ModelID LEFT JOIN drives ON dlinks.ModelID = drives.ModelID AND dlinks.MaxDO = drives.DriveOrder LEFT JOIN makers ON models.MakerID = makers.MakerID WHERE models.ModelID IN (56,2023,RWD,BYD,213,2021,Air,348,2022,SR) ORDER BY FIELD(models.ModelID, 56,2023,RWD,BYD,213,2021,Air,348,2022,SR) LIMIT 6; -- 1062, 35.175.107.142
Warning
: mysqli_num_rows() expects parameter 1 to be mysqli_result, bool given in
/home/gsmarena/arenaev/m/_rankingswithpics.php3
on line
37