SsangYong teases the outdoorsy, all-electric Torres EVX SUV
Ro, 16 March 2023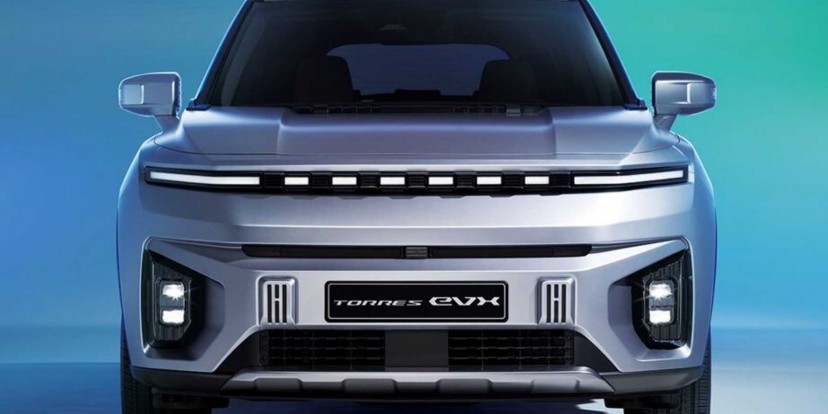 Korean automaker SsangYong announced its big ICE Torres SUV back in June last year and it's now confirmed its EV counterpart will be revealed during this year's Seoul Mobility Show on March 30. It's named Torrex EVX and features a slightly different design.
For instance, the front fascia adopts more streamlined and simple strip headlights with dotted LEDs between them. The grille has been revamped too, which was to be expected as EVs don't need airflow to cool the engine. The side profile is the same, but we don't get to see the rear of the car.
Instead of the centered infotainment screen, SsangYong went for a dual screen spanning across the dashboard. The console in the middle is also different, but the steering wheel seems to be unchanged.
While it revealed the physical appearance of the SUV, the company didn't disclose any specs like battery capacity or powertrain, so we have to wait for March 30 to learn those.
Related
Nothing yet. Be the first to comment.
Reviews
Unknown column 'RWD' in 'where clause'
SELECT models.*, drives.DriveID, drives.Anchor, drives.Thumb, makers.MakerName FROM models LEFT JOIN ( SELECT ModelID, MAX(DriveOrder) AS MaxDO FROM drives GROUP BY ModelID ) AS dlinks ON models.ModelID = dlinks.ModelID LEFT JOIN drives ON dlinks.ModelID = drives.ModelID AND dlinks.MaxDO = drives.DriveOrder LEFT JOIN makers ON models.MakerID = makers.MakerID WHERE models.ModelID IN (56,2023,RWD,BYD,213,2021,Air,348,2022,SR) ORDER BY FIELD(models.ModelID, 56,2023,RWD,BYD,213,2021,Air,348,2022,SR) LIMIT 6; -- 1062, 35.175.107.142
Warning
: mysqli_num_rows() expects parameter 1 to be mysqli_result, bool given in
/home/gsmarena/arenaev/m/_rankingswithpics.php3
on line
37