First Impressions - BMW i4 M50
Max McDee, 14 August 2022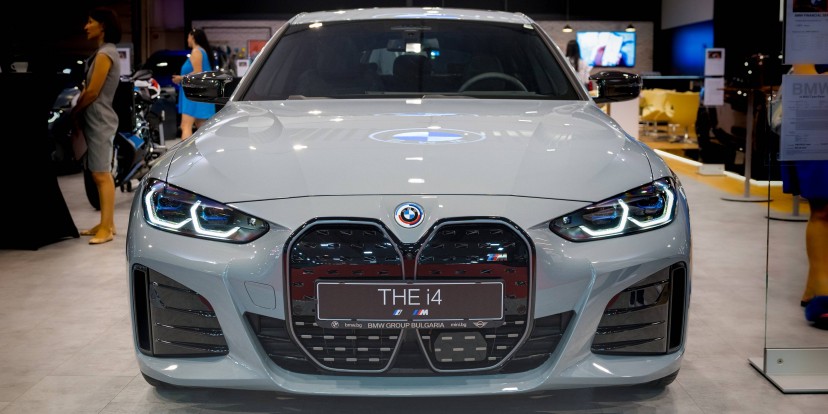 BMW i4 is a very important car for the Bavarian automaker and is an interesting vehicle in its own right. The i4 was never developed as an electric car, it was only adapted to the electric drive. The car is based on the 4 series and uses the CLAR platform like other electric BMWs - the iX3 and the China-only BMW i3.
The platform is so universal it is used in pretty much all BMWs - the 3, 4, 5, 6 and 7 series are built on it, the X3, X4, X5, X6 and X7 are all using it and of course the 8 series is built on it as well. Even Toyota Supra is built on the same platform. Even Friedhelm Wiesmann - formerly of the famous Wiesmann sports car automaker - uses the same platform for his latest Boldmen CR4 roadster.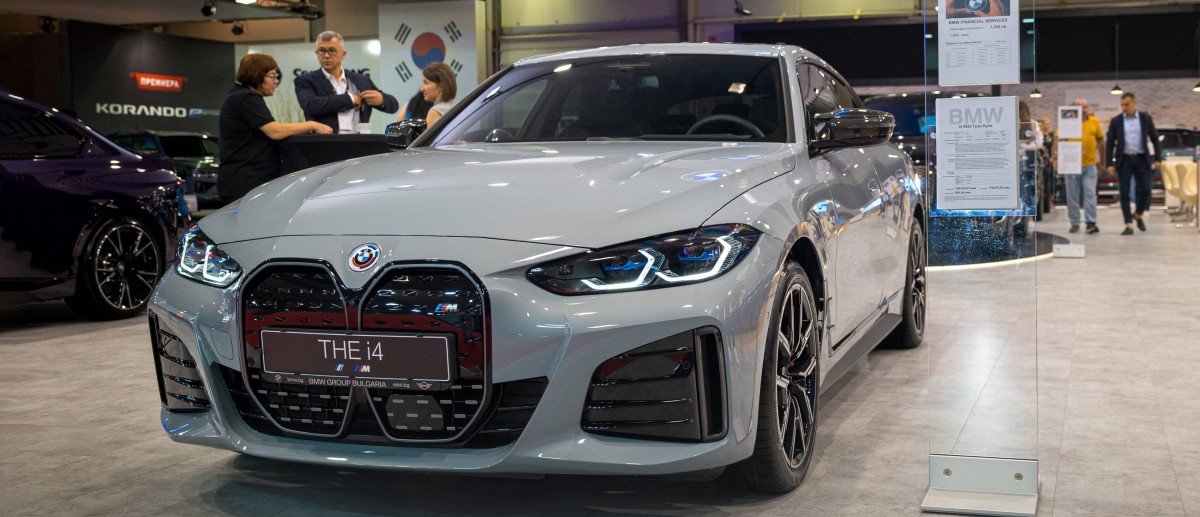 BMW i4 M50
BMW has spent $200 million converting the production line in Munich in preparation for the i4, which is made alongside its ICE and hybrid cousins. The factory had to be closed for 6 weeks in order to get the 1,000 robots ready for the different assembly process of the high-voltage electric drive.
The i4 is the only electric sedan from BMW, although not a sedan in the strictest sense, available outside of China, where that honor is bestowed on the confusingly named BMW i3 built on a long-wheel base 3 series. And the i4 was the only electric BMW to wear the M badge until the iX M60 came up.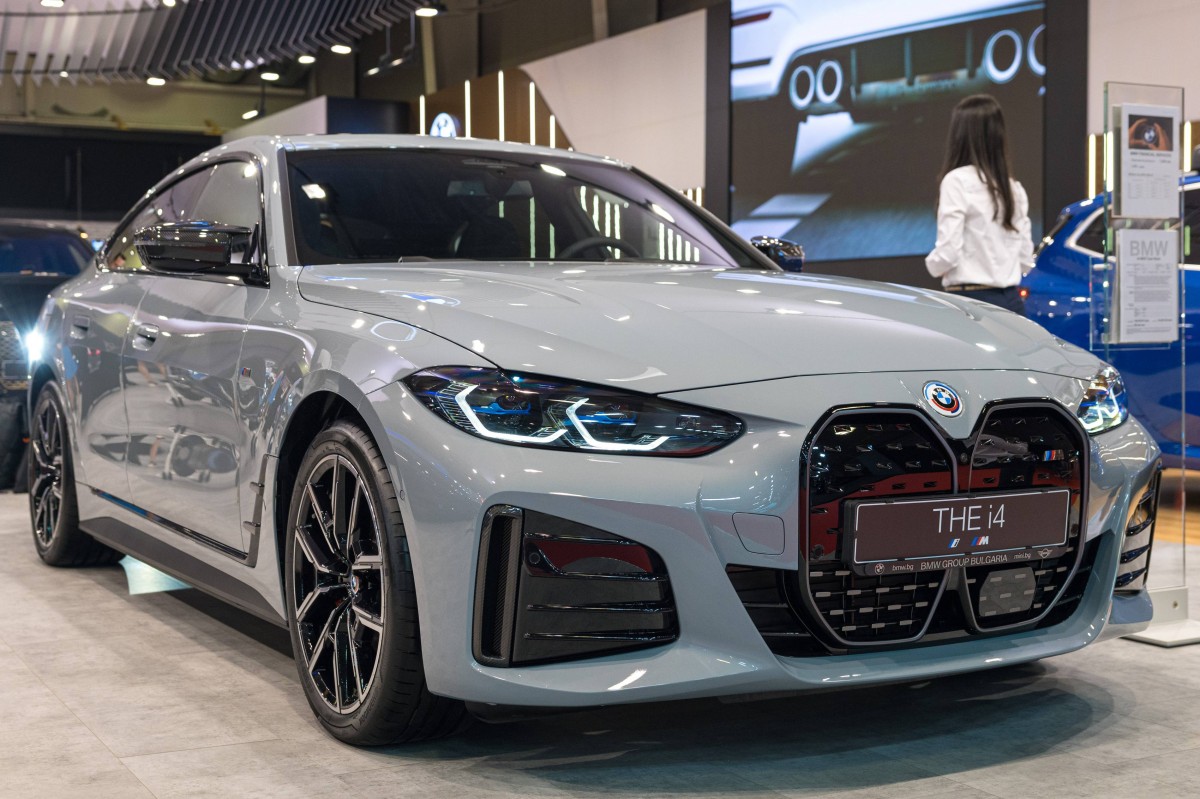 The car we have here today is the i4 M50 in a Brooklyn Gray Metallic with BMW Individual Shadow Line. The full list of options on this particular car took its sticker price to nearly €92,000 which is quite outrageous considering the car starts at €70,800 and is already well specced up.
BMW played a safe game with the i4, delivering it initially in the M50 and eDrive40 trims only, making sure the first electric 4-door executive saloon/coupe delivered on the famous BMW driving dynamics. The M50 has two electric motors driving all 4 wheels, it has 544 horsepower and 795 Nm of torque which is enough to launch it from 0 to 100 kph in 3.9 seconds.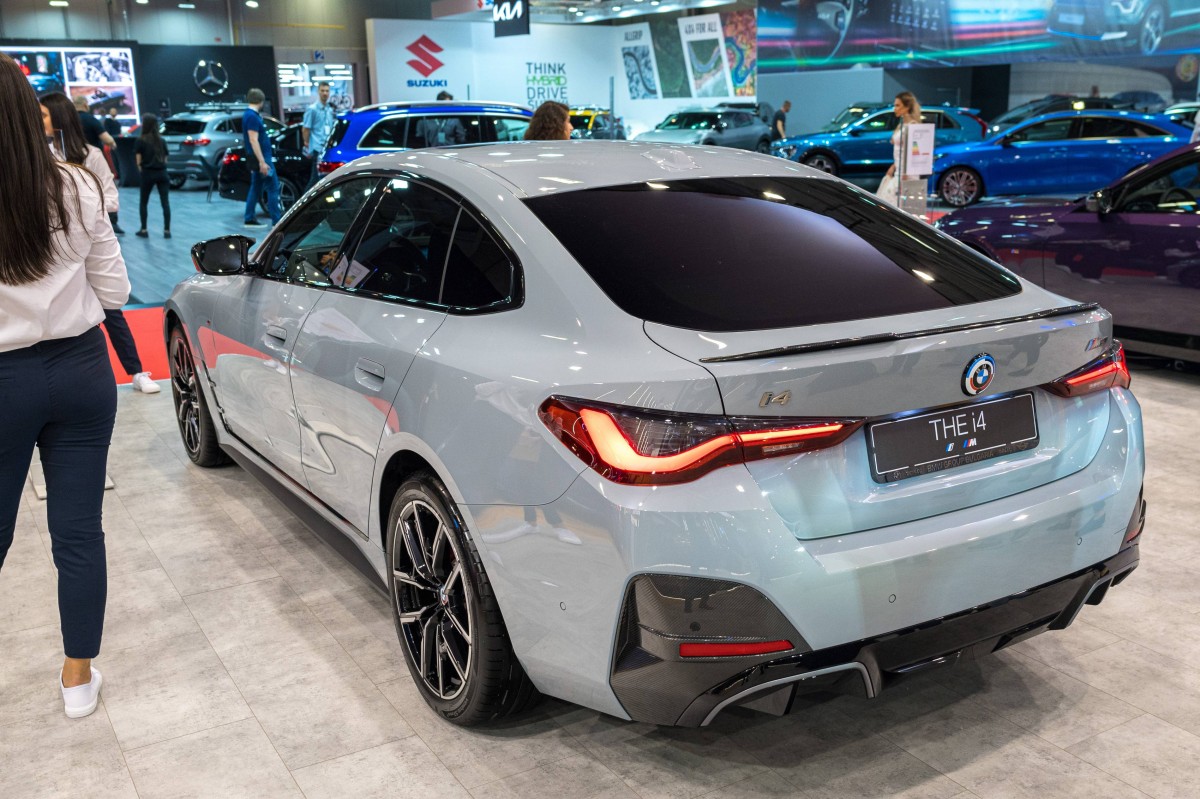 That number was a factory estimate actually and in many road tests the car reaches 100kph in just over 3.6 seconds which is BMW M3 time, clearly the company didn't want that printed in the i4's brochure. BMW's attempts to make the i4 M50 "officially" slower than the M3 sound just like the "gentlemen's agreement" in Japan for no car to exceed 276 horsepower or be faster than 180 kph.
Back in those times R34 GTR would have 276 horsepower in Japan but as soon as it landed in Europe it would have at least 340 hp thanks to some kind of magic tuning that was happening during the shipping. Thankfully Japanese automakers eventually gave up on those weird tactics and came clean about the real numbers and so will BMW. The i4 M50 is an experiment for the company to see how people react to an electric car with an M badge.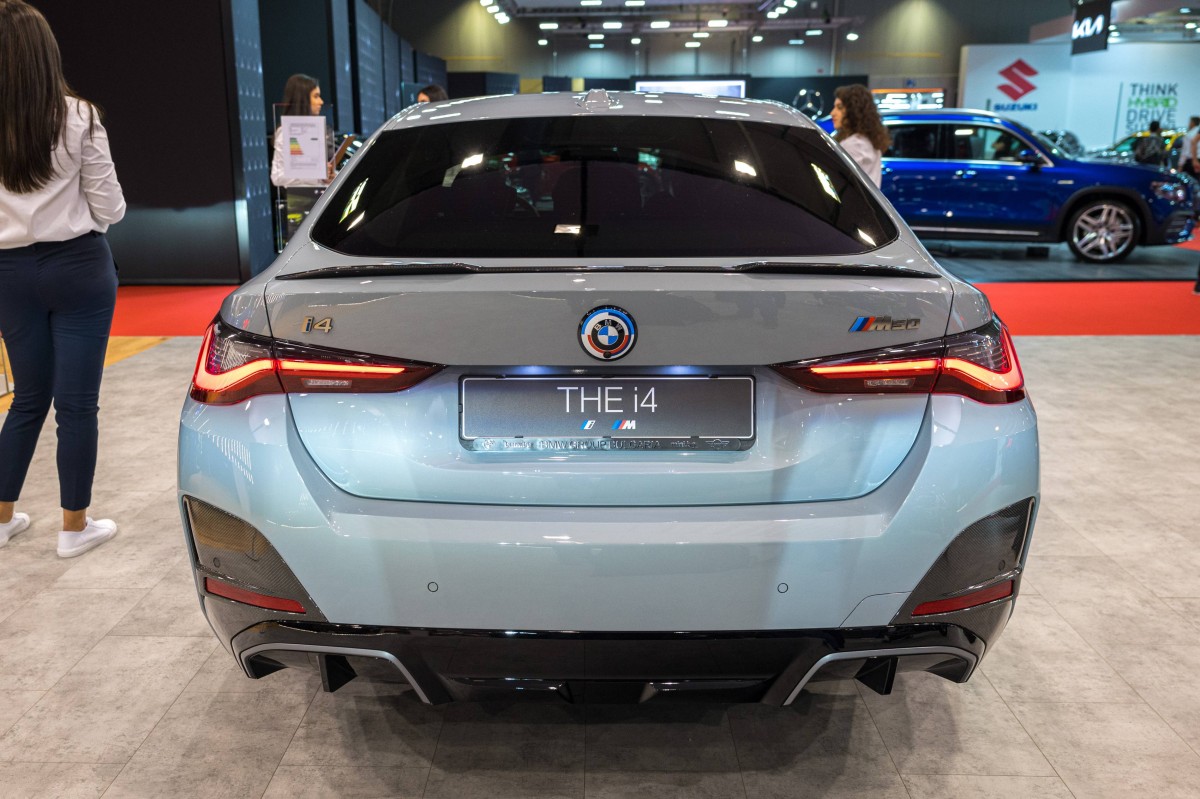 Going back to the i4 M50 we have here - there is no arguing the car is good looking. The front is as always controversial but the large kidney beans have been around for nearly a year now and we are getting used to them. They aren't as controversial as they are on iX M60 as for some reason, they seem to suit the i4 better.
From the side we have this gorgeous 4 door liftback with a sloping roofline, the proportions are spot on. The front is longer with the cabin moved towards the back, it makes the car look very dynamic, even parked up it looks ready to jump, it just invites you to get in and drive. BMW has nailed that design over the decades and by far this is a way better looking car than many of its competitors.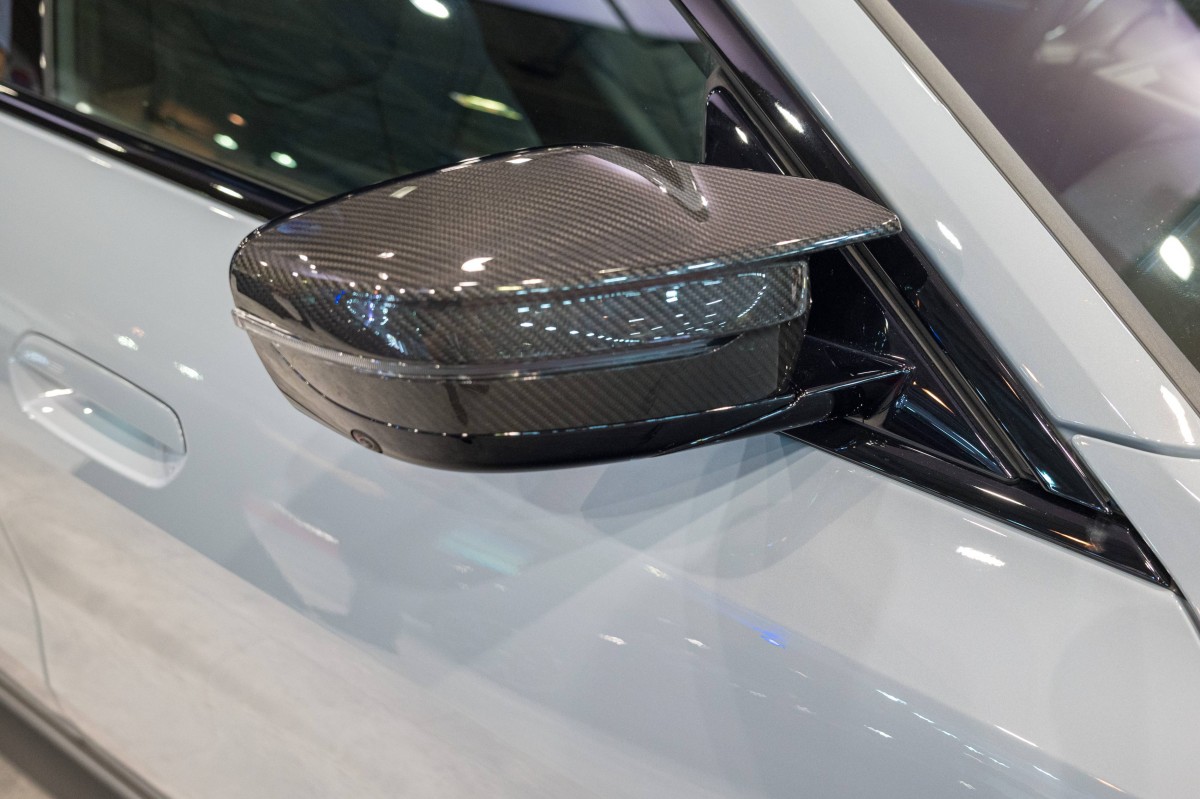 Coming around to the back we are met by the classic BMW lines, the car doesn't look as much of a liftback as the Audi e-tron GT. And yet there is this huge rear hatch with a giant window that opens up automatically and reveals a large 470 liter trunk with enough luggage space for a camping trip. It may not be the biggest out there but it's more than sufficient.
This being the proper M vehicle, we get the full treatment outside - the aerodynamic package is way different than on standard i4, the front and rear bumpers received all the sport treatment with big (although not all real) air intakes, there is plenty of real carbon fiber, rear diffuser is real as well. There is a little carbon fiber spoiler on the rear hatch and the whole package is completed with 19" wheels.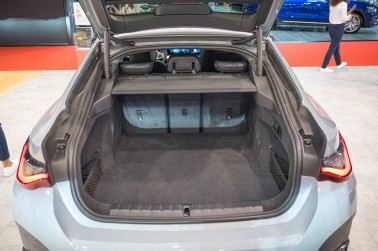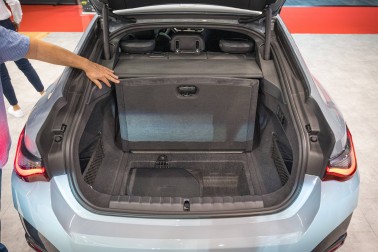 470 liters of luggage space with dedicated room for charging cables
Jumping inside brings us into a familiar BMW environment. It's of course full of carbon fiber and the updated BMW infotainment system with its giant screen sits atop the dashboard but overall we get this unquestionable feel of quality. The interior is neither sparse or overloaded - BMW gets the balance spot on.
The leather seats are top notch, here we have lack seats with blue stitching, in fact there are a lot of blue accents all over the car. BMW was worried we may forget we are driving an electric car and made sure whether we look, we get a little reminder. This being an M vehicle, the seats are deep and supportive yet soft and comfortable at the same time, quite an achievement, actually.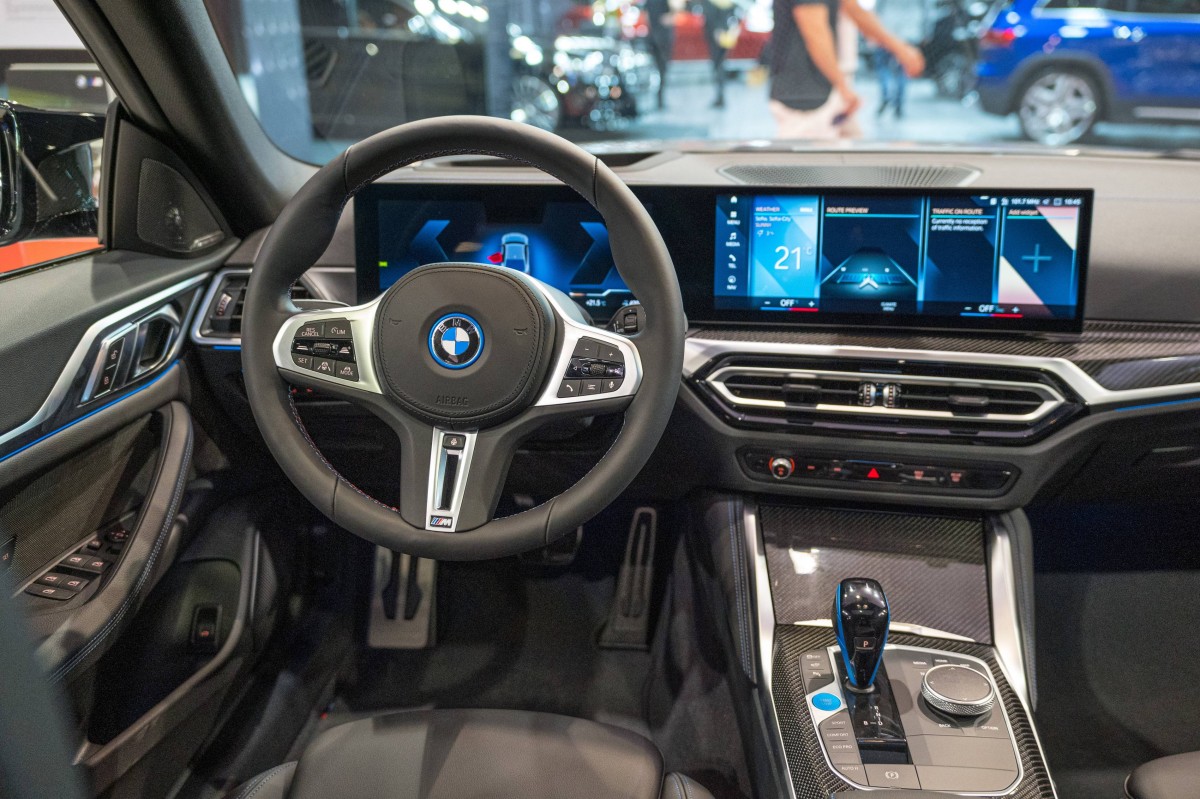 The updated infotainment is OK, gone are the days of simple dials and gauges giving the driver only the essential info. Now we can't live without apps, assistants, visualizations and other distractions. The system is fairly simple to navigate but the overall impression is that there's a lot of options - scrolling through the menu using the wheel by the shifter (yes - it has an actual shifter) feels like scrolling through a phonebook, lots and lots of options. Simply laid out, no doubt, things are easy to find, but boy the number of options, menus and submenus takes time getting used to.
Quick jump into the back seats reminds us instantly this isn't a bespoke electric vehicle - it still has a huge tunnel in the floor where the driveshaft hides on ICE versions. It makes the rear truly a two passenger affair, the lower roofline makes it uncomfortable for anyone over 6 foot tall. The backrest is quite steep as well making you sit up and pay attention rather than relax and fall back into the seat. Very much like in the 3 series which this car is trying very hard not to be like.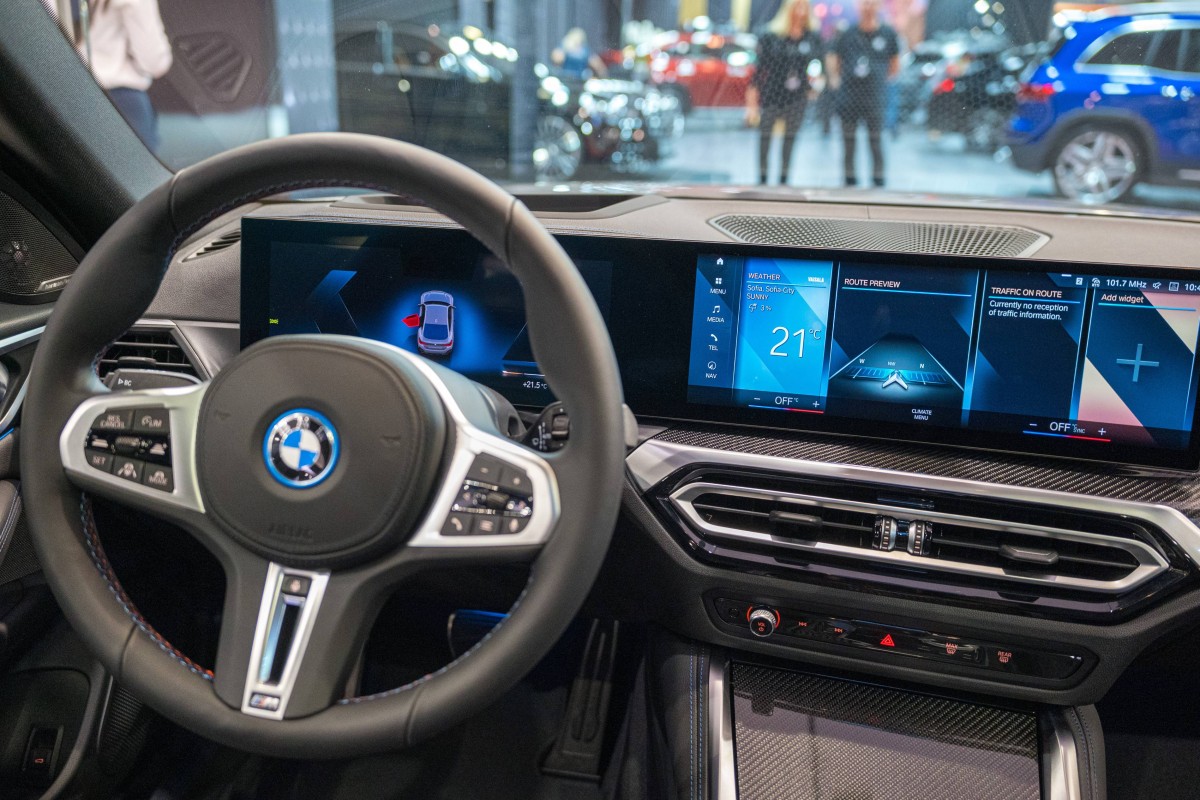 The i4 is an experiment, BMW wanted to use a lower production volume car to try it out with an electric drive before it unleashes the global version of electric 3 series. And the experiment is a success. The car looks stunning, it is by far the best looking electric car in this segment. We know from many road tests that it performs incredibly well and it delivers on its electric range. It is a true and good option if you want to buy an executive electric 4-door.
Even in its basic form at €70,800 it is a better choice than €103,650 Audi e-tron GT. Yes, it is more expensive than the €63,490 Tesla Model 3 Performance but it is in a completely different class when it comes to comfort, finish and quality. It is a better option than Mercedes EQE although it is smaller - and it is cheaper than the performance comparable EQE 43 AMG.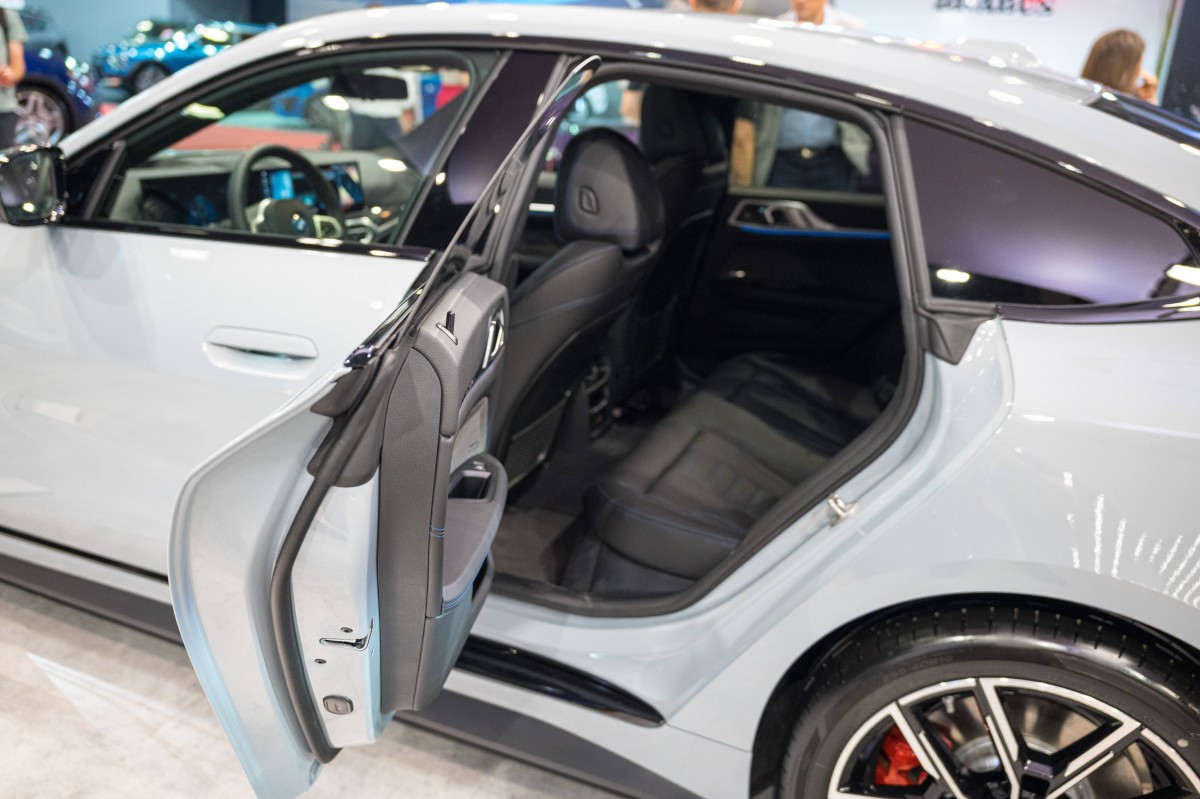 What we have here is a proper BMW M and I wish I could test drive it to tell you all about it but for now take my word for it - if you're looking for an electric car up to €80,000 you should start with the i4 M50. And you should stop with it as well. Sure, there are cars out there that have better range or more power or are cheaper and have similar performance. But none of those channels the M vitamin as well as the i4 does.
BMW has done an excellent job here, once you're in the car you feel enveloped in quality. You can feel where every cent of your money went. You can smell the quality, the whole car just comes together and wraps you up in unobtrusive luxury. When you're in a Tesla Model 3 you can't stop asking where did the money go, you feel you've been scammed by a timeshare seller. Mercedes does a great job as well but that comes at a €20,000 premium. So - the BMW i4 M50 is a bargain. Consumer advice at its best.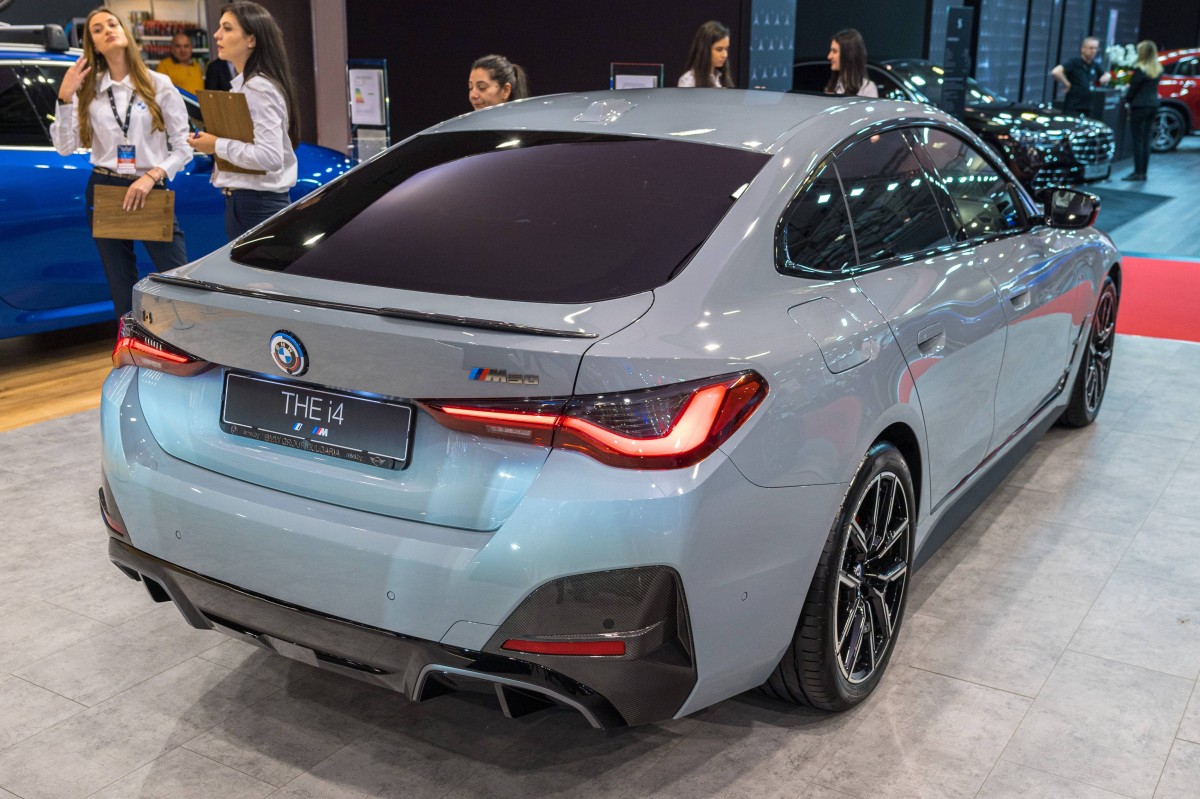 Related
I picked mine up in July and love it! I'm extremely happy with it and I love driving it. I got the metallic green with cognac interior.
I picked mine up two days ago and I am in heaven. Best ride ever. Handles like a dream. Rides like a cloud. Fast and furious luxury. I researched many e cars before selecting this one. I stepped out of a Genesis G 90 which I loved but I must say the ...
I'll buy en EV when they make a convertible Tesla or BMW who will be first to offer a convertible
Popular models