Tesla Model S beats its own Nürburgring record
Max McDee, 04 June 2023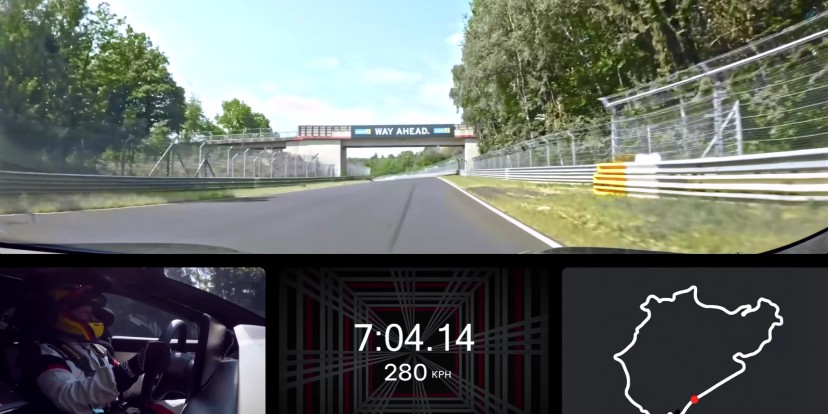 If you haven't heard the news yet, or haven't seen the video - then you must have had a very busy weekend. Tesla has done it again, and it did it in style. With no fanfare, no official preparations, no record attempts, and absolutely no celebrations afterward - the company just posted a video on its YouTube channel, under a very conspicuous title - "Tesla Model S Plaid at Nürburgring again."
Any other company would have held a couple of press conferences by now, but Tesla? Dropped the video and went back to barbecuing burgers on Saturday night, or whatever it is that Tesla folks do on Saturday night. The video itself - apart from extreme dizziness-inducing moments - looks like a video of a normal morning run. The kinda run you take at 5 am when the roads are all empty and there's just you and the target. This time the target was 7 minutes 35 seconds - Plaid's previous Nürburgring time. How did it go? Sit back, and hold on tight - this one is a wild ride:
Look, nobody has ever argued about Tesla Model S Plaid being slow, there is absolutely not a person out there who would try to say that. The issue always was its brakes - or rather lack of them. The insane amount of power and torque - 1,020 hp and 885 lb-ft - used to put so much pressure on the standard brakes that they would give up after the first few hundred meters of spirited driving.
Tesla took its sweet time to address the issue, and at times it felt like the yoke-or-no-yoke issue was far more important. Whatever it was, it's history now. The company released the Track Pack for Model S Plaid, which finally adds carbon-silicon carbide brake rotors with 6-piston forged calipers at the front. The rear gets the same16.1 inches rotors but slimmer - 1.26 inches instead of 1.57 inches like the front ones. The rear caliper is forged as well but it has 4 pistons. Do those brakes make any difference?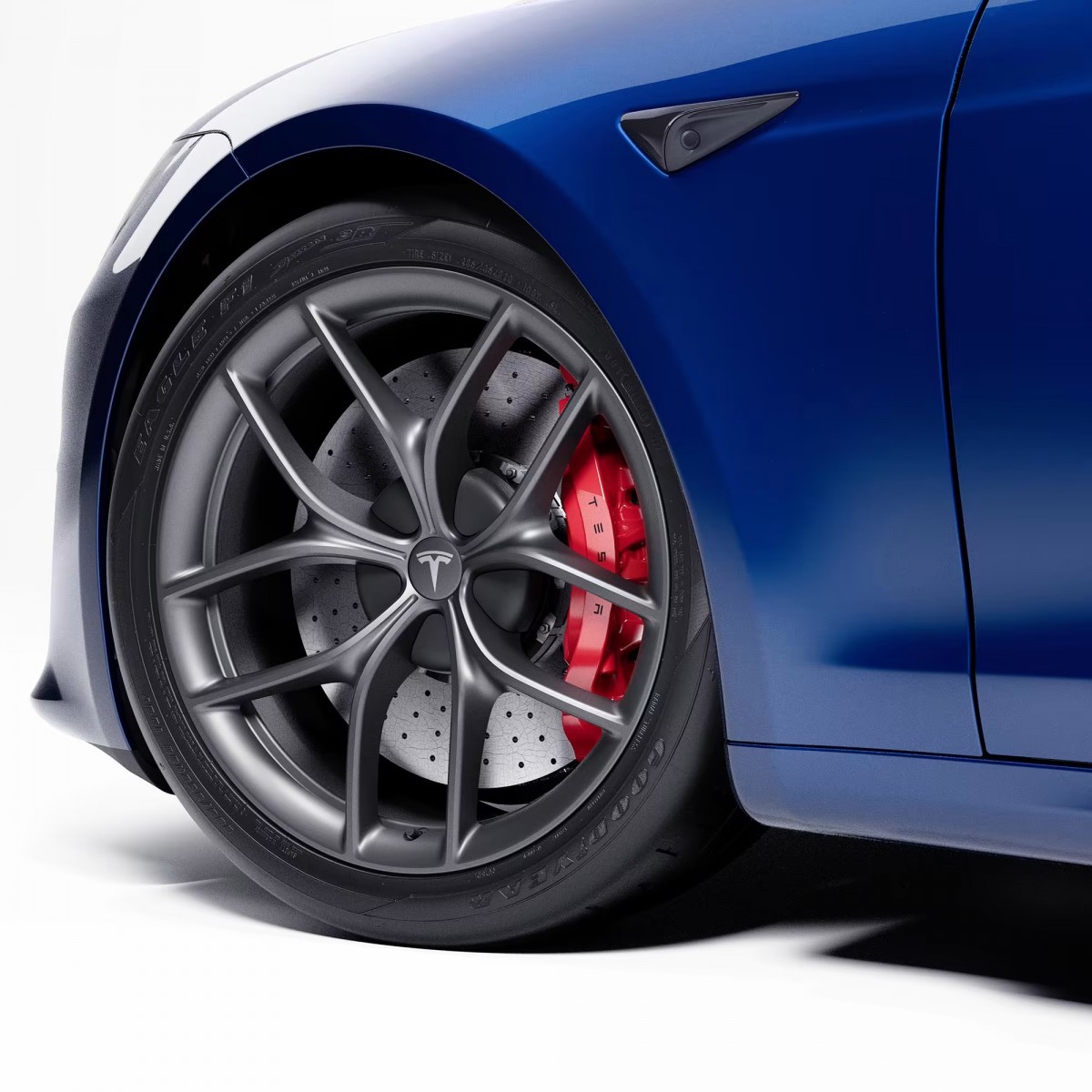 They don't just make a difference, they transform the Model S Plaid into this ridiculous track tool that is a perfect family car at the same time. Drop the kids off to school, do a couple of laps around Laguna Seca, and pop in for some shopping on the way back to pick the kids up from school - that kind of tool. It is insane. It is 7 minutes 25 seconds crazy.
As you watched the Model S Plaid annihilate its own record, and Porsche Taycan's at the same time, have you noticed how powerful those brakes are? At the end of the run, just before the final corner, the car goes from over 124 mph down to just below 62 mph in about five lengths of a car - that's after hammering around the track for over 7 minutes. The brake fluid must have been trying to explode - and yet, the car just slowed down as if someone pulled it back by a giant rope.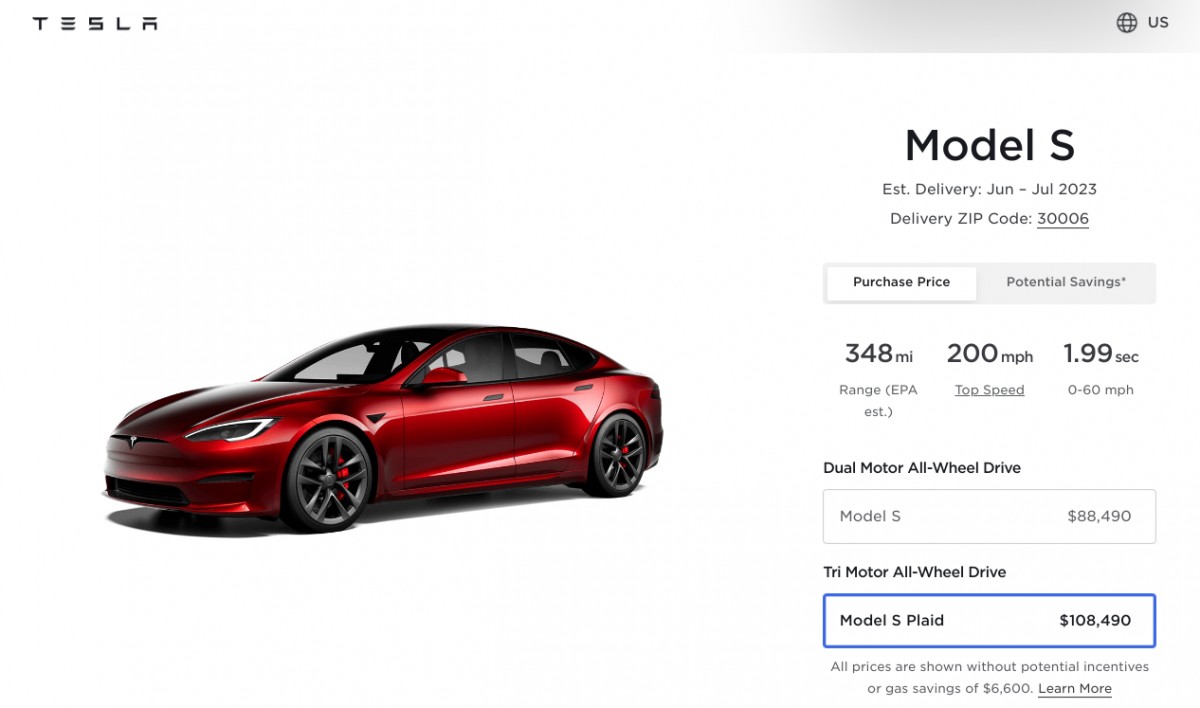 Tesla posted the video 24 hours ago, it has nearly 2.5 million views at the time of writing, and tomorrow it will be all over the news. Porsche people won't have a nice Monday morning, that's for sure. Tesla fans will be lining up to buy Model S Plaid with Track Pack, because how often can you buy a record-holding sedan for just over $108,000? One that you can have a go at setting your own record in - if you feel brave enough.
Related
Nothing yet. Be the first to comment.
Reviews
Popular models