GM unveils the Chevrolet Silverado EV truck with 400-mile range
Vlad, 05 January 2022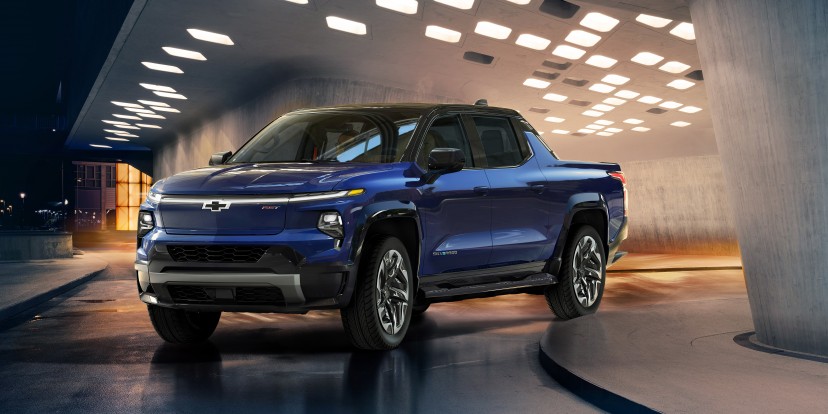 Trucks are important in America, and so they can't afford to miss the electric boat. Or bus. Or... truck. You get the picture. Ford already introduced the F-150 Lightning electric truck, and today GM finally unveiled its rival: the Chevrolet Silverado EV. At launch, it will be available in two configurations, an RST First Edition and a fleet-oriented WT model.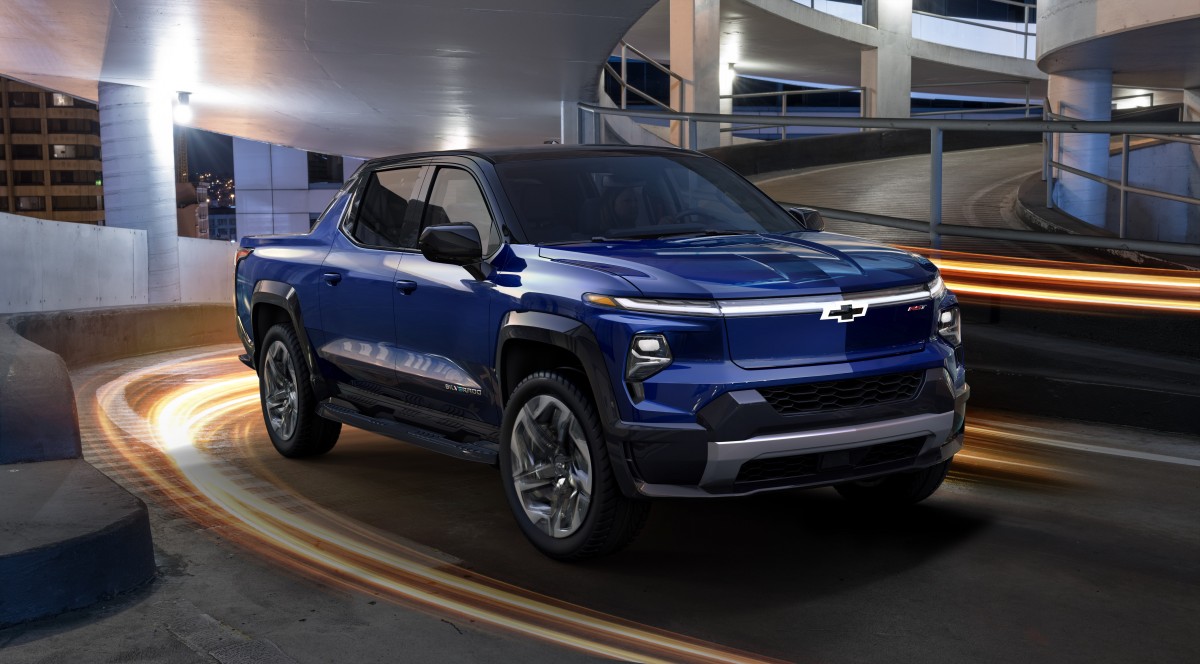 This truck comes with a GM-estimated 400-mile (643 km) range on both the WT and RST versions. The RST, with front and rear-drive motors and 24" wheels will be the more powerful, with up to 664 hp (488 kW) of maximum output and more than 780 lb-ft (1,057 Nm) of torque available in a special "Wide Open Watts" mode. This enables a GM-estimated 0-60 mph time of "less than 4.5 seconds". The WT model has 510 hp (375 kW) and 615 lb-ft (833 Nm) of torque.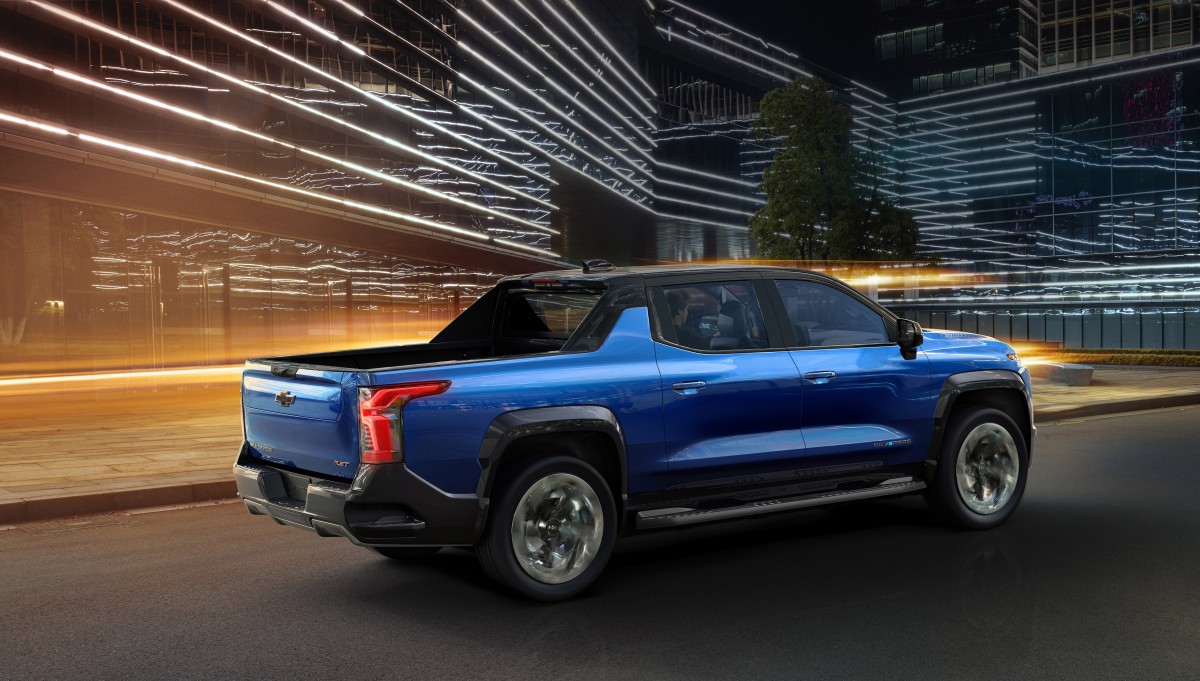 The WT and RST versions of the Silverado EV support up to 350 kW DC charging, which means you can add about 100 miles of range in just 10 minutes. You can also use the power in the batteries with an optional accessory power bar, which provides up to 10 outlets allowing you to pull a total of 10.2 kW for "countless worksite or recreational needs", including powering your home if need be. The Silverado can also charge another EV using the available accessory charge cord.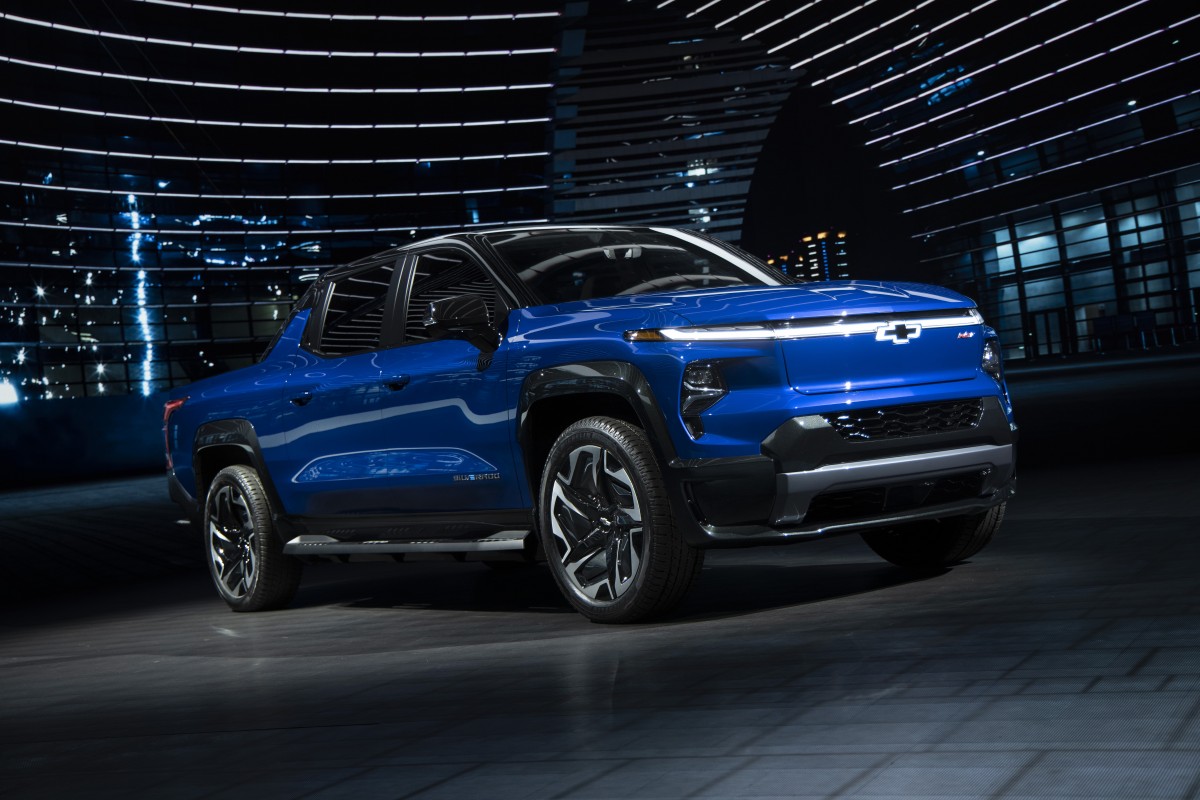 Inside you get a 17-inch LCD "freeform" infotainment screen as well as an 11-inch driver instrument display. There's also a head-up display with a field-of-view of over 14". All of these run on a Linux-based software platform created in-house at GM, called Ultifi. This "separates the vehicle's software from the hardware" in order to enable quick and frequent software updates.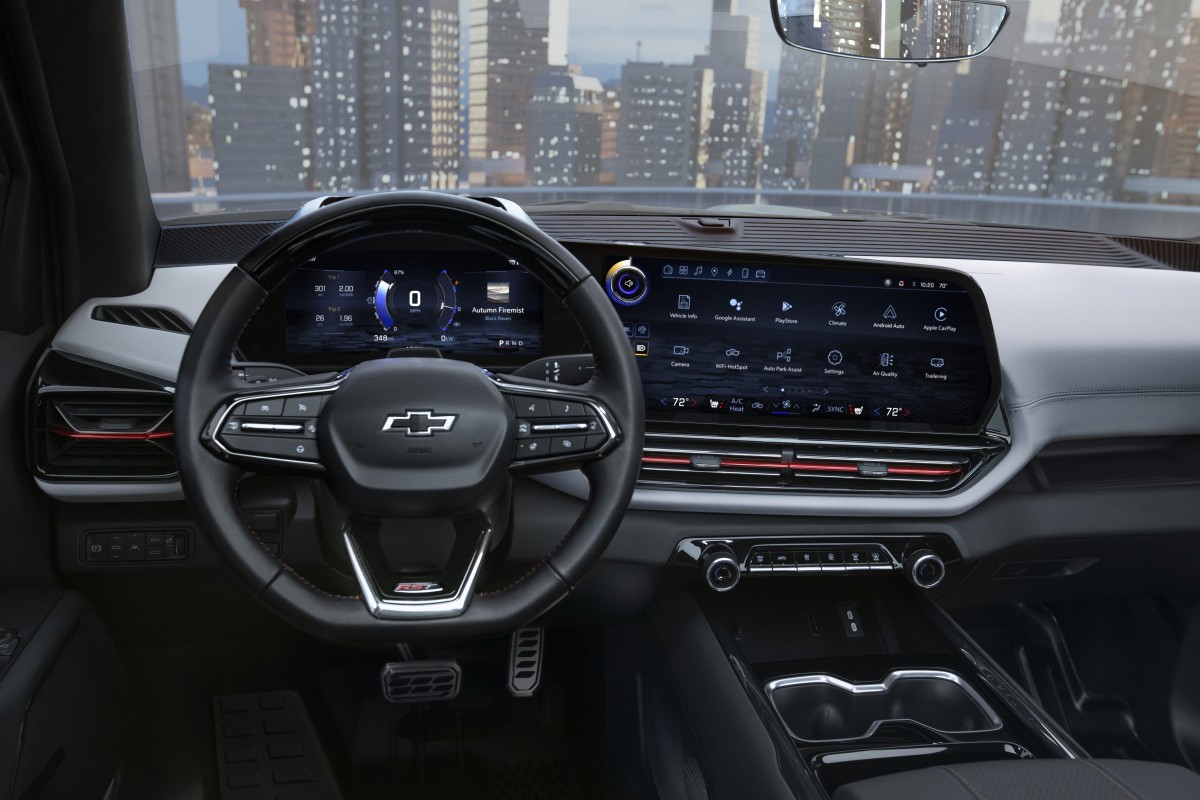 The RST First Edition includes four-wheel steering, automatic adaptive air suspension, a Multi-Flex Midgate that expands the cargo capability while maintaining seating for a rear row passenger, and trailering-capable Super Cruise, which GM bills as "the industry's first true hands-free driver-assistance technology", allowing you to travel hands-free on more than 200,000 miles of compatible roads across the US and Canada.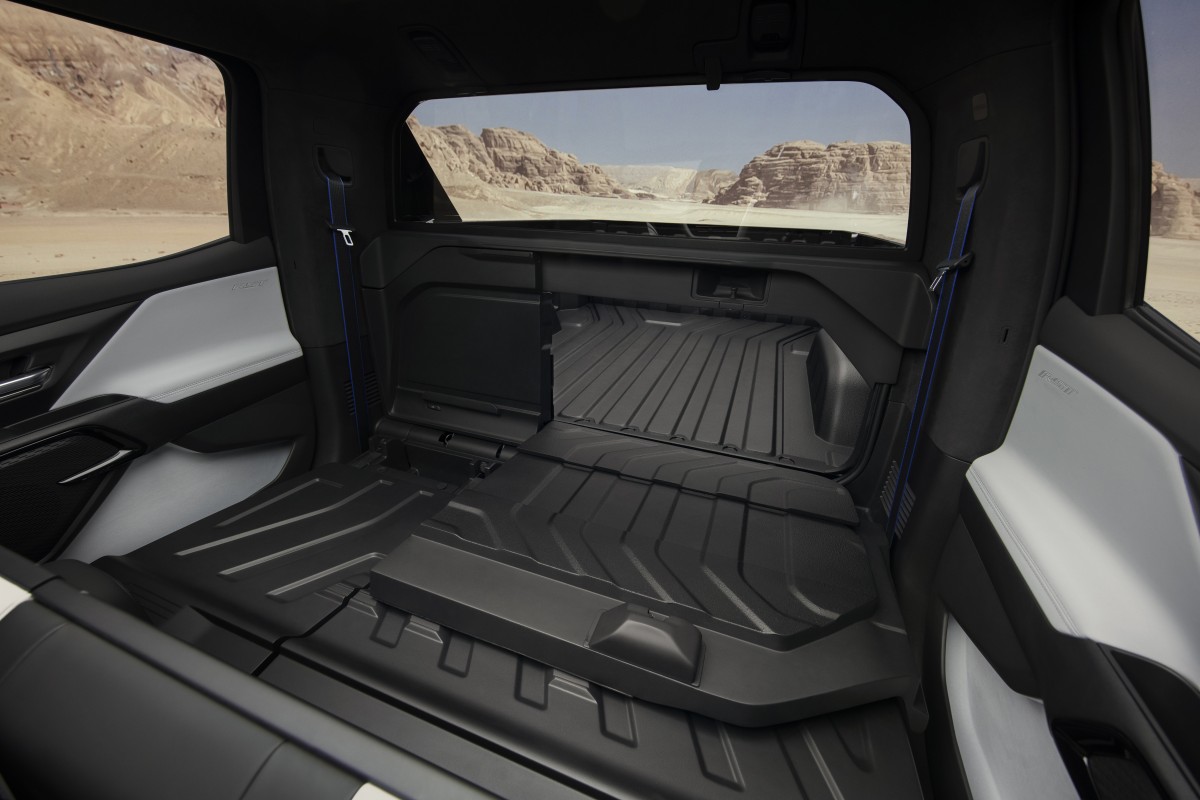 The Silverado EV RST has the capacity to tow up to 10,000 pounds, with up to 1,300 pounds of payload. The WT offers 8,000 pounds of towing and 1,200 pounds of payload. At some point after launch, a new fleet model will come with 20,000 pounds max trailering.
The truck is offered exclusively in Crew Cab models, with a shorter front overhang that means the second row of seats can be pushed rearward to make more room for even the tallest of passengers.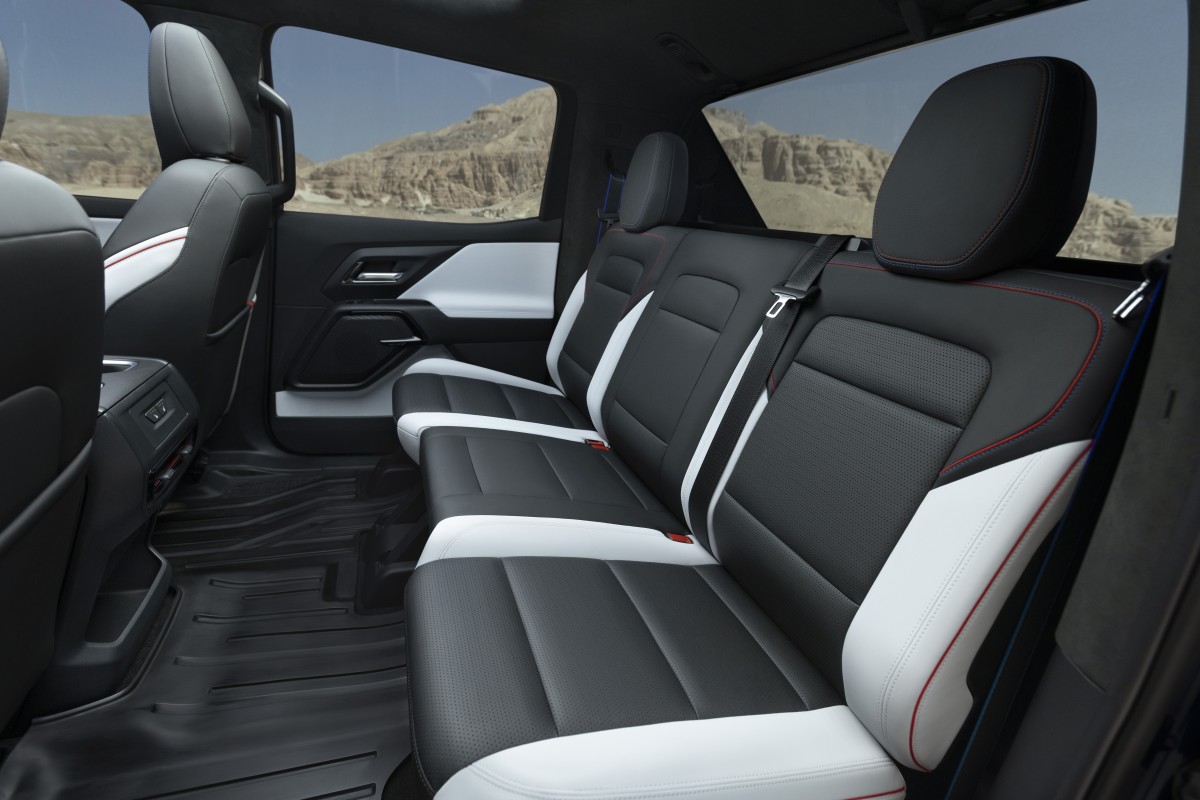 There's a lockable, weatherproof "eTrunk" at the front, which "provides enough space to fit a large hardside suitcase", although no actual capacity numbers are given at this time.
The RST has a fixed-glass roof and a 5-foot-11-inch bed - when opening the Multi-Flex Midgate that grows to just over 9 feet of storage between the cab and the tailgate. With the addition of the optional Multi-Flex tailgate, you can get up to 10 feet 10 inches of load floor capacity, and an optional tonneau cover lets you load things like lumber or a kayak into a fully lockable and weatherproof storage compartment.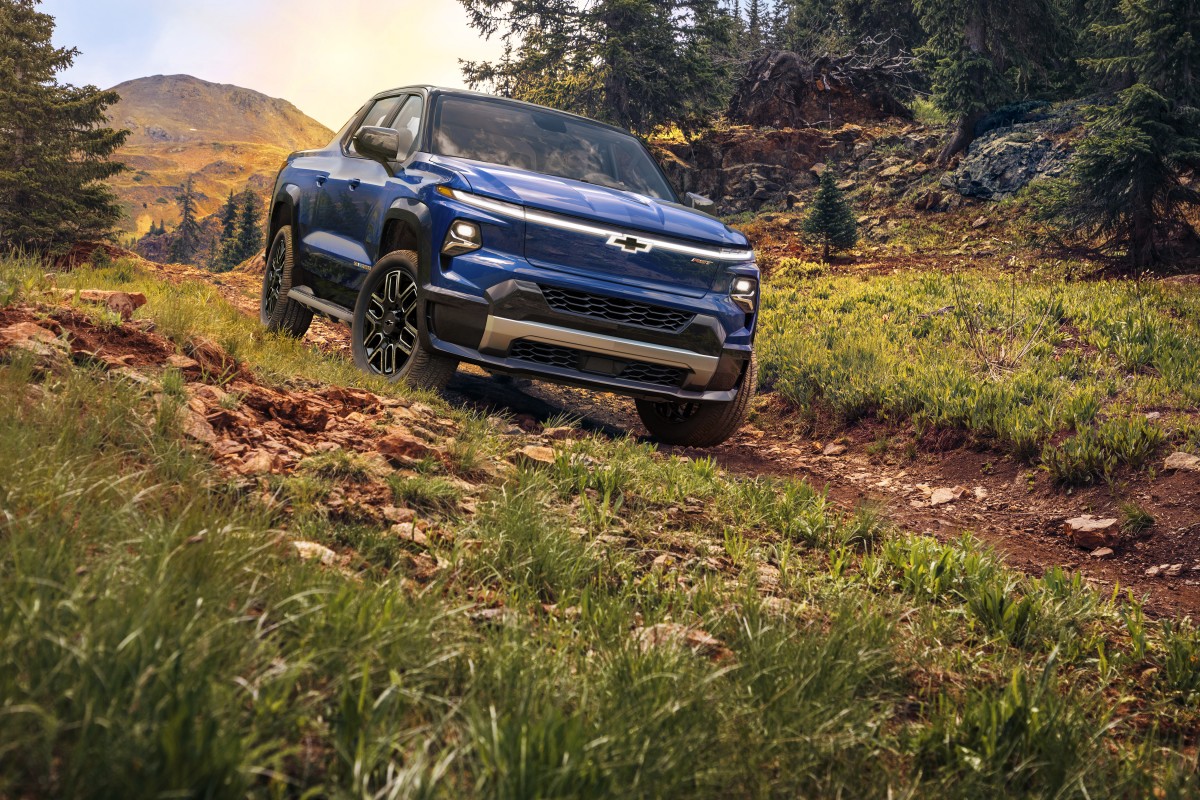 The Chevy Silverado EV will debut in spring 2023, with the WT model, starting at $39,900. The RST will follow in fall 2023 for $105,000. After production ramps up, GM "will unleash the full Silverado EV portfolio", including a new Trail Boss model and more. The new models will fit various price ranges - $50,000, $60,000, $70,000, $80,000 and so on. Reservations for the Silverado EV are available already.
Related
Nothing yet. Be the first to comment.
Reviews
Popular models